Future teacher honored for academic success and contributions in the community
Millikin University senior Luke Azzarelli, of Kankakee, Ill., was recognized as Millikin's recipient of the Lincoln Academy of Illinois' Student Laureate Award for 2018. Azzarelli was honored during the Lincoln Academy of Illinois' 44th Annual Student Laureate Convocation on Saturday, Nov. 17 at the Old State Capitol in Springfield, Ill.
Each fall, an outstanding senior from each of the four-year degree-granting institutions of higher learning in Illinois is awarded the Abraham Lincoln Civic Engagement Award and thereby becomes a Student Laureate of the Lincoln Academy of Illinois. In the spirit of Lincoln, Student Laureates are honored for their leadership and service in the pursuit of the betterment of humanity and for overall excellence in curricular and extracurricular activities.
"This is a prestigious award and I'm truly grateful to be honored by the university," said Azzarelli.
On Nov. 17, student laureates received a certificate of merit, an Order of Lincoln medallion and a $1,000 check from the Lincoln Academy of Illinois.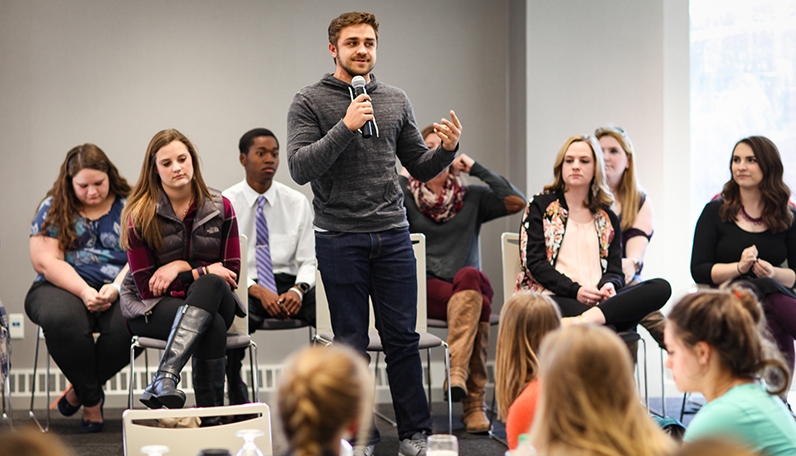 An elementary education major, Azzarelli has demonstrated academic excellence as seen by his achievement of a 3.9/4.0 grade point average and an academic performance meriting his presence on the Dean's List/High Dean's list throughout his time at Millikin.
"I want to go into teaching because I want to give back to the community. Millikin gets you in the classroom right away through performance learning, and I think that was the best way to help me realize what I wanted to do," said Azzarelli. "I'm more of a learner when I'm student teaching, and for me to be in the classroom as a student has helped me learn the ins and outs of teaching."
Azzarelli has been inducted into one of the nation's most prestigious education honor societies, Pi Lambda Theta, which serves to recognize outstanding students who intend to pursue careers in education. He currently serves as Team Captain of the Millikin baseball team and has earned College Conference of Illinois and Wisconsin (CCIW) Academic All-Conference Honors all four years enrolled at Millikin. Azzarelli was honored with the Jack Swartz Award in Spring 2018 for carrying at least a 3.50 grade point average, earning a letter in a varsity sport and making a leadership contribution to the program.
"Luke epitomizes the mission of Millikin University and he demonstrates how students can align professional success in their academic area of study with the purposeful creation of a personal life of meaning and value informed by their citizenship in a global environment," said Dr. Deb Slayton, dean of the College of Professional Studies at Millikin.
Focused on promoting diversity in his field work in education, Azzarelli is currently co-teaching 5th grade at Maroa-Forsyth Grade School in Forsyth, Ill. He is active in the community with a variety of organizations including Habitat for Humanity, First United Methodist Church, Catholic Charities and Mercy Gardens.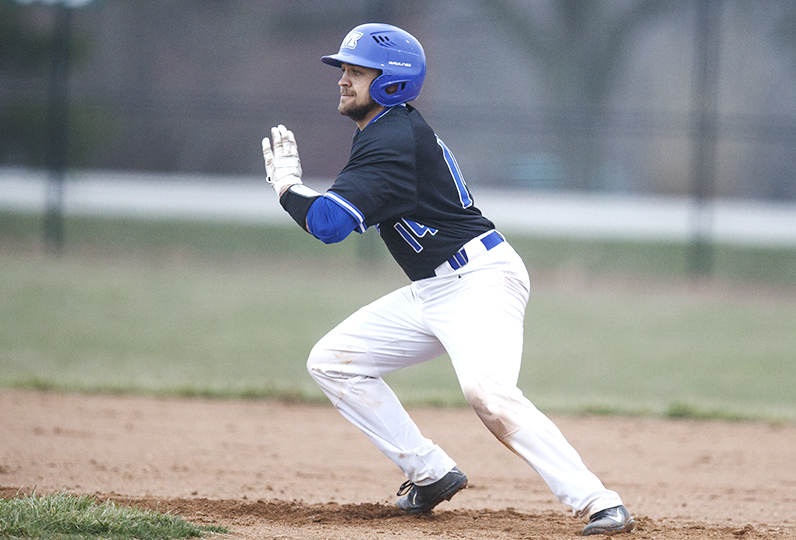 "My passion stems from my desire to be a positive male role model for children through my teaching of the essential academic material, of course, but also in ways that help to positively shape their character," said Azzarelli. "I understand that not all students learn in the same ways, but because of my learned experiences from participation in diverse teaching internships, on sports teams, and in volunteer programs, I believe I am in a unique position to bring my leadership qualities and educational knowledge to the curricular and extracurricular 'classrooms' to meet the needs of the learners in both."
Once in the professional field, Azzarelli says he hopes to incorporate more student-centered learning in his teachings. "I feel that I'm very energetic in the classroom and I think that's something that keeps students engaged," he said. "I like doing a lot of group work and many things that involve peer-to-peer communication. Even seeing students teach things to the rest of the classroom is something I believe to be beneficial."
Azzarelli will graduate with a Bachelor of Science in Elementary Education from Millikin in May 2019 with endorsements in Special Education and English Second Language. He plans to blend his passions for both education and coaching in working with his future students.