Nursing Instructor researching connection between fatigue and heart attacks
Millikin University Instructor of Nursing John Blakeman has been named a 2019 Nurse Educator Fellow by the Illinois Board of Higher Education (IBHE) for his commitment to quality and innovative teaching in the field of nursing. Blakeman is one of 19 distinguished educators selected from a group of 34 nominees from across Illinois. Blakeman received a Fellowship award of $10,000.
Blakeman is a registered professional nurse, practicing in Illinois. He earned his Bachelor of Science in Nursing from Millikin in May 2013, graduating summa cum laude, and later earned his Master of Science in Nursing from Millikin in Dec. 2015. Blakeman is currently working towards his Ph.D. in nursing at Illinois State University.
"It's a humbling honor," said Blakeman. "The fellowship funds will go towards my education as I should complete my Ph.D. tentatively by May of 2020."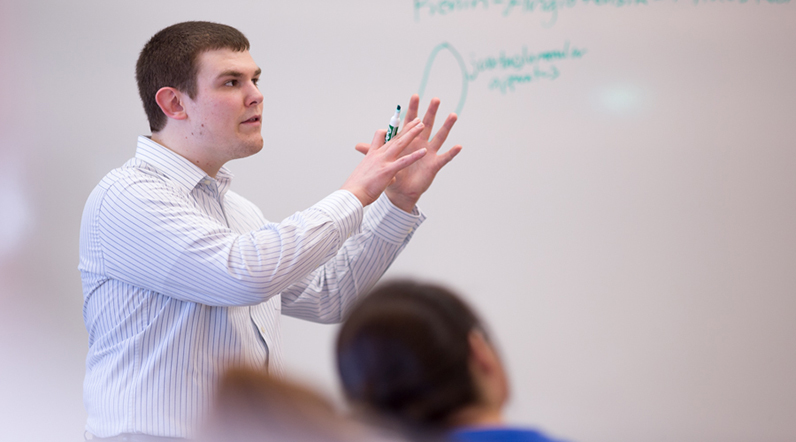 Before serving as an instructor, Blakeman was a lecturer in the Millikin School of Nursing from Aug. 2015 to Dec. 2015. He also served as a clinical nurse in the Surgical Cardiology unit at Memorial Medical Center in Springfield, Ill., from July 2013 – Dec. 2016.
Blakeman has received several awards for his work, including the Magnet Award for New Knowledge and Innovations. He's been published in a number of professional journals, including the Journal of Clinical Nursing, Journal of Advanced Nursing, Advances in Nursing Science, Heart & Lung, Dimensions of Critical Care Nursing, Journal of Psychosocial Nursing and Mental Health Services, and the Journal of Nursing Education.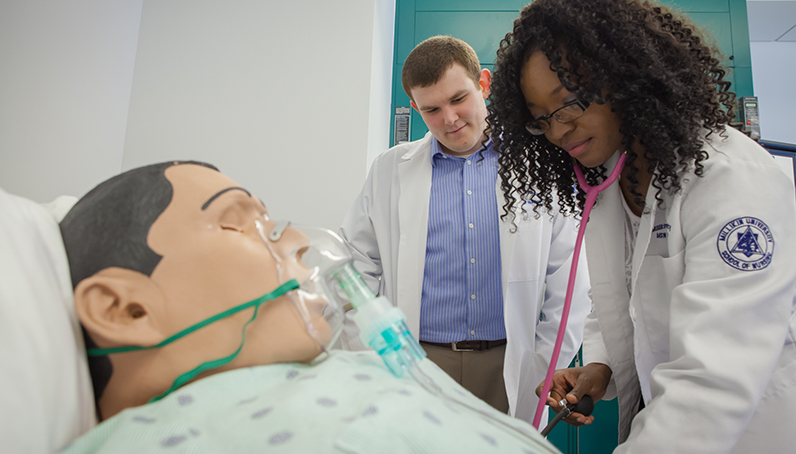 Blakeman is currently conducting research on symptom science and understanding how people experience symptoms, and how we can use symptoms to identify diseases and problems early. More specifically, he is looking into women's experience of heart attack symptoms, also called myocardial infarction – a research study he's been conducting since his master's program at Millikin.
"For my dissertation, I've been looking at fatigue more closely as a symptom because fatigue is the most common warning symptom that women experience in the weeks and months before they actually have a heart attack," said Blakeman. "I'll be trying to discover if there are any unique aspects of fatigue, because if I asked someone how they would describe fatigue somebody might say it means you're tired or weak, but there are so many descriptors people use. For the women who did have a heart attack, did they experience fatigue? Did it impact their activities of daily living or work?"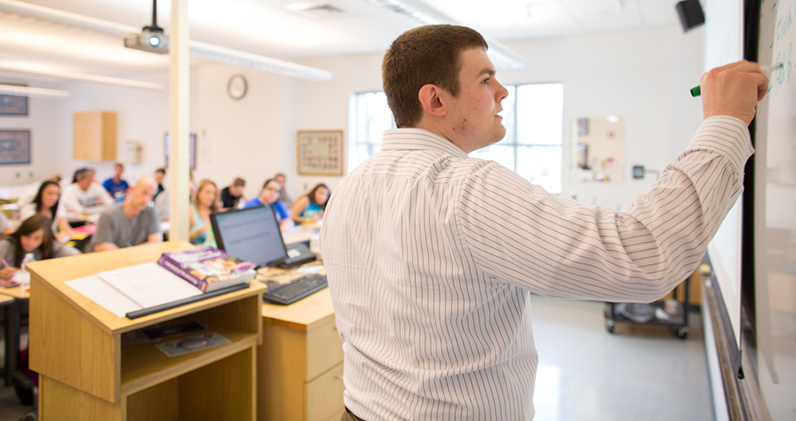 Blakeman hopes to build a picture of what that fatigue clinically looks like.
"It's hard from a clinical perspective to really understand," said Blakeman. "Is that fatigue something that could be cardiovascular or is it something else?"
Between his time as an undergraduate, when he received the Scovill Price and R.H. Cleland R.N. Award, his graduate studies, and now as an instructor, Blakeman is approaching 10 years spent at Millikin and is looking forward to further developing his teachings and research.
"I hope to have graduate or undergraduate students involved with my research and help them develop their ability to do research," said Blakeman. "When I was a student, the instructors at Millikin made it clear that they cared about our success as professional nurses and they pushed you to do more than you necessarily thought you could do – now as a faculty member I continue to see that from my colleagues."
Nurse Educator Fellowship Program
The purpose of the Nurse Educator Fellowship Program is to ensure the retention of well-qualified nursing faculty at institutions of higher learning that award degrees in nursing.
Participation in the program is open to Illinois institutions of higher learning with a nursing program approved by the Illinois Department of Financial and Professional Regulation and accredited by the Commission on Collegiate Nursing Education (CCNE) or the Association Commission for Education in Nursing (ACEN).
Millikin School of Nursing
The nursing programs at Millikin University foster the development of women and men in a community of life-long learners who are able to envision and shape the future of healthcare and compose a personal life of meaning and value. The framework for the nursing curricula at Millikin incorporates the School of Nursing mission, goals and outcomes under the core concepts of person, nursing, environment and health.