Millikin women's basketball prepping for 2021 season
Millikin University women's basketball is coming off its best season in 10 years after finishing 16-10 overall with a fourth place finish in the College Conference of Illinois and Wisconsin (CCIW) at 9-7 in 2019-20.
Aspirations are high for 2021 as the team is set to begin its season on Jan. 23 against Carthage College. A big part of the program's recent success has been the play of senior forward/center Jordan Hildebrand, a nursing major from Mendon, Ill.
Hildebrand was a unanimous CCIW All-Conference First Team selection in 2019-20 after averaging 13.5 points per game with 6.3 rebounds. She led the conference in field goal percentage shooting 55.4 percent on the season. Hildebrand was also seventh in scoring overall and in CCIW games where she averaged 12.4 points per game.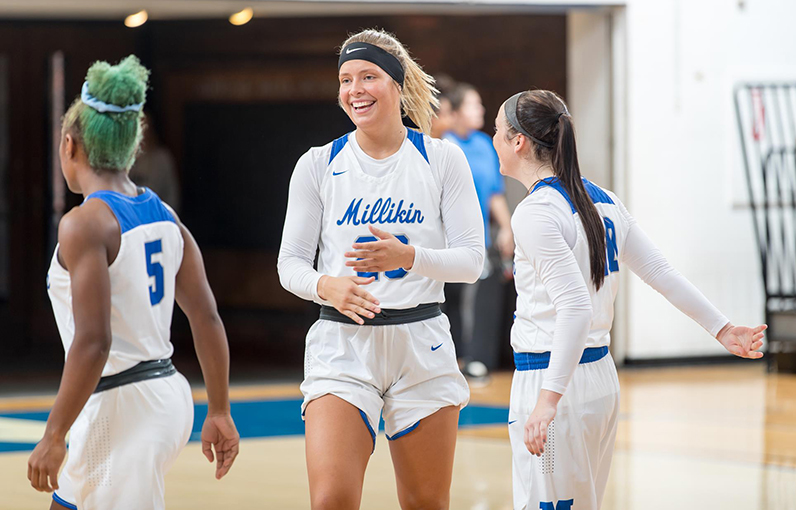 Millikin head women's basketball coach Olivia Lett depends on Hildebrand to set the example at practice and in the game.
"Jordan is always steady for us and she really sets the tone for the intensity of our practices," Lett said in an interview with the Herald & Review. "People see the scoring and the rebounds but it is really about how hard she plays. She's really a blue-collar player that goes in there and tries to outwork her opponents. You know the effort you're going to get from her night in and night out."
Hildebrand is one of two seniors returning to the Big Blue this season and is embracing the leadership opportunity.
"I've got to make sure that everyone is in their spots and making sure that they know the defense. If they have questions, as a senior I'm there to help them," Hildebrand said. "I know I have to go as hard as I can every practice because I know the younger players follow after me. If I take off, I think they'll think that they can to so I have to bring it every practice."
She added, "I think the intensity level [of Millikin's program] has continued to grow every year, and the freshmen coming in each season are adding to that."
Last season, Millikin made its first appearance in the CCIW tournament since the 2011-12 season which was an important step for the program.
"Making the CCIW tournament last year was very big for us and it was very exciting. Of course, we would like to go back and I think the team has improved from last season," Hildebrand said. "I think we have a lot of new people adding a lot of great things. I think it is a little bit of everything. It's the offense, defense, and our intensity and aggressiveness."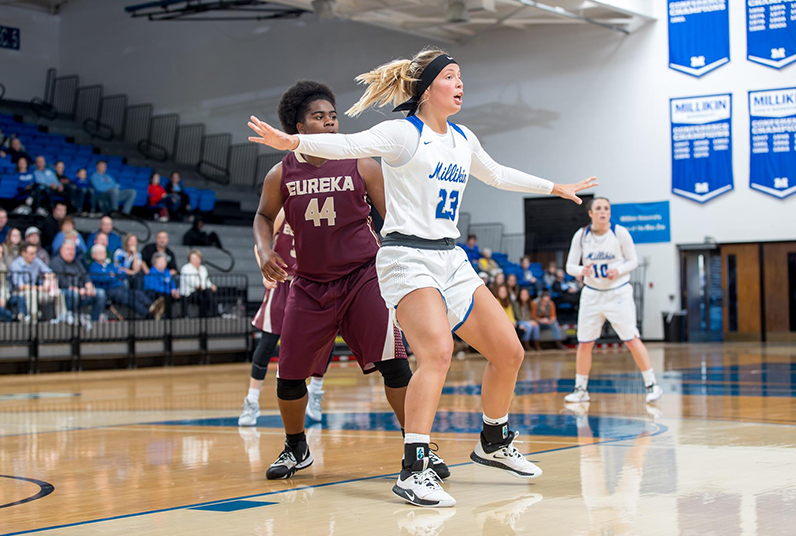 On Dec. 12, 2020, the CCIW Council of Presidents announced plans for winter sports competition, with practices beginning in early January and competition to start no sooner than Jan. 23. The shorter 2021 season will run for six weeks and will typically feature home and away games against the same opponent each week. Millikin will start off with Carthage College on Sat, Jan. 23, at the Griswold Center and then go to Kenosha, Wis., on Mon., Jan. 25.
"I am very excited and I feel like we have been working so hard for it since October. We have conditioned hard for it like we were going to have a season. Once that schedule came out, it really got us all excited and got us ready to practice and take it up another notch," Hildebrand said.
Hildebrand added, "It is really the first time we've ever done the schedule this way, so hopefully after the first week we can see how it goes. We will have to focus a lot on what we do and not be so worried about our opponent's game. We need to make sure that all our stuff is ready to go."