Griswold Physical Education Center undergoes changes to gym
For more than 50 years, Millikin University's Griswold Physical Education Center has been home to Big Blue Athletics.
Millikin men's and women's basketball, and men's and women's volleyball teams compete in Griswold Center's gym with capacity for up to 3,000 fans. The building also houses classrooms, athletic training facilities, three regulation-size basketball courts and locker rooms.
As student-athletes and coaches return to campus this fall, they will see a new look to the gym as the Griswold Center underwent a major makeover to its flooring this spring.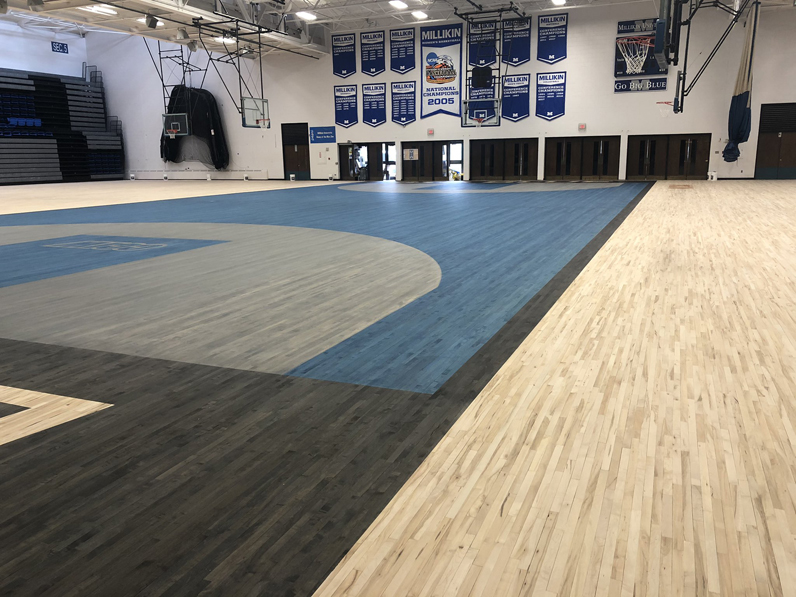 What used to be a traditionally wood-colored court has now become a Millikin blue court with gray sections inside the 3-point line.
In an interview with the Herald & Review, Bryan Marshall, Millikin assistant director for sports information said, "For the past several years, we have only done a light sanding and re-sealing on the floor. We were to the point where the floor experts told us it had to be sanded down to the wood and redone."
The design not only brings new energy to the center, but it will play an important role when it comes to recruitment for Big Blue Athletics.
"Someone had brought up the idea of a blue court and everybody kind of got on board and it kept going in that direction," said Olivia Lett, Millikin women's basketball coach. "I think it's unique and there aren't many out there. It gives us something that is a little bit different and I think that can be a perk sometimes."
Rule changes involving the 3-point line also played a factor in the new design of the flooring. The line was pushed back this season to 21 feet, 1 3/4 inches for Division I men's basketball – a change that was originally implemented by Division II and III men's teams for the 2020-21 season.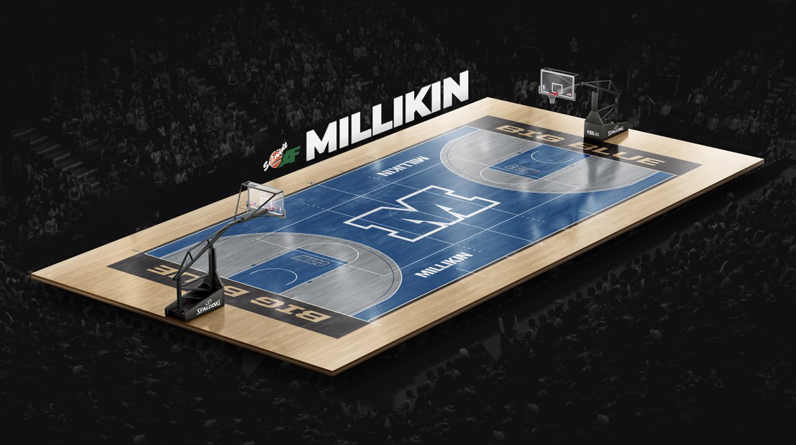 "The men's basketball's 3-point line was supposed to move back this upcoming season, but with the ongoing COVID pandemic, they have moved that change back another season, but the floor was in need of a new paint job anyways, and so we moved ahead to put that line on the floor and they will play from the closer line this year and then move back," Lett said.
The classrooms in the Griswold Center have also been remodeled to provide more flexible space for Athletic Department needs.
"We are painting the rooms and doing minor renovations," Marshall said. "The rooms will be used for a variety of things from time-to-time including a small weight room, team meeting rooms, backup changing room for officials, photography studios and team function rooms."
Lett says Millikin's recruiting efforts in the local area have helped draw larger crowds to the Griswold Center.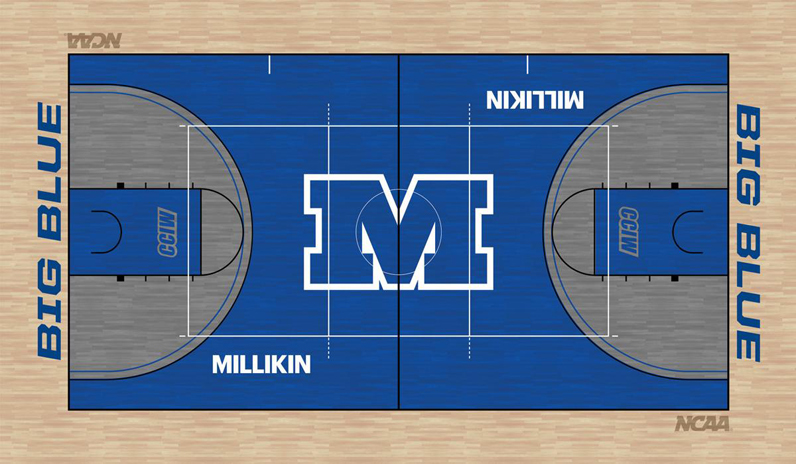 "We want the smaller towns and communities to come watch to see kids they have grown up watching," Lett said. 'We had some great crowds last season against Illinois Wesleyan, Wheaton and North Park and the gym was rocking. I think that is one advantage with Griswold being older. It can get pretty loud in there and that is something we are hoping will continue to grow."
Lett added, "I'm hoping that on this court we will get to host conference tournaments and host NCAA Tournament games and play on this court in some games that really matter."