Vespers 60th Anniversary CD features 32-page booklet
Vespers is one of Millikin University's most popular events. It signals the beginning of the holiday season with a sumptuous evening of carols, choirs and candlelight. During the event, over 250 musicians join together in Kirkland Fine Arts Center for a joyous musical feast with songs from past centuries combined with familiar carols and arrangements.
Originating in 1959, Vespers is a beloved tradition not only in the Decatur (Ill.) community, but around the world. In 1921, Millikin began a much smaller version of Vespers in which faculty put on a concert for students. This eventually transformed into a holiday choral concert developed by Dr. Richard Hoffland. From that moment, Vespers developed into the glorious tradition which we all know and love today.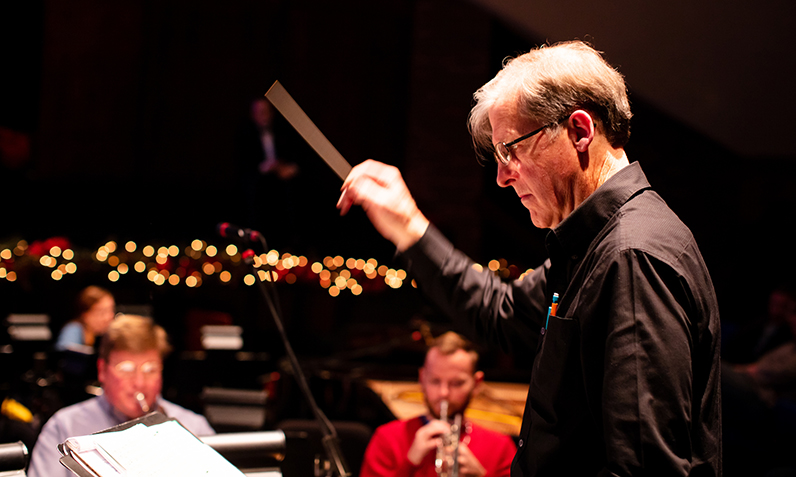 Dr. Brad Holmes, director of choral activities at Millikin, has served as artistic director for Vespers, along with conductor Beth Holmes and other faculty members, for over 25 years. Each year, new music is added to the traditional Christmas stories as told by the choirs.
"The spirit that was started 60 years ago continues to grow," said Holmes. "Each year, Vespers provides a wonderful opening for the holiday season."
Vespers has become one of the largest celebrations in Macon County as nearly 8000 people attend performances per year.
This year's Vespers, set for Dec. 7-8, is the 60th anniversary, which holds a particularly special place in the hearts of many individuals that have connections to Millikin from all over the world. In honor of that tradition, Millikin University student-run record label First Step Records is releasing a one-of-a-kind, special edition Vespers 60th anniversary dual CD with an attached 32-page booklet.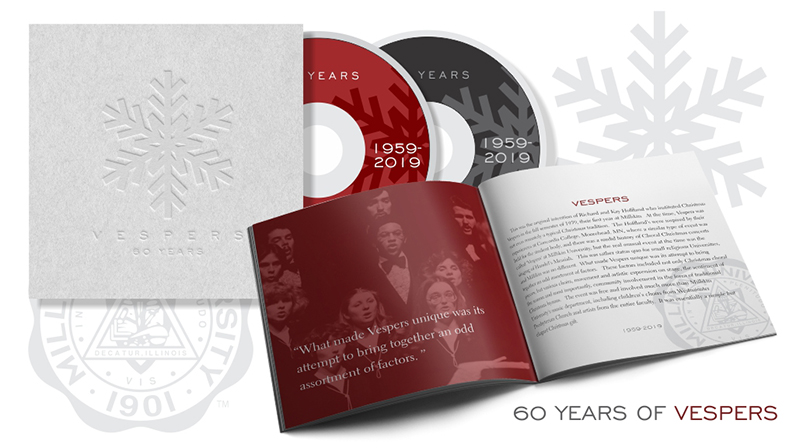 "For the 60th anniversary, First Step Records wanted to do something big and in remembrance of where Vespers started and what it has come to be," said Rebecca Mendenhall, a senior music business major from Palestine, Ill. "As an organization, we decided to produce two discs - one of the Hoffland era, and one of the Holmes era. We wanted to share the history of Vespers by including an attached 32-page booklet, written by Millikin's very own Dr. Timothy Kovalcik."
The booklet also pays homage to Dr. Stephen Widenhofer, professor of music, who served as director of the Millikin School of Music from 2003-2017 and played a key role in the success of Vespers. Dr. Widenhofer passed away on Jan. 1, 2019 at the age of 67.
Mendenhall added, "As a collective student-run venture, we have been able to mix and master tracks, work with Goss Advertising for graphic design, gain experience with multiple CD production companies and work with the community to make this product a success."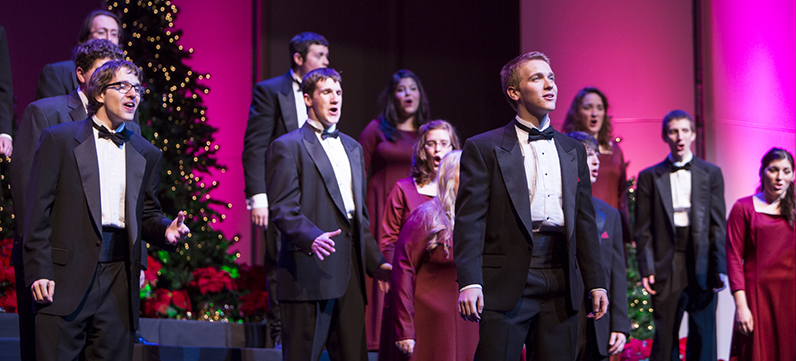 Additionally, First Step Records has launched a Kickstarter campaign where individuals can find exclusive Vespers 60th anniversary deals that will support the special edition CD and celebrate the beloved tradition of Vespers.
Millikin University will present its annual Vespers concert on Saturday, Dec. 7 and Sunday, Dec. 8 at 2 p.m. and 7:30 p.m. Performances will be held at Kirkland Fine Arts Center on Millikin University's campus. Single ticket prices for the concert are $12-$16. Millikin students get one free ticket to the Sunday, Dec. 8 performance at 7:30 p.m.
First Step Records
Millikin's first student-run venture, First Step Records is a recording label and publishing company. It supports and promotes the diverse, quality music of Millikin University and seeks to provide opportunities for students, faculty and alumni artists. It provides a meaningful, hands-on learning experience within the music industry for Millikin students, and further promotes the reputation of the Millikin University School of Music to the wider community.