"Graduates will need to highlight their skills in technology, team work and individual work ethic"
The COVID-19 pandemic has altered many things around the world, especially in the workforce. Companies are looking for candidates that can handle the new responsibilities of the job market.
Recent college graduates have an advantage because they are comfortable using newer technologies and have been communicating virtually their whole lives. They can take what they've learned and apply it immediately.
In an article by Zippia: The Career Expert, a panel of experts weighed in on what aspiring graduates can do to start off their careers in an uncertain economic climate. The publication looks at what skills will be more important, where the economy is doing relatively well and if there will be any lasting effects on the job market particularly in the field of data science.
Among the experts was Dr. Emily Olson, assistant professor of mathematics and quantitative reasoning coordinator at Millikin University. Olson offered her thoughts on where the job market for recent graduates is heading, as well as how young graduates entering the industry can be adequately prepared.
"I think graduates need to remain flexible when entering the workforce. The types of jobs available will likely change over the next few years, especially as more companies allow remote work," Olson said. "One enduring impact of the pandemic will be where work is done, since allowing for remote workers means that daily Zoom meetings will be commonplace going forward."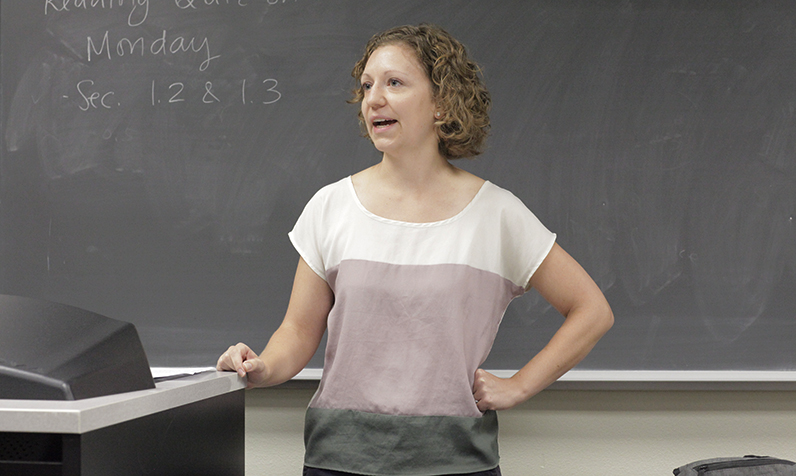 Dr. Emily Olson, assistant professor of mathematics and quantitative reasoning coordinator
When asked about the type of skills young graduates will need when entering the workforce, Olson says graduates will need to highlight their skills in technology, team work and individual work ethic.
"If a colleague is not physically located in the same place as you, you'll need to be both a team player and be able to work as an individual to accomplish the task. Employers will want to hire workers who can manage work in a virtual environment," she says.
In terms of what stands out on resumes, Olson noted, "An employer will want to see evidence of both individual work and team work on a resume. Graduates should highlight group projects, consulting opportunities, internships and jobs that have occurred both virtually and in-person during the pandemic. I think that certifications, both in technology and diversity training, also stand out on a graduate's resume."
Dr. Olson has been a faculty member at Millikin University since 2017. She earned a Bachelor of Arts in Mathematics from Saint Louis University in 2010, a Master of Science in Mathematics from the University of Nebraska-Lincoln in 2012, and completed her Ph.D. at Michigan State University in 2017 prior to arriving at Millikin.
Her research focuses on a branch of mathematics called combinatorics, which is about combinations of objects belonging to a determined set in accordance with certain constraints, such as graph theory, coding and probability.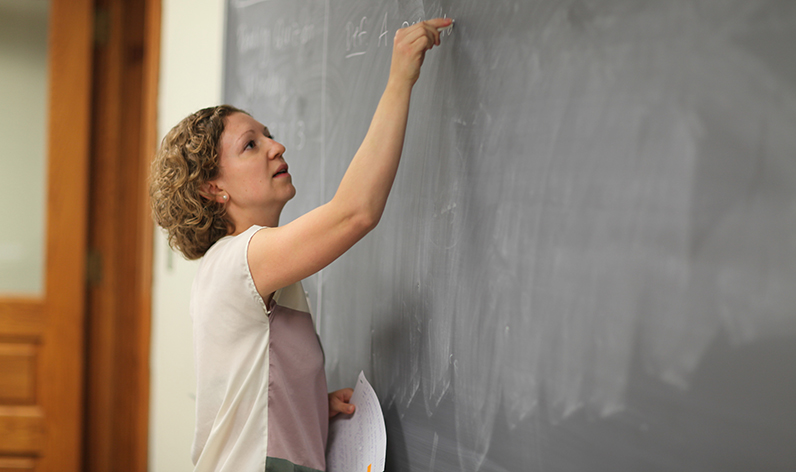 In a faculty profile piece from Sept. 2017, Olson said teaching mathematics is one of the more popular positions for math majors, but many opportunities in different fields are available, including data science or government-based positions.
"In data science, every company needs someone to analyze numbers and information," she says. "It's a very stable job and many companies need someone in that particular role."
She adds, "In the math education world, we use the phrase 'active learning,' which means keeping everyone engaged as much as possible. That's true across the board and not just mathematics. That's been my style and I'm very happy the Mathematics Department at Millikin has been able to embrace that and to make sure the learning is as active as possible."