Bailey Coffman is making an impact on the court and softball diamond
Before she enrolled at Millikin University, sophomore Bailey Coffman was faced with a difficult decision. Would she play on the women's basketball team or the softball team? Why not both.
A native of Heyworth, Ill., Coffman was recruited by Millikin women's basketball coach Olivia Lett who, at the time, learned that Coffman was also interested in playing both basketball and softball. Lett reached out to softball co-coaches Katie Tenboer and Whitney Sowers who were sold on having Coffman join the program after watching her pitch.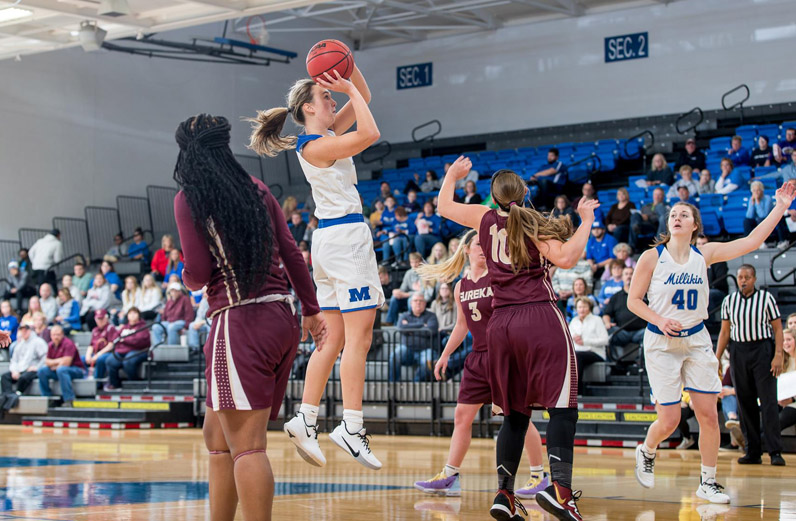 Coffman finished her first year on the women's basketball team as the second-leading scorer (11.5 points per game) and the third-leading rebounder (4.7). Coffman also pitched 20 innings on the softball team with a 3.60 ERA and 10 strikeouts before the COVID-19 pandemic ended the season after 13 games.
"I had a lot of people that were surprised when they knew I was going to do both," Coffman said in an interview with the Herald & Review. "A lot of people know how much I've done over the years. Some people would say, 'Don't you just want to do softball or don't you just want to do basketball?' I've kind of known this is what I wanted to do."
With basketball in full gear in the fall and winter, Coffman found time to keep ready for the softball season until March when she could just focus on softball.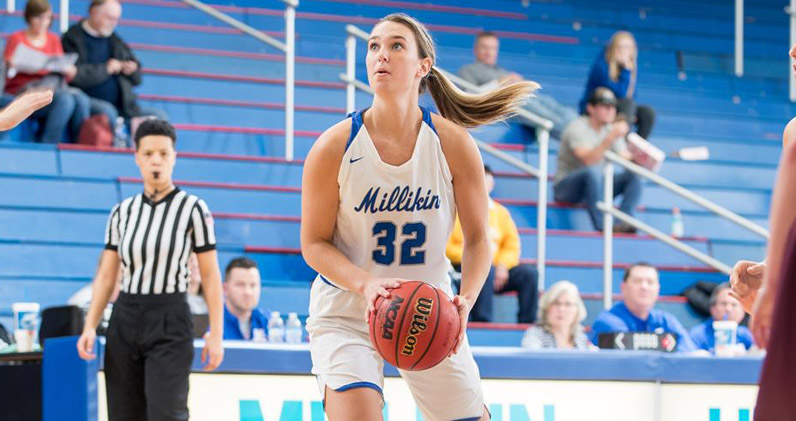 "She wants to get everything she can out of her ability," Lett said. "I think what is really the impressive part of it is she still found time during basketball season to get some throws in, during softball season to get some shots in. That is pretty demanding on your body and really pretty demanding on the mental side of it."
Tenboer noted, "Pitching is a whole other thing when it comes to the amount of time it takes to be successful at a high level. That part of it was really interesting but if anybody can do it, it's Bailey. We definitely learned that. She has a really good understanding of herself and a poise about her that she gets it, she gets what she needs to put in, but yet is being smart about her body and what it could handle being in the midst of basketball season as well."
Coffman finished the basketball season with a 25-point, six-rebound game in a first-round loss in the women's College Conference of Illinois and Wisconsin (CCIW) Tournament. She quickly made the transition to softball, pitching in both games of a doubleheader against Buena Vista University on March 1.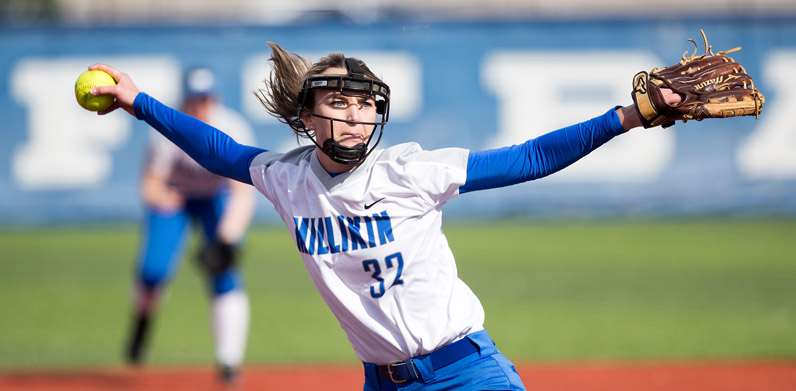 With opportunities to fit softball practices into her schedule during the basketball season, and with an experienced pitching staff around her, there was a plan in place for Coffman to feel ready for the move from basketball to softball.
"That's one of the things that both our coaching staffs believe is a perk of going to Millikin is that you can do both," Lett said. "We want to make it work, and we want that kid to be as successful as possible. It's not that we just want our team to be successful, what is going to make them the most successful?"
Coffman added, "It was hard for me to not give all of myself to softball when I was in basketball season because they do their offseason stuff then, but just how to be a good teammate and try to be there when you can. Any player that plays more than one sport in college always has those moments when it kind of feels like a lot and overwhelming. When you actually talk it through with the coaches, they really help to be like, 'There's not this much pressure. When you get to softball, you'll get to softball.' It wasn't too overwhelming, but there were times when I kind of thought, 'How is this going to work?'"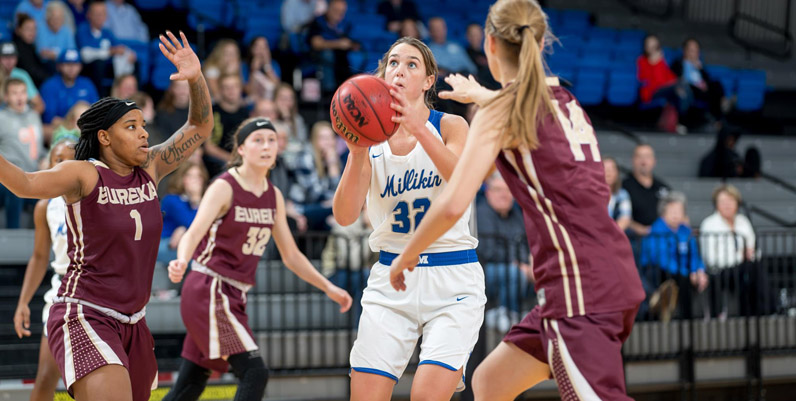 Even though athletics are on hold due to the COVID-19 pandemic, Coffman has no intentions of slowing down once everything gets back to schedule.
"As long as I stay healthy, it's my plan to stay with both," Coffman said. "I just want to see how the next few years go. I have a good relationship with all my coaches and teammates, so I think that helps to push me to do both."