Big Blue pitcher making an impact on the mound
The Millikin University baseball team is off to an impressive 13-4 start to the 2022 season, which at one point, included a 10-game winning streak. While the bats have generated plenty of offense in the first 17 games, the pitching has also held up its end of the bargain.
Among those making an immediate impact on the mound is pitcher Caleb Buehrle, a senior from Wildwood, Mo., who shows similarities to his cousin, Chicago White Sox great Mark Buehrle. While Mark was a lefty, Caleb is a righty who only picked up pitching in his junior year of high school. In that short time, his results are also starting to look like his older cousin's.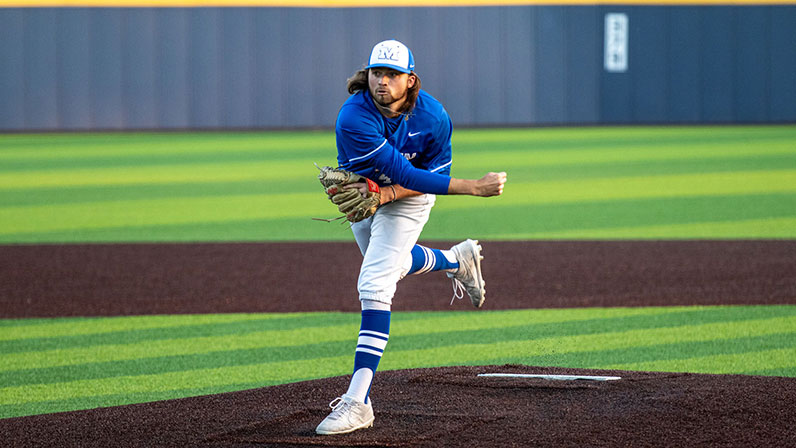 Caleb Buehrle
In early March, Caleb was named College Conference of Illinois and Wisconsin (CCIW) pitcher of the week in two consecutive weeks and was named to the D3baseball.com National Team after pitching a 3-0 nine-inning shutout against the University of Wisconsin-Oshkosh. This season, he's 3-1 with a 2.27 ERA and 35 strikeouts.
"Caleb is one of the best pitchers in the country," Millikin head coach Brandon Townsend said in an interview with the Herald & Review. "He has been a guy that controls all aspects of the game. He makes some of the things that a pitcher has to do that are hard look very easy. When you face him, you are not going to get anything for free. When you make a team earn every inch on that field, you are a tough guy to beat. I think that is how you define Caleb. You are going to have to outplay him."
Caleb said having his older cousin on television every fifth day gave him a belief that he could do it.
"We are still working on it. I'm not where I want to be yet, but it is definitely still a dream," Caleb said. "Things that stick out for me are Mark's composure on the mound and he was never rattled. He attacked hitters and he was a mentor to the other guys. He's a great man and he is the same to me, too — willing to do anything and everything to share baseball with us."
Buehrle wears No. 45 in honor of Bob Gibson and strives to match his ability to control the pitcher/batter battle with strong control inside.
"Bob pitched inside and having the ability to pitch inside and having that mentality that he had, it all starts with the fastball," Buehrle said. "Having a fastball that is always in the hitter's mind makes everything else better, be it the sliders or the cutter or the changeup. Everything is better when your fastball is on."
Along with Buehrle, pitchers Tanner Coleman, Drew Detmers and Matt Wilson are leading the Big Blue starting lineup. Detmers, a Chatham Glenwood graduate, is the younger brother of Los Angeles Angels pitcher and first-round draft pick Reid Detmers.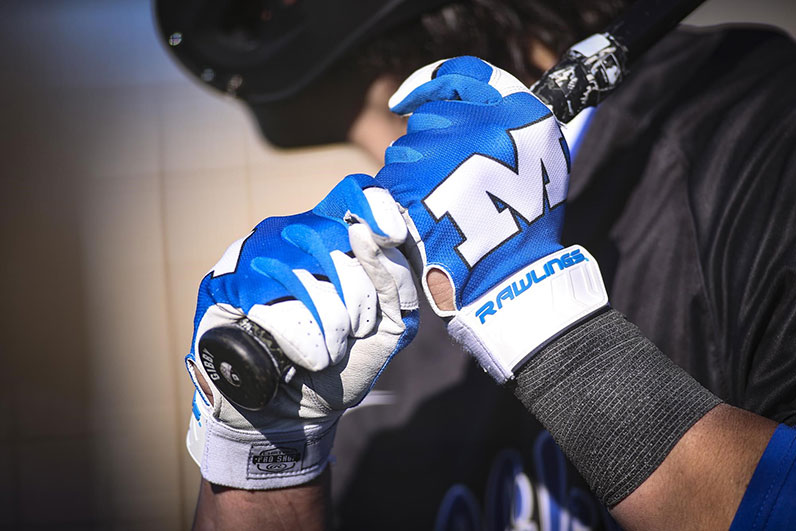 The Big Blue are looking to cash in off of last year's success after making their first ever trip to the NCAA Tournament.
"In short, we want to win. We want to keep winning ball games as long as we can and get to where we want to go. When I first got here, it was still that we were so close, and we can do this. Now it is kind of become the standard," Buehrle said. "We have gotten there and now it is more comfortable to stay there. Honestly, that's been a big change in just two years."