Millikin announces Fall Academic All-Conference Honorees
Millikin University, in conjunction with the College Conference of Illinois and Wisconsin (CCIW), has announced its recipients for the Jack Swartz Award and the CCIW Academic All-Conference team for fall 2018.
Junior football linebacker Matt Brown (Champaign, Central H.S.) and senior women's soccer player Taylor Hartman (St. Anne, Herscher H.S.) were selected as the Millikin recipients of the Jack Swartz award.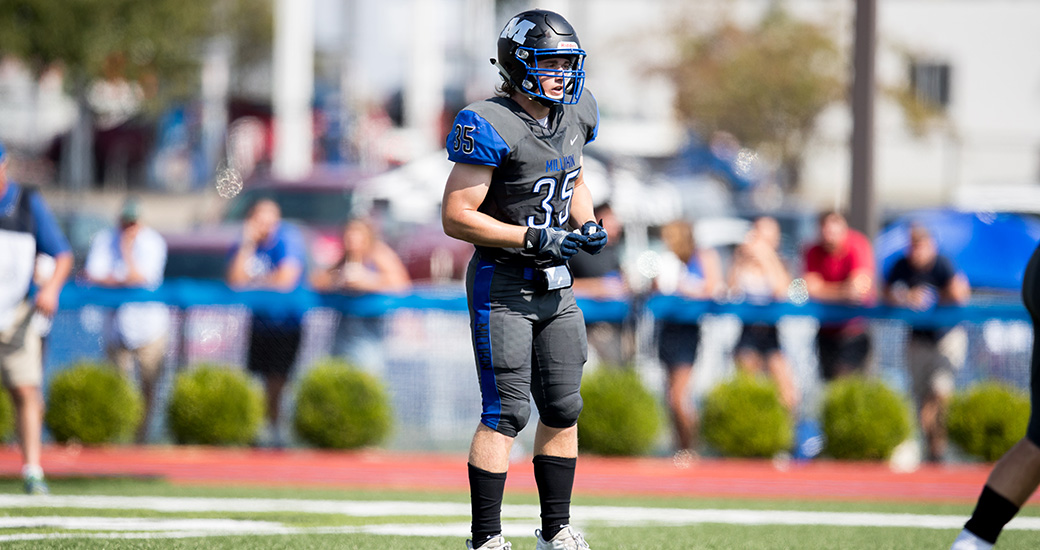 Brown was named to the 2018 Google Cloud Academic All-America® Division III Football Second Team, as selected by the College Sports Information Directors of America (CoSIDA). He was Millikin's leading tackler with 66 and had 7.5 tackles for loss including four sacks. Brown, a Presidential Scholar at Millikin, excels in the classroom majoring in Business Management.
Hartman was a Co-Captain for the Women's Soccer team in 2018 scoring two goals. Hartman has earned Academic All-Conference honors four times during her career. Hartman is an Elementary Education major.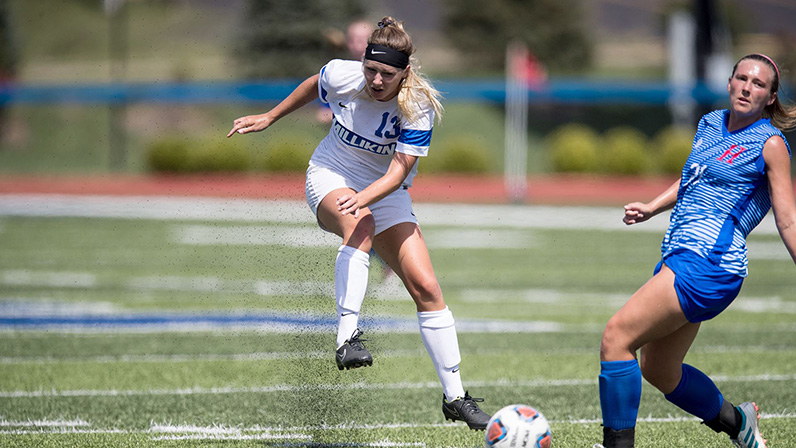 Each season the CCIW selects an Academic All-Conference Team. To be recognized, the student-athlete must be enrolled as a full-time student; must have earned a letter during the 2018 fall season; and must carry at least a 3.30 cumulative grade point average. Jack Swartz winners must have at least a 3.50 grade point average. The following Millikin student-athletes were named to the 2018 Fall Sports CCIW Academic All-Conference team.
2018 Fall Sports CCIW Academic All-Conference Honorees
Cross Country
Name Yr. Major Hometown\High School
Joey Davies So. Chemistry (Pre-Med) Tinley Park, Ill.\Tinley Park
Maddy Eck Fr. Nursing Pleasant Plains, Ill.\Springfield Lutheran
Garrett Jones Fr. Chemistry Mattoon, Ill.\Mattoon
Ben Kuxmann Fr. English (Sec. Teaching) Bourbonnais, Ill.\Bradley Bourbonnais
Eryn Renison Fr. Nursing Channahon, Ill.\Minooka
Joycelyn VanAntwerp So. Psychology Kewanee, Ill.\Kewanee Weathersfield
Claire Weers So. Biology (Pre-PT) Minonk, Ill.\Fieldcrest
T.J. Weglarz So. Business Tinley Park, Ill.\Tinley Park
Kara Weichman Fr. Nursing Teutopolis, Ill.\Teutopolis

Football
Name Yr. Major Hometown\High School
Connor Brewer Sr. Business Management Springfield, Ill.\Rochester
*Matt Brown Jr. Business Management Champaign, Ill.\Central
Marcus Hayes So. Nursing Lockport, Ill.\Plainfield Central
Cal Pohrte So. Sports Management New Lenox, Ill.\Lincoln Way West
Ashton Sandy Fr. Business Management McDonough, Ga.\Ola
Nicco Stepina Sr. Health, Fitness & Rec. Casey, Ill.\Casey Westfield
Alex Vogt Fr. Physical Education Warrenton, Mo.\Warren County R-3
Christopher Vogt Fr. Social Science (Teaching) Warrenton, Mo.\Warren County R-3
Jordan Williams Jr. Information Systems Champaign, Ill.\Central
Brandt Williamson Fr. Physical Education Westville, Ill.\Westville

Men's Soccer
Name Yr. Major Hometown\High School
Joseph Caldarazzo Sr. Physical Education Downers Grove, Ill.\Downers Grove South
Alessandro Desario Fr. Accounting West Chicago, Ill.\St. Charles East
Connor Foley So. Business Management Peoria, Ill.\Peoria Notre Dame
Gabriel Gil Jr. International Business Caracas, Venezuela\Hiawatha (Ill.) H.S.
Michael Hoelting Fr. Physics Edwardsville, Ill.\Edwardsville
Isaac Hopper Jr. History & Philosophy Manhattan, Ill.\Lincoln Way Central
Takunda Jakachira Sr. Physics Harare, Zimbabwe\Kyle
Jon Kuebler Fr. Accounting Columbia, Ill.\Columbia
Ben Maynard Jr. Mathematics (Data Science) Normal, Ill.\Normal Community
Eli McClinton Fr. Criminal Justice Belleville, Ill.\Belleville East
Austin Taylor Jr. Nursing Dunlap, Ill.\Dunlap

Women's Soccer
Name Yr. Major Hometown\High School
Danica Brezovar Fr. Chemistry Mukwonago, Wis.\Mukwonago
Rosina Fascetti Fr. Art-Graphic Design Wildwood, Mo.\Eureka
Brittney Gilbert Fr. Computer Science Mahomet, Ill.\Mahomet Seymour
Shae Giovanni So. Athletic Training Johnsburg, Ill.\Johnsburg
*Taylor Hartman Sr. Elementary Education St. Anne, Ill.\Herscher
Mackenzie Kiewitt So. Environmental Science Union, Mo.\Union
Jennifer Miller So. Athletic Training St. Louis, Mo.\Ursuline Academy
Amanda Noser Fr. Accounting Ballwin, Mo.\Parkway South
Emily Ratchford Jr. Nursing Saint Peters, Mo.\Fort Zumwalt East
Elexis Richardson Fr. Biology Carbondale, Ill.\Carbondale
Sydney Rudny So. Mathematics (Actuarial Science) Orland Park, Ill.\Carl Sandburg
Chloe Scharfenberg Fr. Nursing Decatur, Ill.\Culver Academy
Maddy Wood Fr. Psychology St. Charles, Mo.\Francis Howell North

Women's Tennis
Name Yr. Major Hometown\High School
Danielle Beard So. Business Management Oak Brook, Ill.\Timothy Christian
Morgan Bettner Jr. Mathematics (Sec. Ed.) Brownsburg, Ind.\Brownsburg
Madeline Delano Sr. Sports Management Arlington Heights, Ill.\Buffalo Grove
Brittany Hannan Fr. Art Therapy Burbank, Ill.\Reavis
Alena Hinch Jr. Criminal Justice Mt. Zion, Ill.\Mt. Zion
Shelby Jones Fr. Social Studies (Teaching) Alton, Ill.\Marquette Catholic
Amber Rezinas Fr. Elementary Education Shelbyville, Ill.\Shelbyville

Volleyball
Name Yr. Major Hometown\High School
Sarah Bingenheimer Fr. Elementary Education Springfield, Ill.\Chatham Glenwood
Laruen Brummel Fr. Nursing Plano, Ill.\Rosary
Gabby Coulthard So. Elementary Education Mount Horeb, Wis.\Mount Horeb
Ashlyn Hartman Fr. Data Science\Sports Management Milton, Ga.\Cambridge
Maddie Holland So. Information Systems Shelbyville, Ill.\Shelbyville
Peyton Jackson Fr. Athletic Training Taylorville, Ill.\Taylorville
Grace Knowski Fr. Accounting Brookfield, Ill.\Lyons Township
Kelsey McAtee Jr. Nursing Decatur, Ill.\Mt. Zion
Emily Seegmiller Sr. Health, Fitness & Rec. Arthur, Ill.\Arthur Lovington Atwood Hammond
Maddie Sielski Fr. Nursing Chicago, Ill.\Maine Township East
Rose Syversen Jr. Marketing Pewaukee, Wis.\Waukesha West
Alyssa Vignos So. Environmental Biology New Berlin, Ill.\New Berlin

Women's Golf
Name Yr. Major Hometown\High School
Erika Castanon So. Biology (Pre-Med) Valparaiso, Ind.\Valparaiso
Mckenzie Miller Fr. Sports Management Wildwood, Mo.\Eureka
Paige Slabaugh Fr. Information Systems Kolona, Iowa\Mid-Prairie
Meghan Whitlock Jr. Music & Communication Mosely, Va.\Cosby

Women's Triathlon
Name Yr. Major Hometown\High School
Brigid Duesterhaus Fr. Business Decatur, Ill.\MacArthur
Morgan Powers Jr. Chemistry\Biology Shelbyville, Ill.\Shelbyville
Hope Roderick Fr. Early Childhood Therapy Glen Carbon, Ill.\Edwardsville

*Jack Swartz Winner