Washington Post political science blog publishes Millikin professor's research
Representative Matt Gaetz, Republican of Florida, is being investigated by the U.S. Department of Justice on whether he violated federal sex trafficking laws. The investigation was opened in the final months of President Donald J. Trump's administration under Attorney General William P. Barr.
In a recent piece published by the Washington Post political science blog, "The Monkey Cage," Amber Lusvardi, lecturer of political science at Millikin University, shared insight into a bigger issue surrounding the Gaetz scandal—how most states have loopholes that let men exploit teenage girls.
"News outlets are focusing on how this scandal could affect a member of Congress. But there's another urgent question: How often are teenage girls caught in such relationships, consensual or otherwise—and how well does the United States protect them from exploitation?" Lusvardi writes.
According to Lusvardi, states, not the federal government, set the age of consent. In Gaetz's home state of Florida, the age of sexual consent is 18, making any sexual conduct between an adult and a minor statutory rape. In many other states, the age is 16, although that varies by how close the two people are in age, what the circumstances may be and what type of sexual act is involved.
"State laws vary even more dramatically on allowing minors to wed. Forty-six states allow child marriage under certain circumstances," Lusvardi writes. "Some states have no minimum age for marriage, as long as the minor has a parent's written permission or a judge's approval."
So when do states take action to protect teen girls from predatory adults? To answer the question regarding child marriage, Lusvardi collected state legislative data on a variety of measures, such as roll-call votes, bill co-sponsorship, and legislator demographics; interviewed state lawmakers and representatives of advocacy groups; analyzed media coverage from national newspapers and state capital newspapers in key states such as Pennsylvania, Massachusetts and Minnesota from 2015 to 2020; and collected evidence of advocacy groups' campaigns.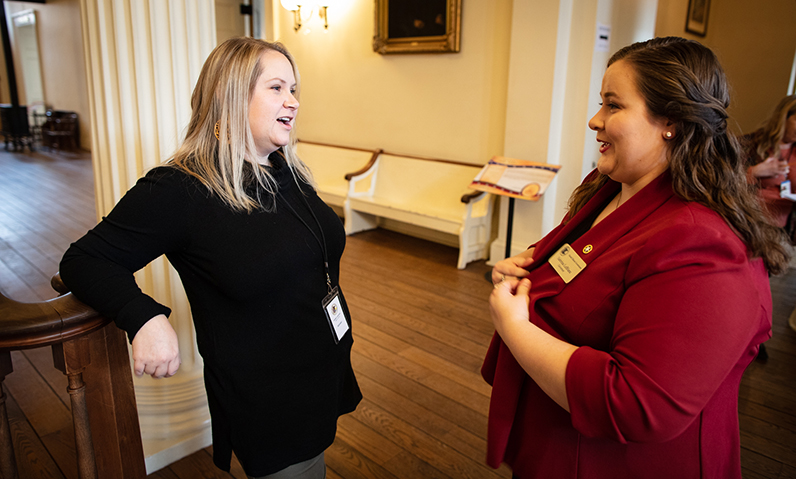 Amber Lusvardi (pictured left)
"When legislators consider child marriage and other forms of sexual exploitation of minors, it's not because there's been sustained media attention or widespread public outcry. Rather, legislators are responding to key advocacy groups," Lusvardi writes. "That matters because teenage victims of sexual predation—unlike their higher-profile abusers—do not have a voice in the news media, which protect their identities, or an organized presence in the legislature."
Lusvardi says child marriage advocacy groups have begun to organize and appeal to state legislatures to change the situation.
"Since 2018, four states—Delaware, New Jersey, Pennsylvania, and Minnesota—have completely banned marriage before age 18. In New Jersey, then-Governor Chris Christie, a Republican, vetoed the legislation in 2017. However, the legislature again passed the bill in 2018 and it was signed by Gov. Phil Murphy, a Democrat. In 2020, during the pandemic, the Pennsylvania legislature unanimously passed a ban on underage marriage," Lusvardi writes.
Lusvardi added, "When the Gaetz story drops from public attention, most states' laws will still offer loopholes through which adult men can exploit teenage girls. Teenage girls across the country are not fully protected by state law. But state legislators are responding to advocacy groups' new argument that they should protect teenage girls at risk for this specific abuse."
Amber Lusvardi
Amber Lusvardi is a Ph.D. candidate at Purdue University with concentrations in American Politics and Public Policy. She holds a Master of Arts in Political Science from Eastern Illinois University. Her research examines agenda setting on gender issues in state legislatures. Her work has appeared in the edited texts "The Year in the C-SPAN Archives Research and Handbook on Gender and Violence." As an instructor at Millikin University, Lusvardi has taught American politics and public policy courses such as Model Illinois Government. In 2017, she won the Advisor of the Year award for her work with Millikin's Model Illinois Government delegation.