A 360 degree virtual experience of Millikin's Wrestling Facility
The Millikin University Wrestling program wrapped up the 2017-18 season by finishing in second place at the 2018 College Conference of Illinois and Wisconsin (CCIW) Wrestling Championships held in Naperville, Ill., on Feb. 8.
Millikin freshman Bradan Birt, a business major from Epworth, Iowa, was the CCIW Champion at 149 pounds while junior Chris Williams, a sports management major from Bethalto, Ill., finished in second place at 141 pounds to earn All-Conference honors. Big Blue junior Keajion Jennings, a sports management major from O'Fallon, Ill., was second at 184 pounds and three other Millikin wrestlers earned All-Conference honors with a third place finish in their weight class.
Williams, Jennings and Birt all advanced to the NCAA Division III Championships after finishing in the top three at the NCAA Lower Midwest Regionals held Feb. 24-25 at the Five Flags Center in Dubuque, Iowa. The Millikin trio will wrestle at the NCAA Division III Championships March 9-10 in Cleveland, Ohio.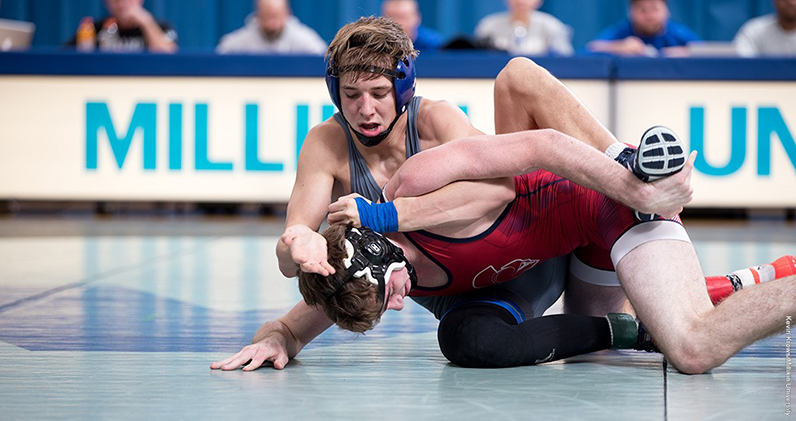 In just the Millikin Wrestling program's third year since its rebirth in 2015, the team is contending for CCIW Championships thanks to the recruiting efforts of Head Coach Ryan Birt, who is also taking the program to the next level with its facility.
Due to a jump in recruits its first year, the program was in need of a wrestling space and Birt and the wrestlers were able to transform a former auto parts store in Decatur, Ill., into a wrestling facility over the course of the summer in 2015.
We caught up with the team and Coach Birt to capture a 360 degree virtual experience of the wrestling facility. Senior Myron Hamilton, a health, fitness and recreation major from Indianapolis, Ind., also took some time to talk about the facility and being a part of the Millikin Wrestling program.