Students learn to compose, produce and perform like rock stars
A new generation of up-and-coming musicians and performers visited Millikin University's campus in July to get a glimpse of the band life as part of the First Gig Rock and Roll Camp.
The program helps students learn to compose, produce and perform like rock stars. Sessions are offered for bass, drums, guitar and vocals, as students are instructed by local rock musicians. Led by Mike Schoneman and Braun Sheets, experienced rock and roll musicians with years of expertise, the long-established program is now part of Millikin's Preparatory Department.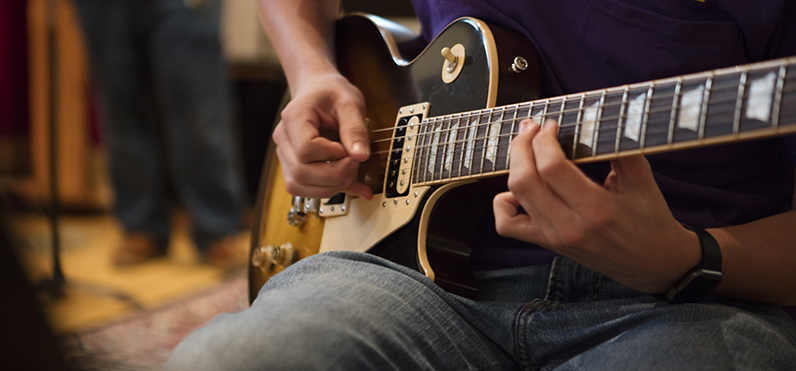 "It just made more sense to house it here, because we're using Millikin's facilities, and we have Rock University program," Dr. Neal Smith, associate professor in Millikin's School of Music, said in an interview with the Herald & Review. "It just creates a synergy between what we're doing here during the (academic) year and what we're doing in the summer."
Smith added, "The mission of the prep department now is to reach as many kids as we can through music in whatever way we can. Not every kid necessarily wants to play in their school band or orchestra. They might want to play guitar, or do hip hop production or work in a recording studio. We're trying to diversify things."
First Gig, like most things, had to skip meeting last year, though founder Mikey Schoneman said they tried Zoom meetings and listening parties as an alternative. "It wasn't the same," he said.
During First Gig, students supply their own instruments, get together to form bands and learn the basics of performing, marketing and working together. The camp ends with a performance at Kirkland Fine Arts Center.
"Aside from coming in and being part of the band, we also have people coming in and talking to them every day about things like marketing themselves, band merchandise, booking gigs, the importance of making connections during touring, feeding off other bands and helping other bands, little tricks of the trade like that that can help them along the way," Schoneman said. "There's lots of industry secrets and things you pick up and learn along the way that we try to pass along to them, so they're not just playing in their garage. They can actually get out and do the thing."