Big Blue sets CCIW Team Points Record
The Millikin University wrestling team won its second straight College Conference of Illinois and Wisconsin (CCIW) Wrestling Championship on Feb. 13 at the Carver Center in Rock Island, Ill.
Millikin had four individual champions and had five other wrestlers earn All-Conference honors including four second place finishers. Millikin scored 153.5 team points followed by North Central at 146.5 and Augustana at 100.5 points.
Millikin head coach Ryan Birt was selected as the CCIW Coach of the Year and his son, Big Blue senior Bradan Birt was the Most Outstanding Wrestler.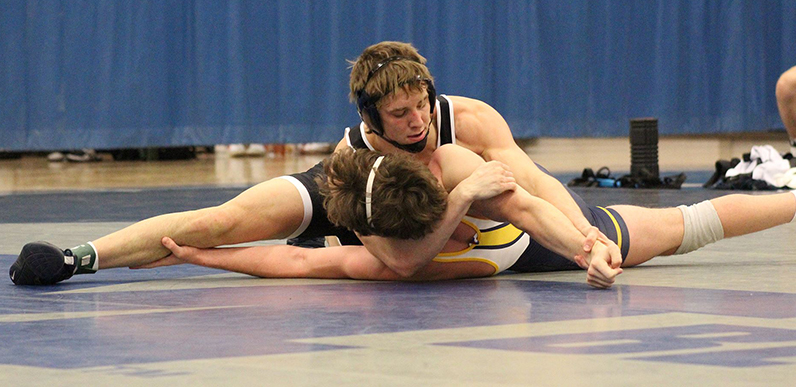 Bradan Birt
Peter McCusker was the CCIW Champion at 149 pounds with a 13-1 major decision victory over Lucas Regnier of Concordia-Wisconsin in the finals. McCusker dominated the weight class winning his first two matches by fall.
Tristan Birt won his third CCIW Title winning the 157 pound weight class. Birt defeated Cole Cervantes of North Central 11-4 in the finals.
Bradan Birt tied the Millikin school record for conference titles winning his fourth CCIW Championship. He won the 165 pound match by technical fall 16-0 over Rafael Roman of North Central. Birt stormed his way to the finals opening with a fall victory in 55 seconds and scoring a pin in 16 seconds in the semifinals.
Logan Hagerbaumer gave Millikin its fourth CCIW Champion winning the 197 pound weight class 5-2 over Cody Baldridge of North Central. It was Hagerbaumer's second straight title. Hagerbaumer won his first two matches by fall including an 11 second victory in his opening match.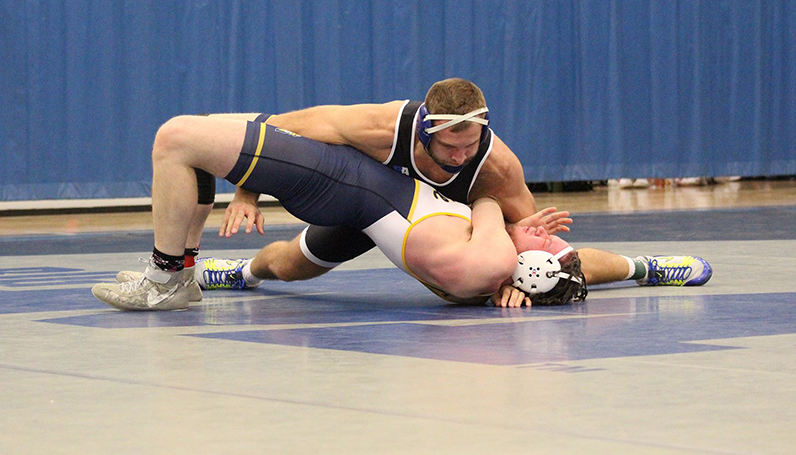 Logan Hagerbaumer
DJ Millett finished in second at 133 pounds falling in the Championship match to Robbie Precin of North Central 6-3. Jordan Carson finished in second place at 141 pounds falling to Jimmy McAuliffe of Elmhurst 5-3.
Shaylan Loomis Lucas finished in second place at 174 pounds falling in the finals to Drew Matticks of the Milwaukee School of Engineering 7-1. Brayan Reyes finished in second place at 285 pounds falling in the finals to Ben Bergen of North Central by fall at 4:23, and Trey Pearcy finished in third at 125 pounds defeating Gabe Rodriguez of Concordia-Wisconsin 5-3.
In addition to winning its second straight CCIW Wrestling Championship, the Big Blue also scored the most team points in a CCIW Championship event.
The Big Blue scored 153.5 points topping the previous high in team points of 145 set by Augustana College back in 1974.