Acclaimed author highlights Women's History Month Celebration
Women's History Month is a time to commemorate and encourage the study, observance and celebration of the vital role of women in American history. It began as a national celebration in 1981 when Congress passed a resolution which authorized and requested the President to proclaim the week beginning March 7, 1982 as "Women's History Week." Throughout the next five years, Congress continued to pass joint resolutions designating a week in March as "Women's History Week." In 1987 after being petitioned by the National Women's History Project, Congress designated the month of March 1987 as "Women's History Month."
Between 1988 and 1994, Congress passed additional resolutions requesting and authorizing the President to proclaim March of each year as Women's History Month. Since 1995, Presidents Clinton, Bush and Obama have issued a series of annual proclamations designating the month of March as "Women's History Month."
Millikin University is among several higher education institutions to celebrate Women's History Month each March by hosting a number of events on campus. This year, Millikin welcomed acclaimed author and Champaign, Ill., native Patricia Hruby Powell who wrote the book "Struttin' with Some Barbecue: Lil Hardin Armstrong Becomes the First Lady of Jazz." The book is a true story about Lil Hardin Armstrong: pianist, composer and bandleader in the early days of jazz. Ahead of her time, Armstrong made a career for herself – and for Louis Armstrong, her modest, unassuming husband.
Powell shared Armstrong's inspiring story and showcased the sounds of the era with some help from The Traditional Jazz Orchestra, who performed in the Oberhelman Center for Leadership Performance in the University Commons on March 21.
Powell danced throughout the Americas and Europe with her dance company, One Plus One, before becoming a storyteller and a writer of children's books. Her picture book "Josephine: The Dazzling Life of Josephine Baker" (Chronicle 2014) has garnered various honors including the Robert F. Sibert, Coretta Scott King (for Illustration), Boston Globe Horn Book for Nonfiction, Bologna Ragazzi Nonfiction and the Parent's Choice Gold Award for Poetry.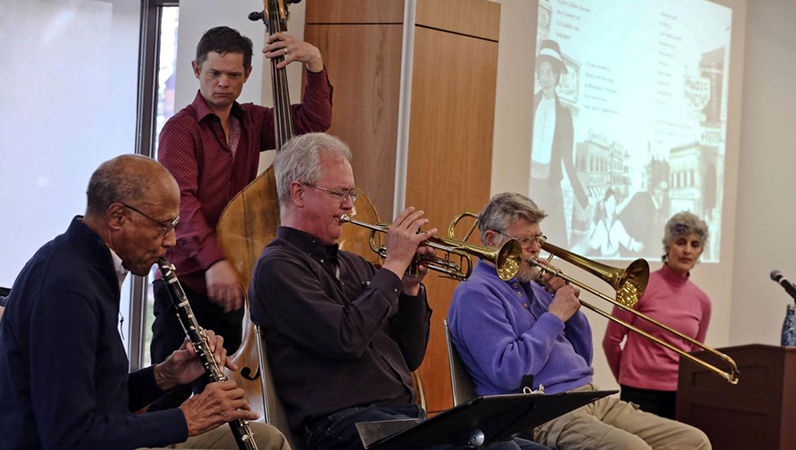 Photo courtesy of the Herald & Review/Clay Jackson
Powell's other picture books are "Blossom Tales," "Zinnia" and "Frog Brings Rain." Her documentary novel "Loving vs. Virginia" (Chronicle 2017) for young adults is a Junior Library Guild Selection for 2017. Powell is developing a picture book about Ella Baker (Simon & Schuster) and a YA about women who championed women's suffrage (Chronicle 2020).
"I don't write for the very young," Powell said in an interview with the Herald & Review. "If you're writing for the very young, you want to address the psychological development of the child with subject you're working with. My books are picture books and middle grade books, and young adult books."
Tonya Hines, assistant director of inclusion and student engagement for Millikin, recently attended a book signing in Champaign and met Powell. She knew she would be a great addition to Millikin's Women's History Month activities.
"I've been trying to get students engaged in learning about music from the 1930s and trying to just make Women's History Month really impactful for the students," said Hines.
Commercial music major Jonathan Williams, a junior from Alton, Ill., noted, "I grew up in the church, and I've heard every kind of music you can think of. It all ties together and we all speak the same language of music. There's a connection. There's a truth that's hidden in music and I strongly believe that growing up and branching out can be another piece of the puzzle."