Millikin Pi Beta Phi chapter centers around philanthropy and volunteer service
Pi Beta Phi is a Women's Fraternity built on the model of servant leadership. Millikin University's chapter of Pi Beta Phi is a unique group of students who are musicians, teachers, writers, performers, entrepreneurs, athletes and mentors who focus their efforts on philanthropy and volunteer service.
Each spring semester the chapter hosts a breakfast themed philanthropy event titled Green Eggs & Ham to raise money towards its Literacy Fund. The event helps bring books to children nationally. In addition to the event, Millikin Pi Beta Phi students visit Enterprise Elementary School in Decatur, Ill., on a weekly basis to read with children.
On March 6, members of Pi Beta Phi engaged in a book giveaway project as part of the organization's Fraternity Day of Service, a major Pi Beta Phi literacy initiative under the organization's national philanthropic effort, Read > Lead > Achieve®. The Fraternity Day of Service is an annual event encouraging Pi Beta Phi members to provide literacy-related service and advocacy efforts to their communities. This year, some 80,000 nationally will receive books of their own from Pi Beta Phi organizations.
In a recent interview with the Herald & Review, chapter president Megan Carey, a junior music major from Morris, Ill., said, "One in four children cannot read, and that is just something that we, as an organization, Pi Phis across the country and Canada, chose to center around, because it's something near and dear to our hearts."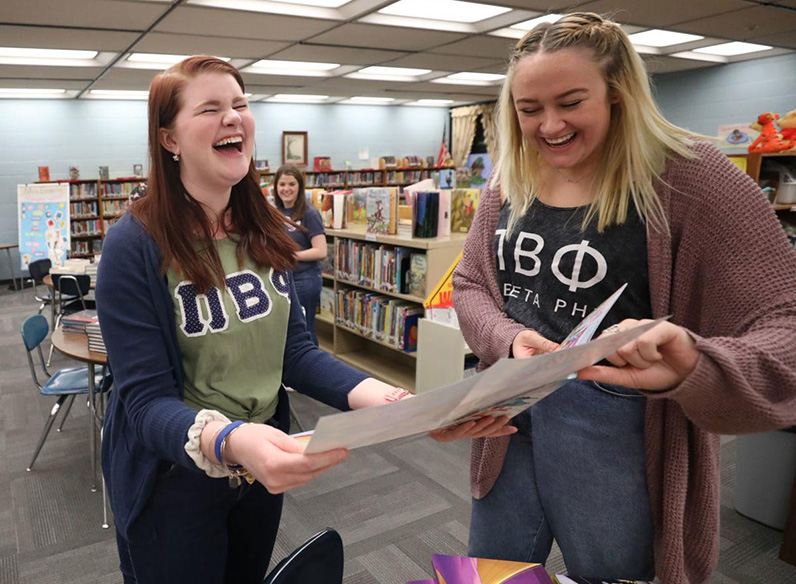 Photo courtesy of the Herald & Review, Jim Bowling
The Millikin chapter chose to work with Enterprise Elementary because Enterprise Principal Ann Mathieson is a 1985 Pi Beta Phi Millikin alumna.
"We had different service projects when we were at Millikin," said Mathieson. "Sometimes the students come twice or three times a week. It depends on their schedule. We kind of spread the joy through the hallway with different classrooms."
This year, the Millikin chapter received a $750 grant from their parent organization to buy a total of 837 books.
The vision of Pi Beta Phi Fraternity for Women is to be recognized as a premier organization for women by providing lifelong enrichment to its members and contributing to the betterment of society.
Through Read > Lead > Achieve, Pi Beta Phi has donated more than $4.5 million dollars to literacy causes, given one million books to children in need, and impacted one million lives between 2013 and 2017.