Big Blue captures first CCIW Tournament Championship since 2005
The Millikin University women's basketball team won the 2021 College Conference of Illinois and Wisconsin (CCIW) Women's Basketball Tournament Championship defeating Illinois Wesleyan 72-59 on March 9 at the Griswold Center in Decatur, Ill. It was the first CCIW Tournament Championship for Millikin since 2005.
The game was a back-and-forth contest for the first three quarter with nine lead changes and eight ties. The game was tied 15-15 after the first quarter and Illinois Wesleyan led 29-26 at halftime.
The Big Blue trailed much of the third quarter, but rallied in the final two minutes and took the lead for good with 2:05 left in the third on a basket from Jordan Hildebrand. Elyce Knudsen would push the lead to three one minute later before Illinois Wesleyan's Riley Brovelli cut the lead to 44-43 with 44 seconds left in the quarter. Knudsen would hit another basket in the final seconds of the quarter and it was 46-43 Millikin at the end of three quarters.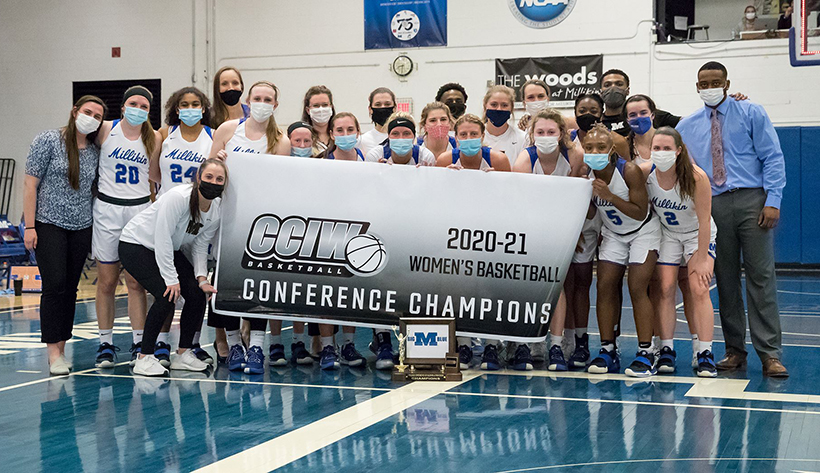 Millikin would push the lead to six points on four occasions in the first four minutes of the fourth quarter. Millikin lead 57-51 with 6:12 remaining in the game. The Titans would make one final run and a three-pointer by Samantha Munroe would make it 57-56 Millikin with five minutes to play. The Big Blue would then go on a 13-3 run to close out the game. Knudsen hit a layup to make it 59-56 followed by a three-pointer by Miranda Fox to get the run started.
"Both teams really struggled to put the ball in the basket," Millikin coach Olivia Lett said in an interview with the Herald & Review. "Our defense forced them into some tough shots and in the second half we were able to get a few more easy looks."
Millikin shot 41 percent (28-69) from the field and made only 3-24 from three-point range. The Big Blue shot 9-18 (50 percent) from the field in the fourth quarter. Illinois Wesleyan shot 36 percent (24-66) from the field and went 6-20 from three-point range.
"I think we wore them down. We talk about it being a marathon and we really believe in our conditioning and we believe in our depth," Lett said. "We were playing a lot more people than they were and we only had two players over 30 minutes."
The Big Blue's top scorer was Knudsen with a career high 31 points with three steals. Knudsen tied the CCIW Tournament record for most made field goals in a game with 13. Hildebrand finished with 15 points and seven rebounds. Fox finished with seven points and a team high 10 rebounds.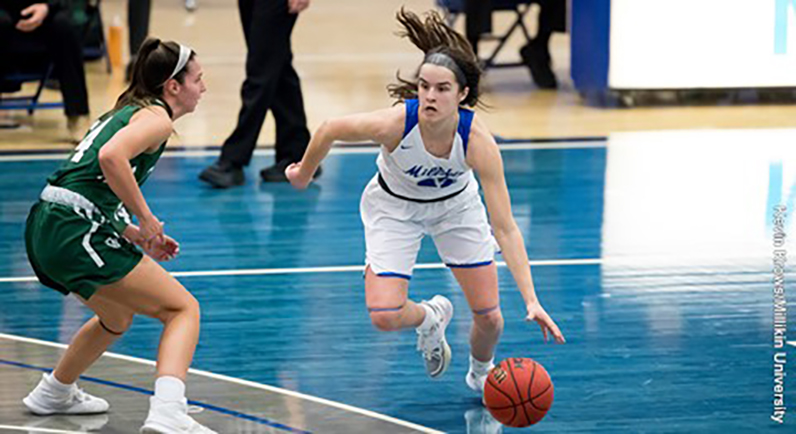 "I've said it all year, Elyce [Knudsen] is a phenomenal player and tonight you got to see that," Lett said. "Big time players make big time plays in big time games and I think she showed that tonight. She owned that moment."
Lett added, "I am thrilled for Jordan [Hildebrand]. After the four years that she has had and to be able to go out like this. I'm am unbelievably proud of her effort tonight and how much she kept us together. The total team effort really hit at that final buzzer. We just did this and we did it in three years. As unfortunate as it is that we don't get to play in the NCAA tournament, we do get to end on a win. We are going to enjoy it and try not to think too much about what could have been."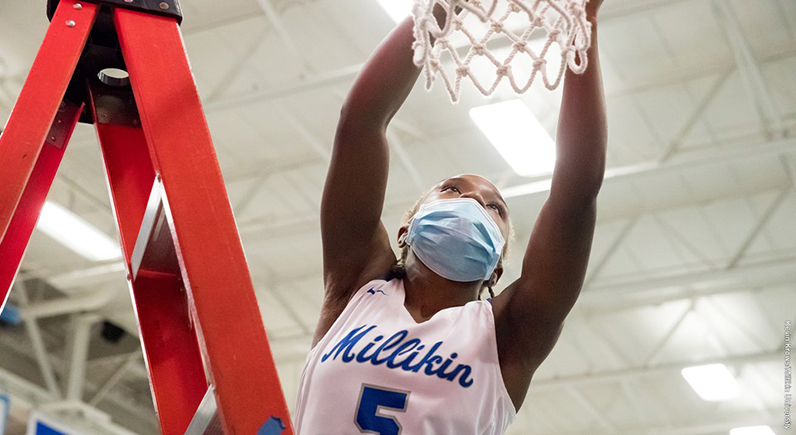 Millikin ends the season with a record of 11-3 while the Titans fall to 6-4.