Graduates urged to learn from experience
"Today you earn a degree in higher education, and not just any degree, a Millikin University degree."
Millikin President Dr. Patrick E. White delivered those words to an audience-filled Kirkland Fine Arts Center at Millikin's 2019 Winter Commencement on Dec. 15. More than 120 graduates crossed the Kirkland stage to embark on the next chapter of their lives including graduates from the Master of Science in Nursing and Doctor of Nursing Practice degree programs.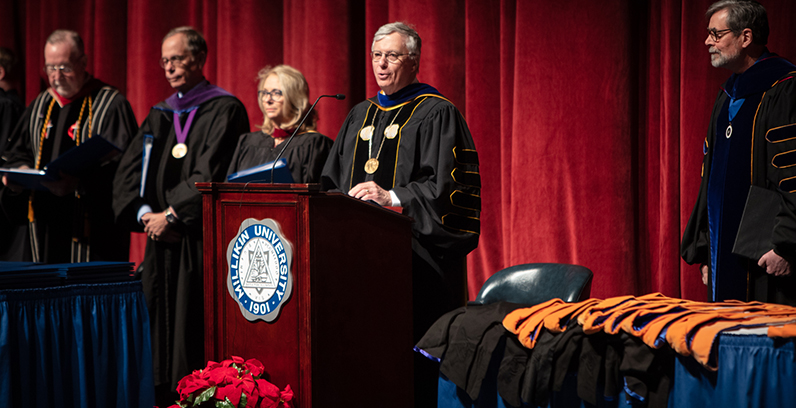 "You will build on the central Millikin practice of Performance Learning to make a difference in the world, to perform your lives and your work, and to make an enormous difference to you, to your families, to your communities and the larger world," said President White. "We applaud you for selecting Millikin University, for embracing our unique Performance Learning approach to education. We praise you for your dedication, your intellectual engagement in your field and your passion to achieve your goals."
Before the newly minted graduates could receive their diplomas, they took in some words of wisdom from fellow student speakers Samiha Thapa of Kathmandu, Nepal, who graduated with a Bachelor of Science in Nursing, and Sarah Lang of Peoria, Ill., who graduated with a Master's Entry into Nursing Practice degree.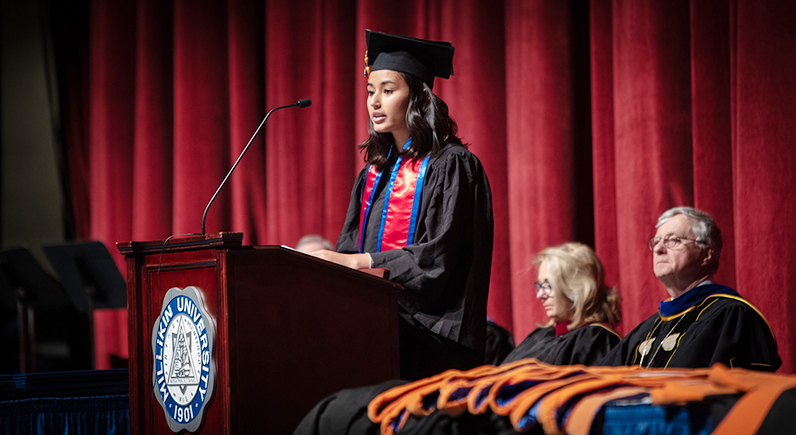 As she began her speech, titled "Finding Home," Thapa shared how talking to a large crowd is much different than a presentation in the classroom. Thapa will be working at Sarah Bush Lincoln Health Center in Mattoon, Ill., as a full-time registered nurse on the adult medical/surgical unit beginning in January 2020.
"In the last 22 years of my life, home has been a lot of different places. Home means something different to everyone, but I found a sense of home in Millikin," said Thapa. "When I do think about motivation and inspiration, it's the fact that we are all sitting here together having accomplished something important. The education I received at Millikin helped me become the best and most compassionate nurse I could be."
Sarah Lang currently works as a psychiatric nurse in Springfield, Ill. She expressed the importance of "learning to lead by learning to follow" during her speech.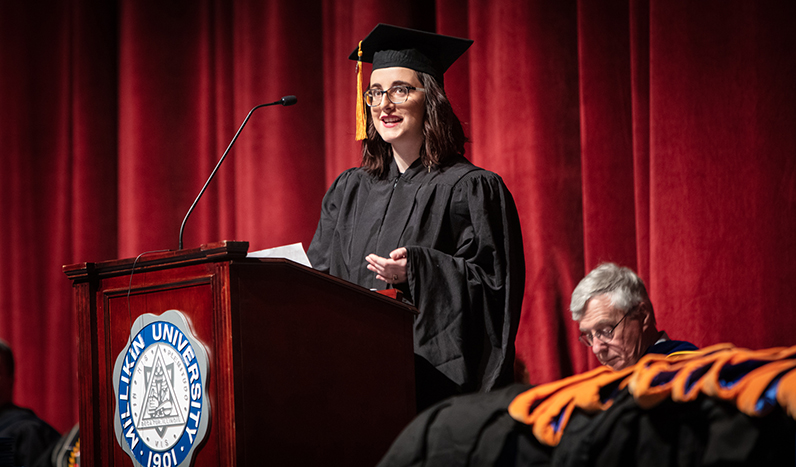 "The word leader brings up many positive words and images in our minds … words like confidence and courage, images like George Washington crossing the Delaware or Abraham Lincoln giving the Gettysburg Address," said Lang. "However, I don't think you can be a strong leader without being a strong follower. No matter where you work, learn the perspectives of the people who work alongside you so that when you're in that leadership position someday you can better understand how to help them."
Learning from experience was among the many themes Decatur (Ill.) Mayor Julie Moore Wolfe delivered during her keynote commencement address, "Your Budget for Life."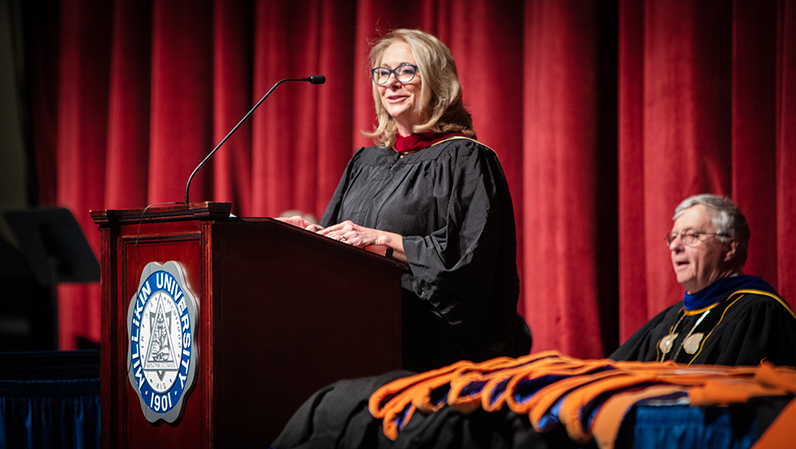 Moore Wolfe has served as the mayor of Decatur since 2015 and is currently the executive director of philanthropy and community relations at HSHS St. Mary's Hospital. She has served on the Decatur City Council since 2009 and her emphasis has been on improving public safety and infrastructure. She also served as president of the Chamber of Commerce in Decatur where her focus was in helping businesses grow, and lobbying for business issues and economic development opportunities.
"You are going to screw up. When you do, own it; people will respect you more," said Moore Wolfe. "If you try to blame someone else or cover it up, you just lost your credibility. You are not supposed to know everything yet – and you learn far more from your mistakes than your successes."
Moore Wolfe added, "The best thing that you can bring to any job, problem or situation life might throw at you is a positive attitude. Attitude is a choice."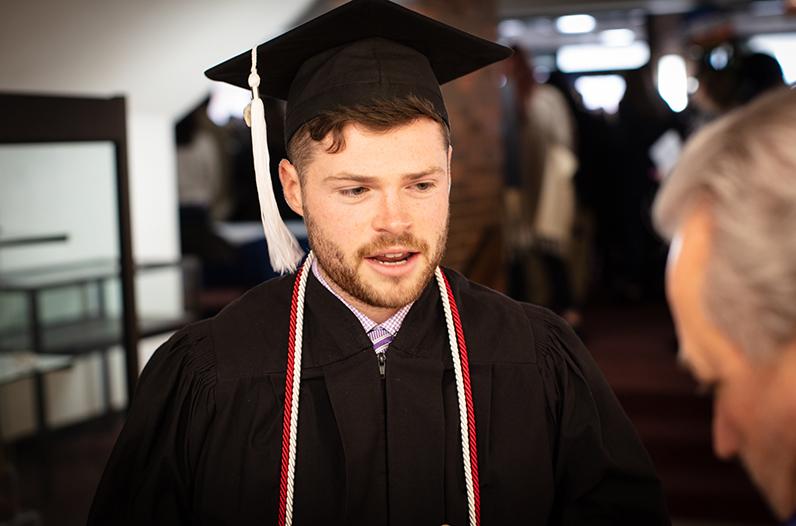 Graduate Griffin Sparks of Cisco, Ill., who earned a Bachelor of Arts in Communication, said Millikin offered hands-on learning opportunities and his work as an intern for the Decatur Celebration gave him experience in a real world setting. "That was an awesome, fantastic experience," he said. "I met a lot of great people and got a lot of great experience as well."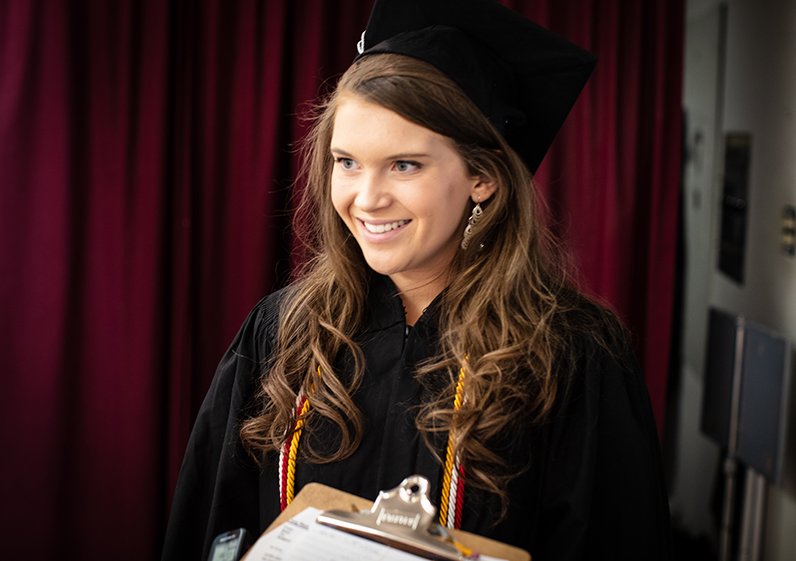 Ashley Brown, also a communication graduate from Decatur, says her dream job would be to come back and work at Millikin. "I really do bleed blue," Brown said in an interview with the Herald & Review. "I'm actually hoping to end up working here at Millikin because it has made such a big impact on me. I now want to do a similar thing for other students in the future."