Millikin wins four individual titles, Birt named CCIW Coach of the Year
The Millikin University wrestling team won the 2020 College Conference of Illinois and Wisconsin (CCIW) Wrestling Championships team title on Feb. 13 at the Griswold Center on Millikin's campus. It was the first ever team title in Big Blue wrestling history.
Millikin edged North Central College 135-134 with the championship not being decided until the third place match at 285 pounds, won by Millikin's Frank Tomaskovic, a senior from Oak Lawn, Ill. Millikin Head Coach Ryan Birt was named the CCIW Coach of the Year.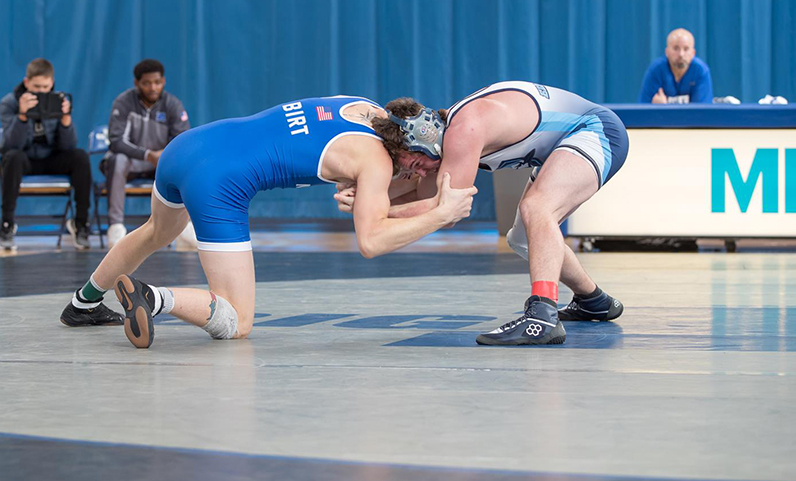 Millikin won four individual titles starting with senior Tristan Birt, of Gibson City, Ill., at 157 pounds and junior Bradan Birt, of Epworth, Iowa, at 165 pounds. It was the second title for Tristan Birt who won at 149 pounds in 2019 and it was the third straight title for Bradan Birt who was also named the CCIW's Most Outstanding Wrestler.
Millikin junior Taylor McGiffen, of Alton, Ill., at 174 pounds and Logan Hagerbaumer, of Quincy, Ill., at 197 also claimed CCIW Individual titles.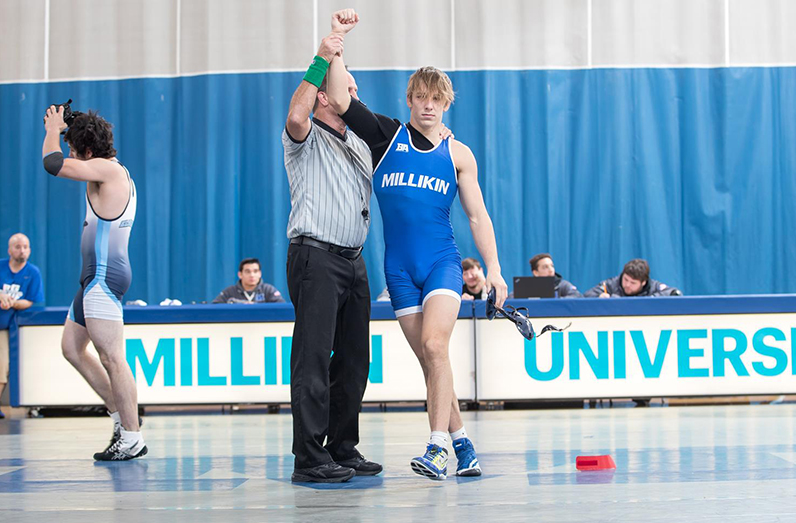 Tristan Birt won at 157 pounds with a 7-3 decision over Danny Terronez of Augustana in the Championship match. After an opening round bye, Tristan Birt defeated Jack Rathbun of Milwaukee School of Engineering (MSOE) in the semifinals by fall at 2:00.
Bradan Birt opened the competition with a pin of Stephen Watson of Wheaton College at 1:19. Birt then won his semifinal match by technical fall, 19-4 over AJ Geraci of Augustana. Birt would go on to win the Championship match by fall in just 19 seconds over Mike Huck of Elmhurst. Bradan Birt is now 32-1 on the season and ranked fifth in the nation at 165 pounds.
McGiffen made quick work of his Championship opponent with a pin of Drew Matticks of MSOE in 59 seconds. McGiffen opened with a 22-7 technical fall win and advanced to the Championship match with a 6-5 decision. McGiffen is now 15-4 overall.
Hagerbaumer scored two pins and one technical fall in route to the 197 pound title. He opened with a 20-2 win over Evan Carter and won his semifinal match by fall at 1:37. Hagerbaumer won the Championship match by fall at 1:04 over Ben Bergen of North Central. Hagerbaumer is now 18-5.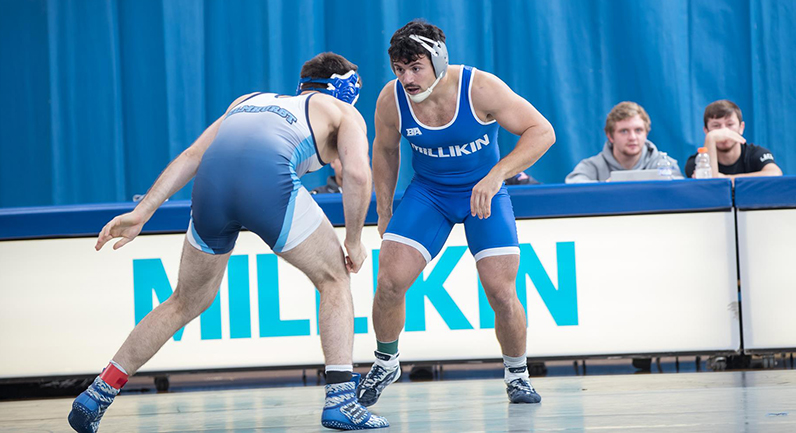 Sophomore Ren Dazey, of Oakwood, Ill., went 2-1 on the day to finish in second place at 133 pounds. Tomaskovic won the third place match at 285 pounds with an 8-1 decision over Isiah Ziegler of North Central. It was Tomaskovic's second win of the event over Ziegler. Freshman Zach Blasioli, of Wood River, Ill., earned All-Conference honors with a third place finish at 125 pounds.