Dr. Victoria Bam brings global health perspective to the classroom
Teams of Millikin University students are gathered in a classroom on the 1st floor of the Leighty-Tabor Science Center trying to find solutions for health-related issues on a global scale. As the teams huddle to discuss their solutions, Dr. Victoria Bam can only watch and admire the effort her students are putting into the project.
Dr. Bam is a native of Ghana and the first Fulbright Scholar-in-Residence at Millikin, arriving on campus in August 2019. She comes to Millikin after serving as a senior lecturer in the Department of Nursing at Kwame Nkrumah University of Science and Technology (KNUST) in Kumasi, Ghana, where she spent the last 16 years. During that span, she also served as vice dean for Faculty of Allied Health Sciences and was head of the Department of Nursing from August 2016 – July 2018.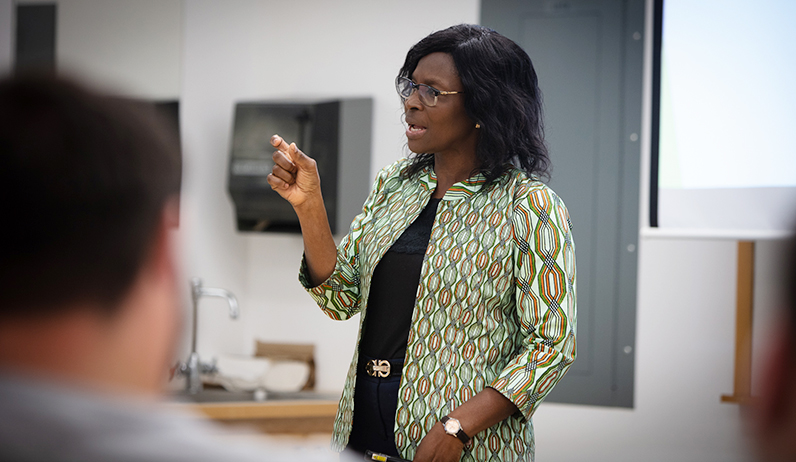 An expert on global health, public health nursing and health management, Dr. Bam is spending the 2019-20 academic year teaching courses on global and public health in the College of Professional Studies.
"I started as a registered nurse and I specialized in community health with a focus on using community structures to collaboratively address issues of malaria during pregnancy," Dr. Bam said. "Millikin was needing a Fulbright Scholar to teach global health and provide some global health exposure."
In addition to teaching Global Health, Dr. Bam is also co-teaching two courses; one called Health and Pollution and the second titled Diverse Populations. The Health and Pollution course looks at pollution and its effects on the air and surface ground water sources. The Diverse Populations course focuses on working with diverse populations to mobilize changes in the health care environment. Global issues in nursing and health care are examined throughout the course in relation to health practices.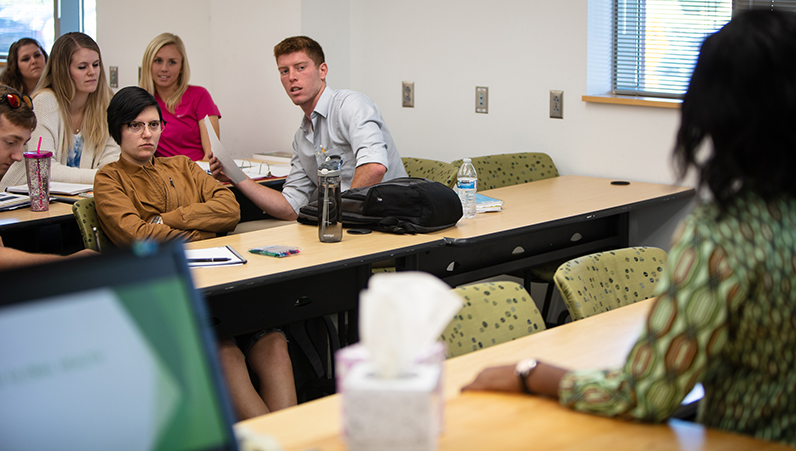 Dr. Bam earned her Bachelor of Science in Nursing with a minor in nutrition from the University of Ghana. As a nurse, Dr. Bam practiced in the clinical area and public health sectors prior to becoming an instructor. She earned her Ph.D. from KNUST in 2010.
Dr. Bam says it's always been her passion to help people which led her to becoming a nurse.
"I wanted to be there for people, to take care of them, and I haven't regretted it," she said. "I have a passion for educating people and supporting health care. I'm happy to be doing this because we can work with people and institutions to prevent a lot of the diseases in our environment that are preventable."
Dr. Barbara Broadbear, assistant professor of exercise science and sport at Millikin, is co-teaching the Health and Pollution course with Dr. Bam.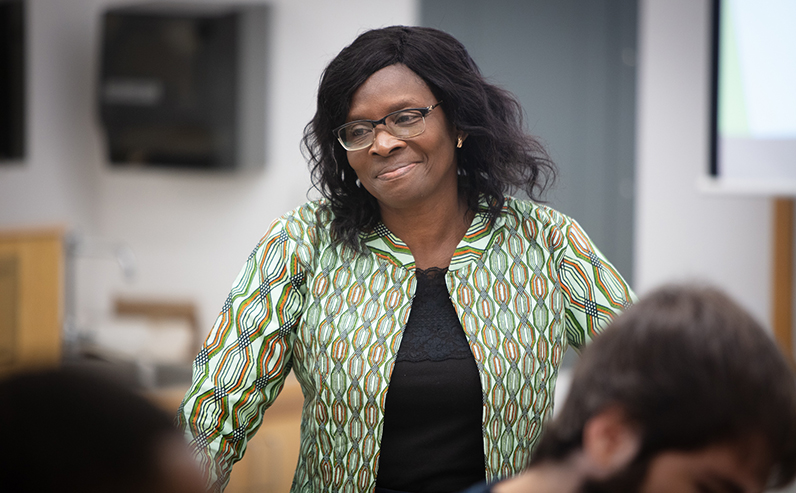 "Dr. Bam has been an invaluable asset to our Health and Pollution course," said Dr. Broadbear. "She is able to offer the students a global perspective on the issues that only an individual who has experienced them can offer. As a co-instructor, I have thoroughly enjoyed working with her and have found great value in the experience."
Throughout her career, Dr. Bam has supervised over 60 undergraduate nursing and midwifery research projects and some postgraduate projects, and has been published in several journals including Nursing and Health Sciences, PLOS One, African Health and the Journal of Medical Sciences. She was awarded the KNUST Excellence Award for Best Senior Member in Service and Innovation in July 2018.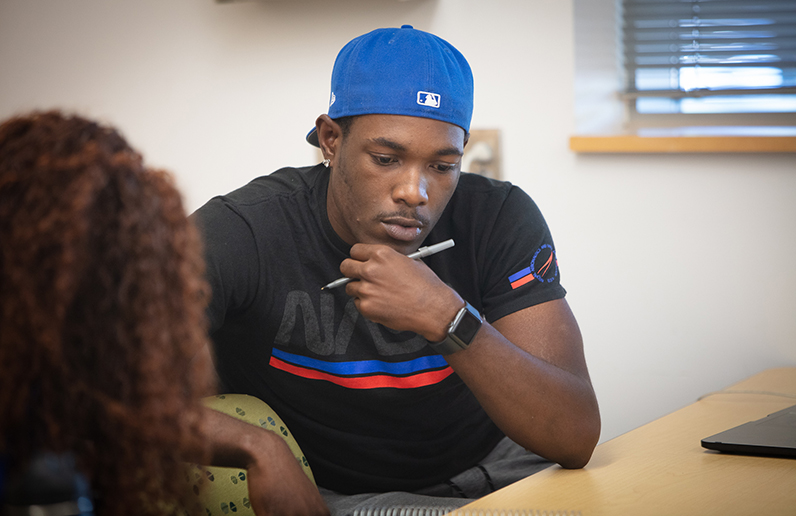 In the classroom, Dr. Bam wants to emphasize to her students that "diseases know no boundaries," and teach them to understand the global perspective of health care.
"The objective is to let the students know what is happening and to show them what contributions can be made to help improve the health of people globally," said Dr. Bam. "I'm hoping that at the end of the courses, we would have generated interest from students to want to see what happens outside the U.S. Giving students that global exposure helps them find a career path."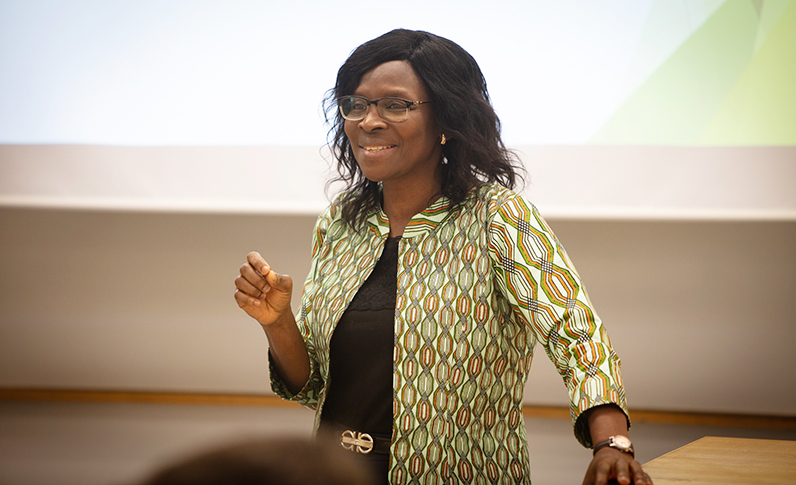 The Fulbright Program was established in 1946 to provide opportunities for students, scholars, teachers, artists and scientists to study, teach, conduct research and work toward solutions of international concerns. Nearly 4,000 educators from 50 countries travel to the U.S. every academic year to participate in the Fulbright program. The Fulbright Scholar-in-Residence Program assists U.S. higher education institutions in expanding programs of academic exchange, by supporting non-U.S. scholars through grants for teaching at institutions. Currently, the Fulbright Program operates in over 160 countries worldwide.