Competition features performances from Millikin's top three music performing students
Millikin University's Hollis Prize is the highest award that may be received by a student instrumentalist or vocalist within the School of Music. The 17th annual Hollis Prize Competition was held on Saturday, April 6 at Kaeuper Hall in Perkinson Music Center on Millikin's campus. The competition featured performances from Millikin University's top three music performing students.
This year's finalists were Soprano Jorie Clark, a sophomore vocal performance major from Springfield, Ill.; Nicholas Tipsword, a junior instrumental performance major from Bethany, Ill.; and Leah Wier, a junior vocal music education and piano performance double major from Lacon, Ill. Each finalist was given 25 minutes for their performance.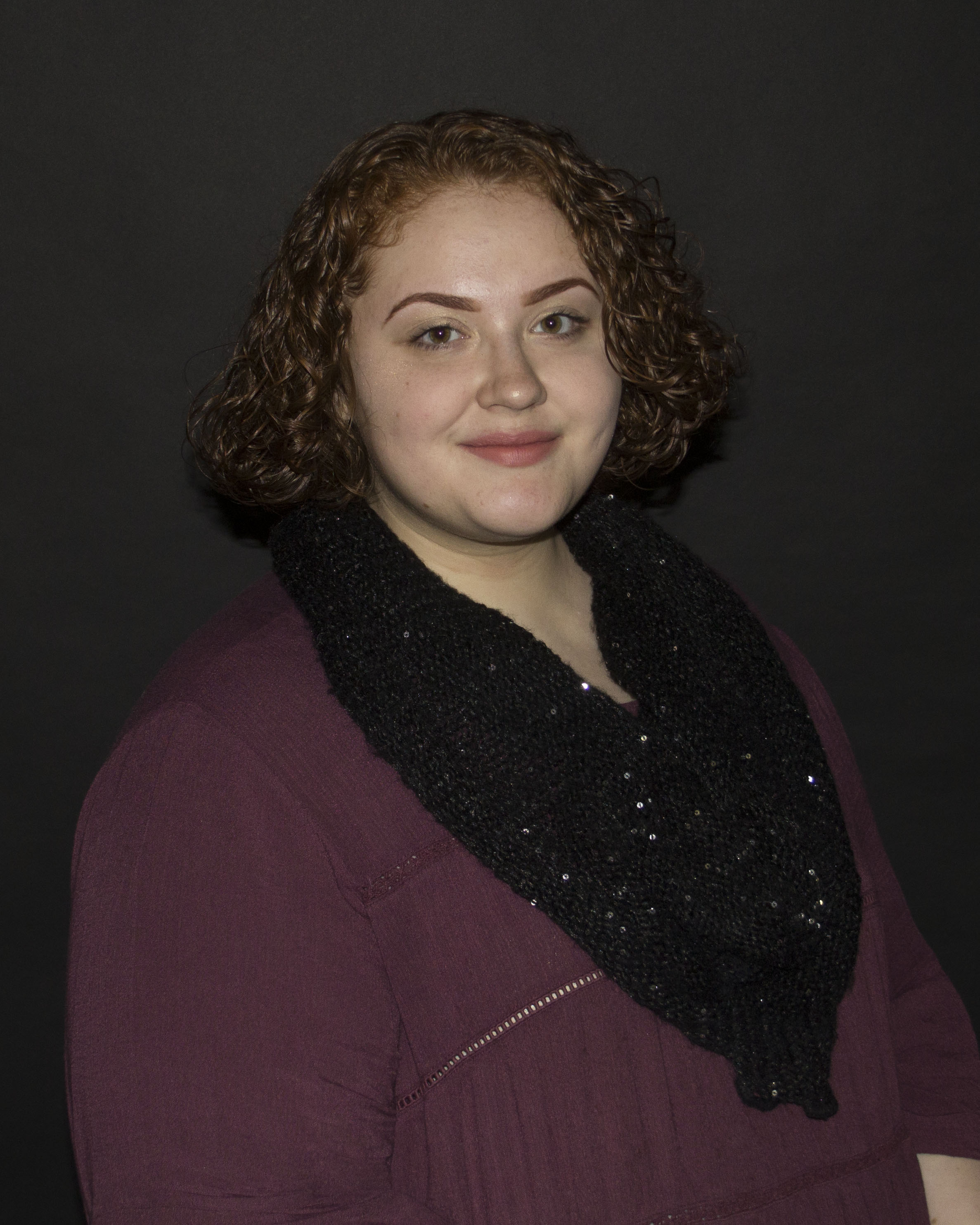 Jorie Clark was named the winner of the 2019 Hollis Prize competition. In recognition of her achievement, Clark will perform a recital on Sunday, April 14, at the Gail Borden Public Library in Elgin, Ill., beginning at 2 p.m.
"I was speechless and overjoyed," said Clark. "I was met with so much love and it wasn't until an hour or two later that it really set in that I had won."
For the competition, Clark performed "Da Tempeste il legno in franto" from Handel's "Guilio Cesare," Henri Duparc's "La vie anterieure" and "Chanson Triste," and finished with selections from her German set including "Widmung" by Robert Schumann, "Wie Melodien zieht es mir" by Johannes Brahms, and "Zueignung" by Richard Strauss.
"The Hollis Prize Competition is one of our most cherished events of the year; it encourages our best students to rise to the height of their potential while providing a quintessential Performance Learning opportunity. This year, Jorie Clark distinguished herself among a talented group of finalists," said Brian Justison, director of the Millikin School of Music.
Clark is a student of Dr. Justin John Moniz, chair of vocal studies at Millikin. "Dr. Moniz instills hard work and dedication in his students. He's not only been my voice teacher, but also my diction teacher my freshman year," said Clark. "He has taught me better vocal technique; what music fits well in my voice and range; and helped improve my stage presence. He's shown me how to thoroughly analyze my pieces; knowing the composer or the larger work, the translations and my take on them, and getting me 100 percent comfortable and ready to walk out on stage and tell my story."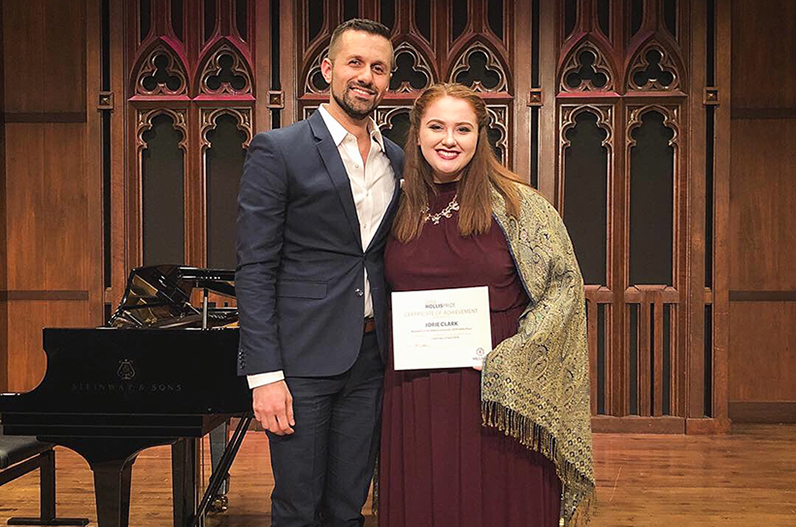 When describing the School of Music, Clark says it's the faculty's dedication to their students that makes the School stand out.
"Millikin's School of Music has relatively smaller class sizes giving the students an advantage. We can reach out to the faculty and have one-on-one help with any issue we may face. The faculty is always very willing to help when needed and encourage open communication with their students," said Clark.
Clark added, "My voice teacher as well as many other faculty members I've had the pleasure of working with have presented me with many opportunities to perform and work on my craft hands on. I don't think any of my friends in college outside of Millikin have had such a tight-knit community in their music departments. The Millikin School of Music truly offers a home away from home."
First awarded in spring 2003, Millikin University is one of only a few schools in the country to offer this type of prestigious prize through a music competition. The winner of the Hollis Prize is chosen by outside faculty judges and receives a $2000 award; runners-up each receive $500.
The Hollis Prize Recital is generously funded by Dr. C. Kimm Hollis, a 1972 Millikin graduate, and professor of music and artist in residence at Hanover College in Hanover, Ind.
Hollis Prize Performers
Soprano Jorie Clark is currently pursuing a Bachelor of Music in Vocal Performance in the studio of Dr. Justin John Moniz. Clark was recently awarded third place in the 2018 National Association of Teachers of Singing (NATS) Central Region Competition—Lower Classical Women's Division, and qualifies to advance to the national finals this June. Last summer, Clark made her debut at the Hawaii Performing Arts Festival in Mark Adamo's "Little Women," where she covered the role of Beth and sang in the female quartet under the direction of Carleen Graham (Houston Grand Opera). This summer, Clark returns to The Big Island as Jenny in Stephen Sondheim's "Company."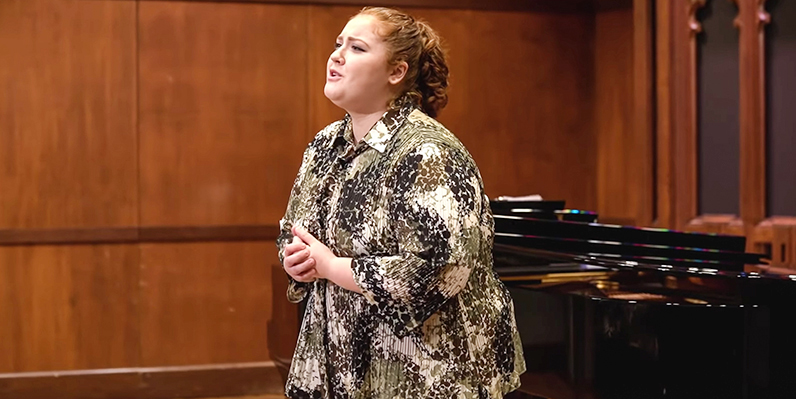 At Millikin, Clark has portrayed both leading and supporting roles in "A Hand of Bridge," "The Magic Flute," "Phantom of the Opera," "Nina: La Storia Nicosta," and will be featured in Millikin Opera Theatre's upcoming production of "From Berlin to Broadway," featuring the works of Kurt Weill. Additionally, Clark has performed with both Millikin Women and the University Choir, and is a dedicated member of Sigma Alpha Iota.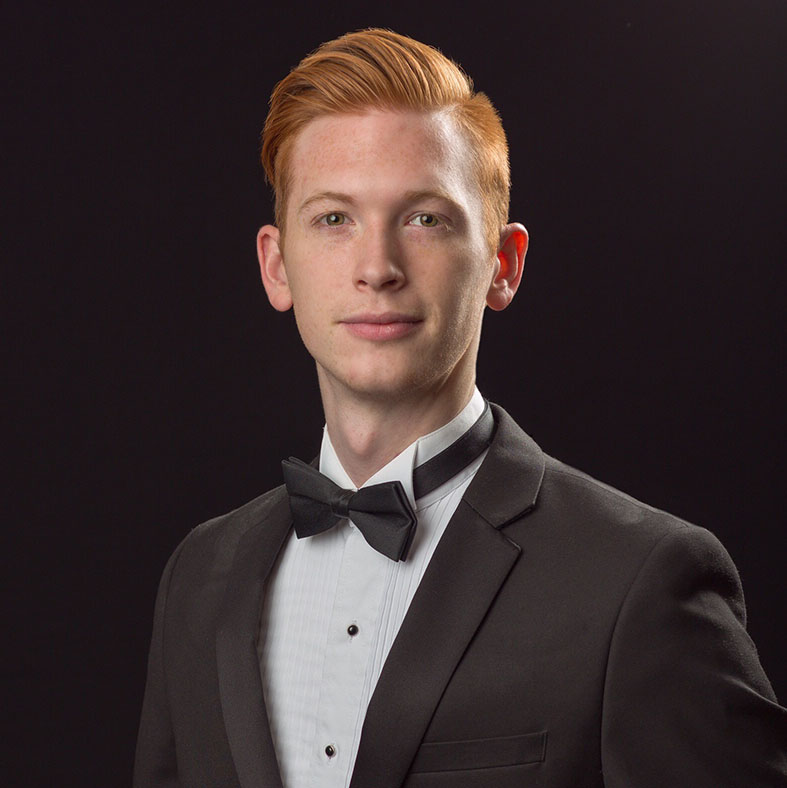 Nicholas Tipsword is currently a junior instrumental performance major, studying horn with Steve Schepper, adjunct horn instructor at Millikin. He performs in many ensembles both on and off campus. During his time at Millikin, Tipsword has performed in the Millikin-Decatur Symphony Orchestra (MDSO), Symphonic Wind Ensemble, Flute Choir, Eidolon Woodwind Quintet, Brass Quintet and Jazz Band I. Off campus he has performed with the Urbana Pops Orchestra, Decatur Municipal Band, Macon County Brass Quintet and as a pit musician at the Little Theatre on the Square. Tipsword has performed in master class settings for several leading horn pedagogues including Froydis Ree Wekre and the Alloy Horn Quartet, and was named "Outstanding Freshman and Sophomore" by the Pi Kappa Lambda Honors Society.
Tipsword also has a passion for teaching and teaches many young horn players through the Millikin University Preparatory Department. His extensive involvement on campus and in the community has led to his nomination for the 2019 Scovill Award at Millikin.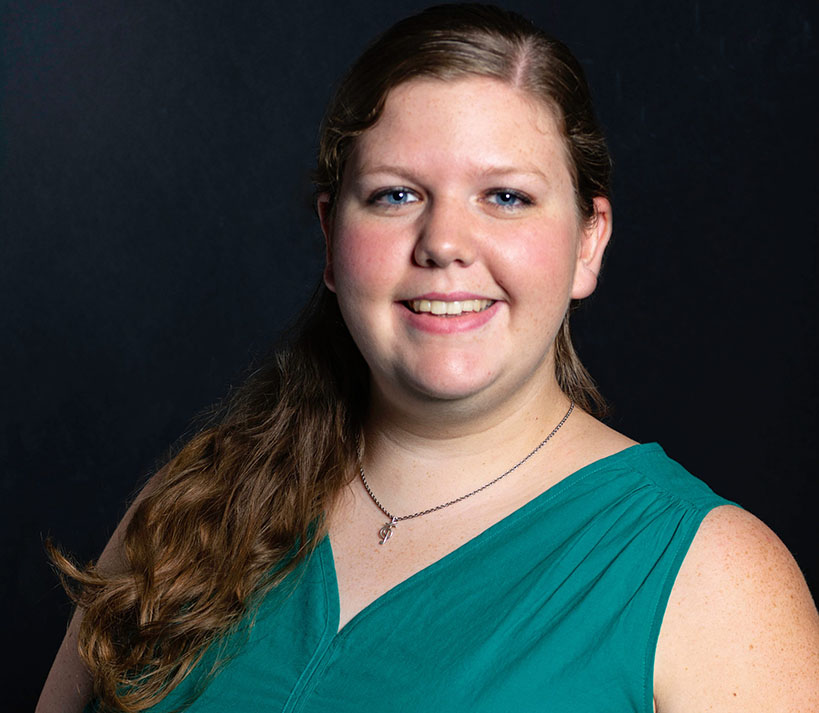 Leah Wier is a junior piano student pursuing a double degree in piano performance and vocal music education from the School of Music under the guidance of Dr. Silvan Negrutiu, assistant professor of piano and coordinator of keyboard studies at Millikin. As a rising music educator and performer, she enjoys teaching private piano lessons through the School of Music's Preparatory Department, serving as president of the Millikin Piano Club, and collaborating with her peers in accompanying and chamber settings. Among her many accomplishments as a pianist, Wier received Millikin's 2018 Alice Herren Ayars Piano Award; was the First Prize winner in the 2017 statewide Illinois State Music Teachers Association Young Artist Piano Competition; and a winner of the 2016 Millikin-Decatur Symphony Orchestra Concerto Competition, which led to her debut with the MDSO in Beethoven's "First Piano Concerto."
The mission of the Millikin School of Music is to develop the whole musician – artistically, intellectually, technically – through the integration of theory and practice in an environment where students become active learners through their relationships with faculty, who themselves continue to grow as artists, scholars, and teachers.