Millikin Vocal Jazz Ensemble wins DownBeat Magazine Student Music Award
OneVoice, the flagship ensemble of the vocal jazz program at Millikin University's School of Music, received a 2017 DownBeat Magazine Student Music Award for "Outstanding Performance for an Undergraduate College." The award will be cited in DownBeat Magazine's June 2017 issue.
This is the 5th time OneVoice has received a DownBeat Magazine Student Music Award.
"It's an honor for OneVoice and our vocal jazz program to be recognized in this way by the premier jazz publication in the world," said Dr. Stephen Widenhofer, professor of music and director of the School of Music at Millikin. "This honor from DownBeat attests to the high quality of singers and instrumentalists we have in the School of Music. Also, being able to record in our own studio with student engineers is a big advantage and represents a great example of Performance Learning."
Established in 1976, the DownBeat Student Music Awards are considered the most prestigious awards in jazz education. Recognized as the top publication devoted to "Jazz, Blues, and Beyond" since its inception in 1934, Downbeat publishes the student music award winners each year in their June issue. Recordings are submitted from institutions nationwide in a variety of categories and are judged by panels of respected jazz performers and educators who then pick winners and outstanding performance citations.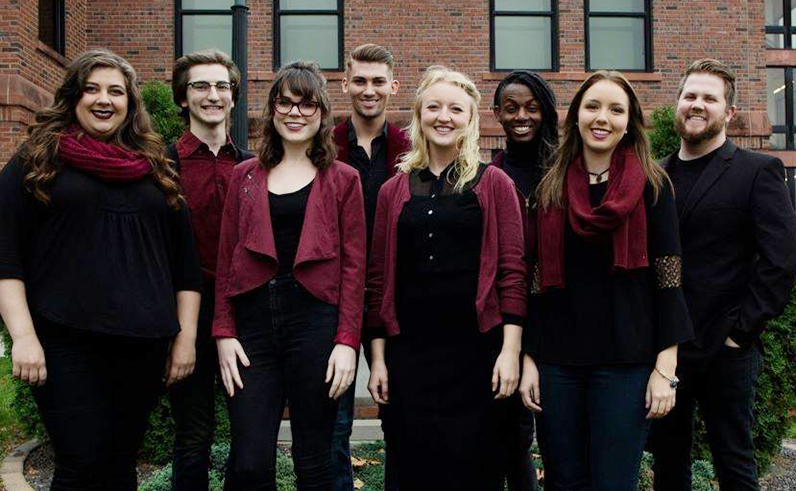 OneVoice has been invited to perform at various educational conferences and collegiate jazz festivals in the United States, including the American Choral Director's Association (ACDA) international convention (2008), Jazz Educator's Network (2012 & 2016), ACDA Central Division Conference (2002 & 2012), IAJE international convention in New York City (2001) and San Diego (1989), and six times at the Illinois State Music Educator's Association state conference in Peoria, Ill.
OneVoice members include Grey Taxon, a senior commercial music major from Plainfield, Ill.; Eric McCarter, a senior commercial music major from Chicago; Hunter Allen, a senior commercial music major from Robinson, Ill.; Alaina Frederick, a senior music education-vocal major from Lockport, Ill.; Amy Mazzeo, a senior music performance-voice major from Rolla, Mo.; and Kayleigh Bella, a senior music education-vocal major from Bolingbrook, Ill.
"It is so great to be honored by DownBeat Magazine," said Hunter Allen. "Our whole group is humbled and so ecstatic to see something we are so passionate about receive such incredible support. This is the second instance during my time with OneVoice that we have been recognized by the magazine."
OneVoice has traveled and performed in the Dominican Republic four times and most recently in Santiago, Chile. This spring, they will be traveling to Buenos Aires, Argentina for a series of concerts at the Universidad de Lanus. Over the years, OneVoice has consistently been recognized as one of the premier collegiate vocal jazz groups in the United States. OneVoice's sixth recording, "Freedom is a Voice," is available at firststeprecords.com and on iTunes.
"As a senior who has had the privilege of being a member of the group for all four years, there is so much I could say and so many amazing memories that I could reflect on," said Allen. "Being a member of OneVoice has been one of the most challenging and rewarding experiences of my college career. I have gotten to make so much incredible music with people that I truly care about, and that is what being a musician is all about. Over the years, we have spent numerous hours in rehearsal, many late nights in the studio, and we have traveled overseas together. OneVoice has been more than just a vocal jazz group to me. It has been a family."
The mission of the School of Music at Millikin University is to develop the whole musician – artistically, intellectually, technically – through the integration of theory and practice in an environment where students become active learners through their relationships with faculty, who themselves continue to grow as artists, scholars, and teachers. For more information about the School of Music, visit millikin.edu/music.