Millikin University wins top honors in beautification contest
Millikin University received top honors in the 2017 "Let's Keep Decatur Bee-utiful" contest. Millikin won 1st place in the "Large Business" category and earned the "Lowe's Best In Show Award."
"Let's Keep Decatur Bee-utiful" is an effort initiated by the Beautify Decatur Coalition to support and build upon the work already being implemented by many organizations towards the beautification of the Decatur, Ill., area.
According to the Beautify Decatur Coalition: A business's 'curb appeal' sends a message to its customers and patrons. An attractive, clean environment tells its customers that the business owner cares about them and the larger Decatur community. Our goal with this contest is to highlight businesses who have a welcoming presence and to encourage all Decatur businesses to develop an attractive front to the public.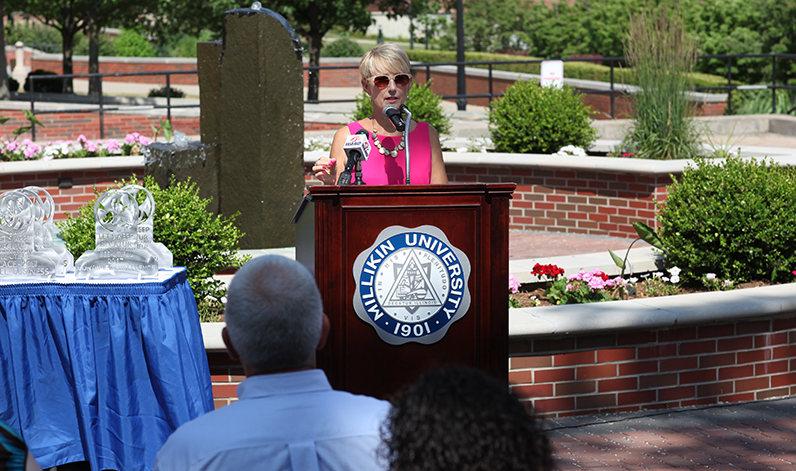 "We had four teams of judges that went out over a three-day period to look at the businesses," said Jill Davis, co-chair of the Beautify Decatur Coalition. "Encouraging businesses to help make Decatur a beautiful place to live, work and play is really the goal behind our contest."
An awards presentation was held on Tuesday, June 13, at the Arrival Court on Millikin University's campus. All winners received a trophy courtesy of Caterpillar Inc., and $350, $200 and $100 gift certificates from different businesses were presented to first, second and third place winners, respectively.
Awards were given in three main categories; Small, Medium and Large, based on the number of employees, as well as the "Speed Lube Continued Excellence Award" and "Lowe's Best In Show Award."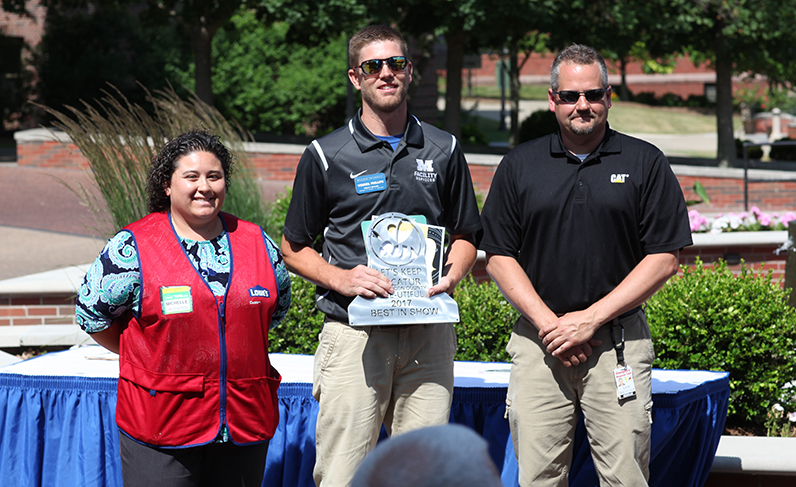 "Through talking to business owners and managers, we found that the best way to get a handle on litter is to involve all the employees and have a plan," said Davis. "All of the businesses that registered for the contest were beautiful and you could tell they put extra effort into their premises."
Verneil Phillips '08, grounds manager at Millikin University, said, "It means a lot to me and the workers who put in the effort to make this place beautiful for the students and faculty. It makes me want to work harder."
Contest participants were judged on several criteria including: Keeping well-maintained landscaping; no litter around the entire perimeter; keeping a well-maintained façade and hardscape; and having an impressive overall first impression or impact.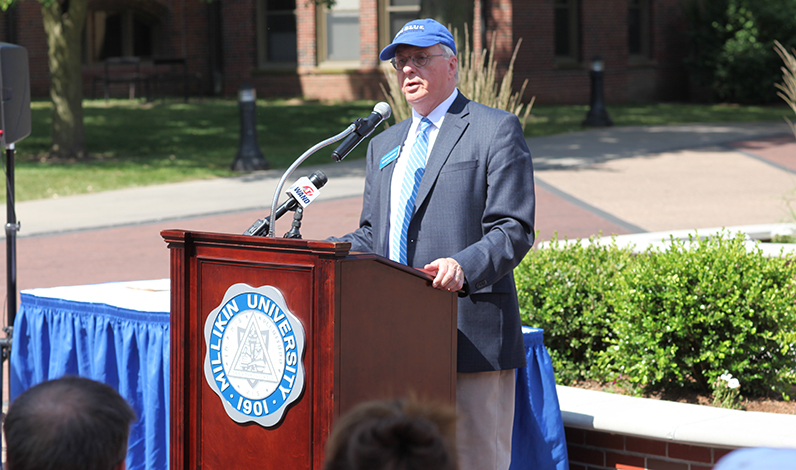 "Verneil Phillips and his team do a wonderful job of trying to make Millikin's campus a beautiful place for all of our students, the city of Decatur and for all of Macon County," said Millikin University President Dr. Patrick White. "It's not lost on all of the visitors who come to Millikin University that people in this city care about how the campus looks. Millikin University is Decatur's university and we take great pride in being the front door to the city of Decatur."
For more information about the 2017 "Let's Keep Decatur Bee-utiful" contest, visit beautifuldecaturbusiness.com.