Millikin honored for growth on campus and impact in the community
Millikin University received the Business Expansion of the Year Award at the Greater Decatur Chamber of Commerce 2018 Chamber Awards held Sept. 13 at the Decatur Conference Center and Hotel in Decatur, Ill.
Over the last year, new developments on Millikin University's campus have helped bring new energy, resources, diversity and innovation to the Decatur area. Among those new developments is the $31 million University Commons which serves as the hub for campus life and Decatur community events. Located in the heart of Millikin's campus, the 87,000 square foot building is the second largest building project in university history.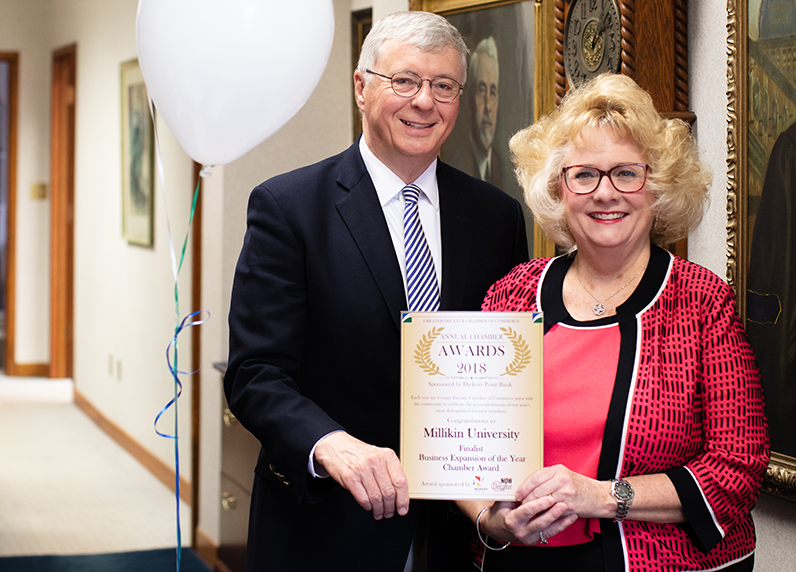 "We've been talking lately about Millikin momentum, about growth and change – not only the buildings but the growing in our student body and moving forward, adding sports and new majors," said Millikin University President Dr. Patrick E. White. "Millikin is on the move and it's because of Decatur's support that we were able to get all of this done."
Millikin also broke ground on a new Center for Theatre and Dance with plans to open the building in fall 2020. Designed by local architecture firm BLDD, the $29 million facility will be the new home to the School of Theatre and Dance and will include dance and acting studios, a flexible and innovative main theatre, costume workshops and lighting and audio tech labs.
Millikin will also begin construction on the Workman Family Baseball Field which will become the new home to the Big Blue Baseball program in spring 2019.
Enrollment
This fall, Millikin University saw a 3.6 percent increase in traditional undergraduate students and welcomed 473 first-year students to campus at the start of the fall 2018 semester. Additionally, Millikin welcomed 90 honors students in the freshman class and enrolled a record 95 international students from 30 countries.
"Students across the country are discovering that Millikin's commitment to Performance Learning will build their ability and their confidence to shape dynamic and exciting lives to become their best imagination of who they are," said President White. "It is a great time to be at Millikin. With a growing body and new buildings and programs coming on line, the Millikin momentum is going strong."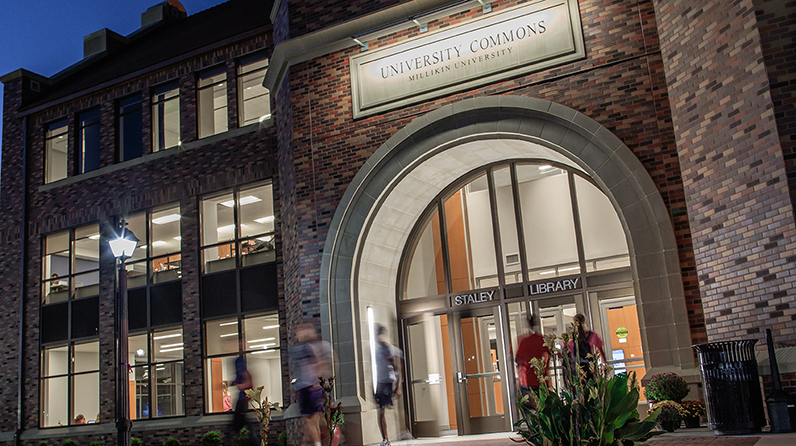 Rankings
Recently, Millikin was recognized as a leading institution in higher learning by U.S. News & World Report in its 2019 "Best Colleges" guidebook released on Sept. 10. Millikin is ranked No. 9 in the "Best Regional Colleges in the Midwest" category, moving up two spots from last year. U.S. News also ranked Millikin among the "Best Value Schools" in the Midwest at No. 33.
Millikin was also ranked among the "Best in the Midwest" in The Princeton Review's "2019 Best Colleges: Region by Region" online feature. Millikin is one of only 159 colleges in 12 Midwestern states that made The Princeton Review's "Best in the Midwest" list for 2019.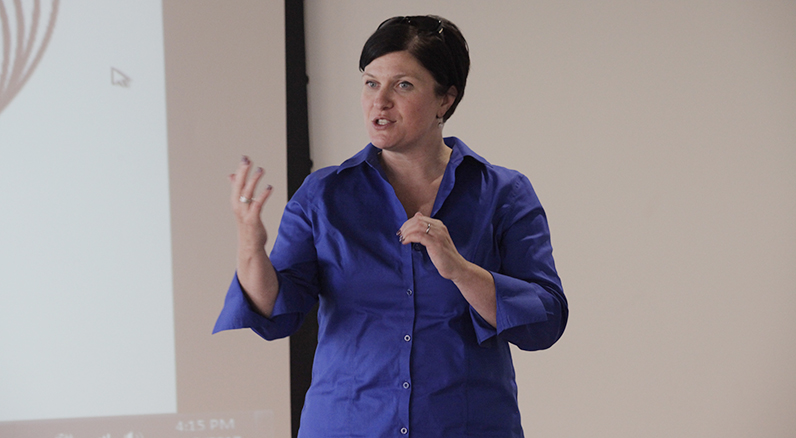 Performance Learning
The hallmark of a Millikin education is Performance Learning in which students will go beyond knowing to doing, to performing what they know in every major, inside and outside the classroom and laboratory and in a multitude of real-life applications and experiences. This innovative approach to learning recently received national attention when Millikin was named the top school in Illinois for moving students into jobs post-graduation by Zippia, a career-advice website dedicated to helping recent college graduates with their career choices.
The Performance Learning pedagogy at Millikin allows students to learn through real-world projects that reinforce classroom experiences, help develop practical skills and express the University's responsibility to the community.