President White announces plans to retire effective June 30, 2020
Millikin University's 15th President Dr. Patrick E. White has announced plans to retire effective June 30, 2020. Dr. White was elected the 15th president of Millikin University in October 2013. He joined Millikin as the interim president in July 2013. Through his leadership, Millikin University has been revitalized and reimagined, and he has built a solid foundation for further growth and success.
"We make this announcement now to give the Board of Trustees and the University plenty of time to plan a nationwide search and prepare for a transition in leadership," said President White.
"Millikin has made significant strides in the last six years toward a new strength and vitality. Millikin's commitment to Performance Learning is now attracting students as well as faculty and staff from across the country to an education that builds ability and confidence to shape dynamic and exciting lives," President White added. "I am conscious that some 19 percent of my presidency lies ahead of us. With the development of new buildings, programs and initiatives, our focus is on the future. We will be working hard up to the end to move Millikin forward."
"Under President White's leadership, there have been significant contributions to enhancing Millikin University's campus as well as Performance Learning experiences for current and future Millikin students. The University Commons, the Workman Family Softball Field, and the forthcoming new Center for Theatre and Dance and Workman Family Baseball Field are among those changes that will continue to improve the Millikin experience for all," said Millikin Board of Trustees Chairman Randell Blackburn, retired vice president, Transportation, Union Pacific Railroad.
Blackburn notes, "We are thankful for the leadership President White has brought to Millikin and look forward to the work we all – Board, alumni, staff, faculty, and Millikin's many friends in the Decatur community and beyond – will accomplish in the coming months."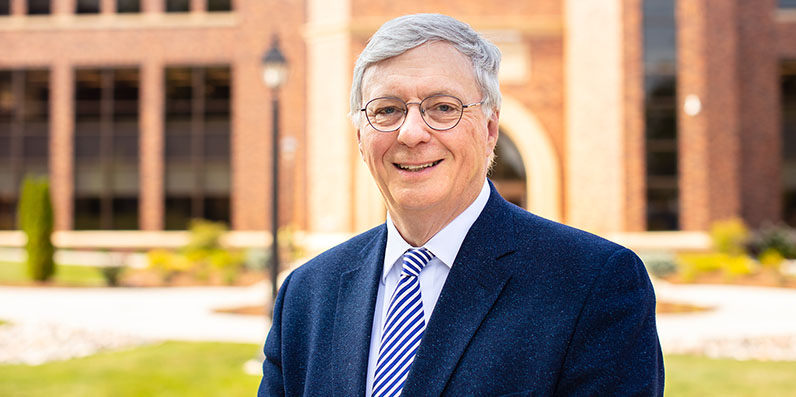 In September 2018, Millikin University announced an enrollment of 2,001 undergraduate students, the largest number of undergraduates at Millikin since fall 2015. Among those students is Caitlyn Garrity, a senior theatre design and production major from Kaiserslautern, Germany, who says President White will leave a lasting impact on the Millikin community.
"From the first personalized letters at the time of admissions to the last handshake at graduation, President White is the face and driving force that makes Millikin University the welcoming, inclusive and renowned institution that is dedicated to its students and their education," said Garrity. "A university president shapes and upholds the values of the school, continues to foster university growth, and creates the positive atmosphere of campus life. President White has been doing this and more for years. President White has left his impact on all the hearts of Millikin."
Among the projects ongoing at Millikin, President White is working with the Alumni & Development Office to complete $5 million in remaining fundraising for the Center for Theatre and Dance now rising on campus and gathering contributions for Phase I of the Griswold Center renovation and expansion project – a $12 million project. Phase I will include building a facility to house six new locker rooms for varsity and junior varsity football, Men's and Women's soccer, and Men's and Women's track & field and cross country. Phase I also includes a fitness center for the entire campus community as well as classrooms and team meeting spaces.
The Millikin Board of Trustees has authorized a Presidential Search Committee and will launch a national search for Dr. White's successor in the coming months.
For more information on President White, visit millikin.edu/office-president/biography.