"The new baseball field marks a great new step for Millikin University"
Millikin University officially opened the new on-campus home of the Big Blue Baseball program with the dedication of the new Workman Family Baseball Field on Sept. 27.
The new baseball facility located south of the Decatur Indoor Sports Center (DISC) includes an all-artificial turf field, lights, press box, concessions and batting cages. The grandstand has seating capacity for 459 spectators. Seating includes bleachers, seat back chairs and a patio area, all elevated above the playing field. Millikin University will be the only school in the College Conference of Illinois and Wisconsin (CCIW) with an on-campus baseball-only facility with a full turf field and a clubhouse.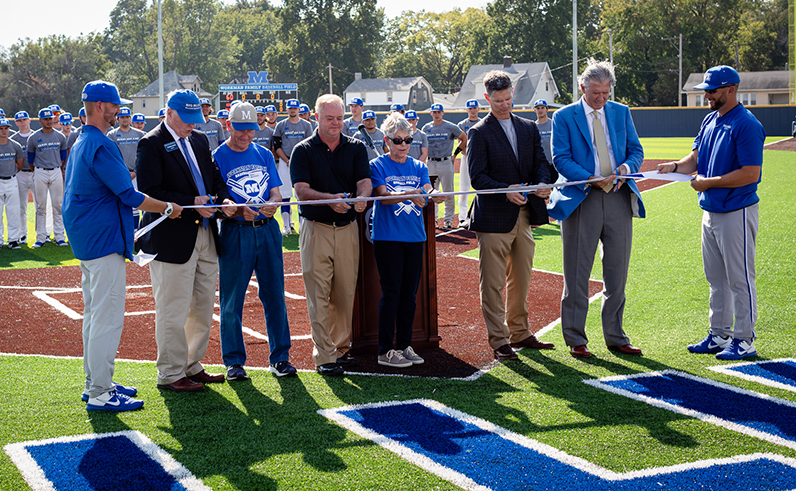 The Workman Family Baseball field has in-ground dugouts with Millikin's dugout on the third base side with batting cages and bullpen access nearby. The visitor's dugout is on the first base side and also includes access to a bullpen. The new clubhouse is located below the grandstand.
The press box has the capacity for six media professionals, and houses controls for the lights and inning-by-inning scoreboard overlooking the right-center field fence.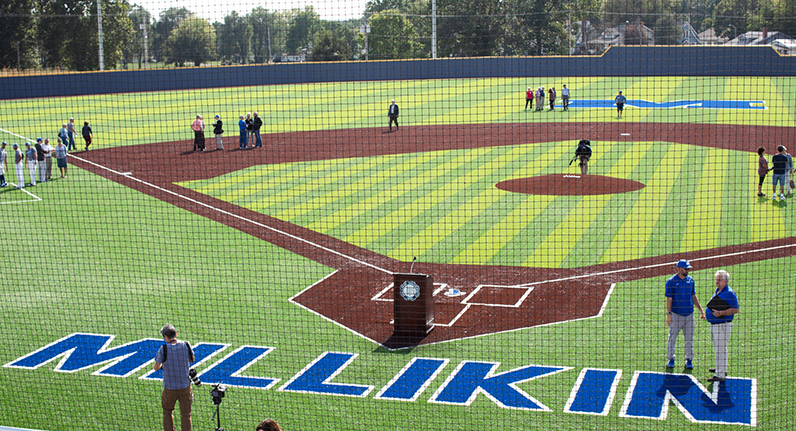 Millikin celebrated the new field during the Homecoming and Family Weekend Festivities. Activities on Sept. 27 included a reception for the field's donors, Dedication and Ribbon Cutting Ceremony, and a scrimmage by the Big Blue baseball team. Millikin baseball alumni had a chance to play on the new field during an Alumni Baseball game on Sept. 28.
"One of my priorities when I came to Millikin was to get baseball and softball on campus," said Millikin Director of Athletics Dr. Craig White. "With the completion of the Workman Family Baseball Field, baseball will join softball in playing on campus in one of the top facilities in the country for NCAA Division III programs."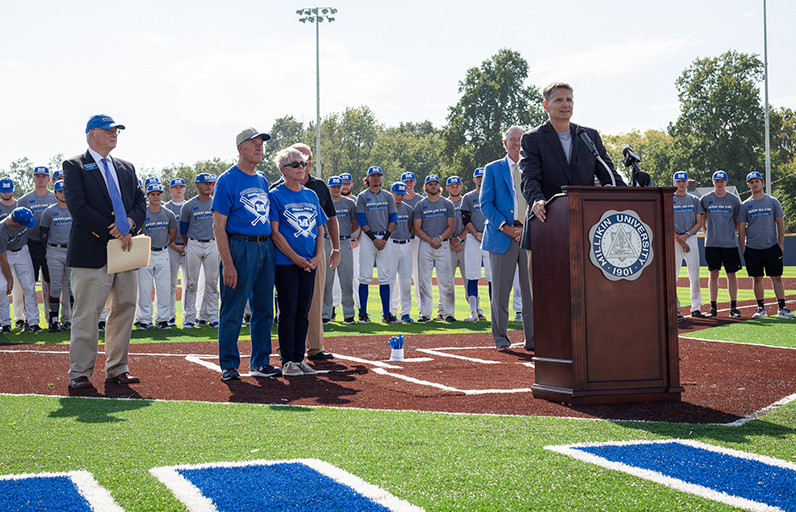 Millikin Head Baseball Coach Brandon Townsend noted, "In the present....This stadium will set the standard for baseball facilities around the country that schools will strive to achieve. For the future....This amazing facility will help raise our program, recruiting and enhance our student-athlete experience for many years."
The $5.4 million baseball field project was made possible by a generous $4 million contribution from Millikin Emeritus Trustee Gary Workman, a 1965 graduate, his wife, Judy, and their family, as well as generous gifts from Millikin Emeriti Trustees Mark and Bob Staley, Millikin Trustee Tom Harrington '70 and his wife, Cordia, and the estate of Millikin Emeritus Trustee Frank Tyrolt.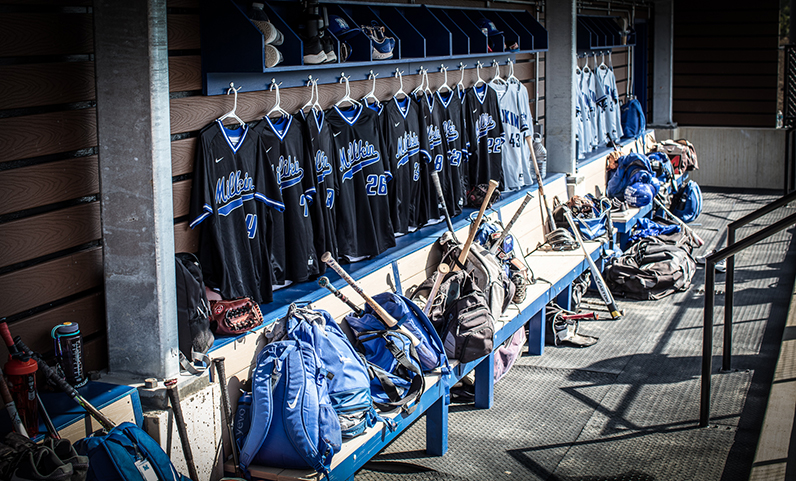 "The new baseball field marks a great new step for Millikin University, powered once again by the commitment and generosity of donors who want Millikin students to experience the best possible facilities to make the most of their talents and aspirations," said Millikin President Dr. Patrick E. White. "We are grateful to the positive leadership of the Workman, Harrington, Staley, Tyrolt families and all our donors to this project because, through their gifts, they empower the development of all our students and help Millikin and Decatur grow and achieve excellence."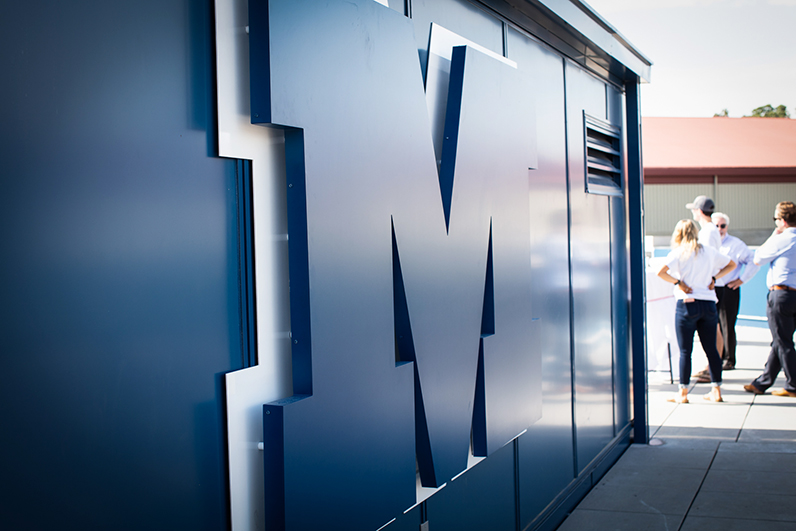 Junior pitcher Seamus Sjostrom, of Chicago, said, "We got two nice batting cages so the cages will be perfect for the hitters to get in there and get loose before games. We got three mounds up in the bullpen so that's going to be amazing. Pitchers are going to be able to get loose a lot easier. I'm just extremely excited to use all of the equipment and get to work on this field and do everything we need to do to win a CCIW championship."
Decatur native Gary Workman is a retired senior internal auditor for United Parcel Service (UPS). He began working with UPS as a part-time package handler while he was still a Millikin student. After graduating from Millikin in 1965, he began working for the company on a full-time basis, eventually becoming a senior internal auditor. Workman retired from UPS in 1995 after spending 33 years in a variety of jobs in industrial engineering, human resources, accounting and auditing.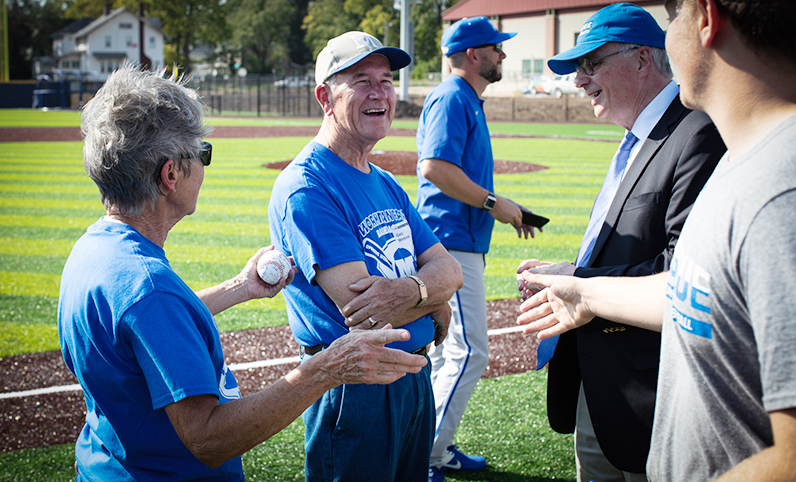 In addition to the family's generous commitment, the Workman family made a $2 million contribution to Millikin's new softball field, the Workman Family Softball Field, which opened in March 2017. Workman also made a lead gift in support of the 2014 addition of artificial turf and other significant enhancements to Frank M. Lindsay Field through the "Transform MU" capital campaign.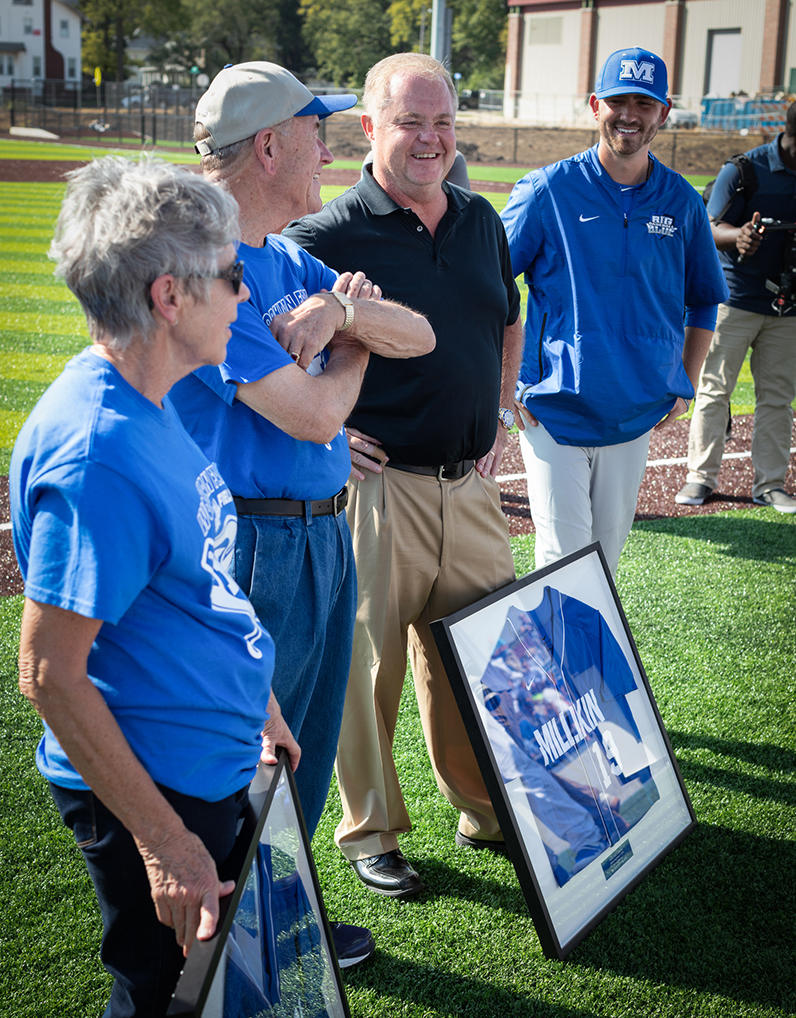 "Judy and I are pleased to be able to help fund the new baseball field on the campus of Millikin University," said Workman. "We believe that the addition of on-campus athletic facilities aids in the recruitment of student-athletes and also increases the enjoyment of campus life for all students. We were pleased with how well the new softball field turned out and are excited for the new baseball field."
Tom Harrington was born, raised, and educated in Decatur. After graduating from Millikin in 1970, Harrington started his working career with a local public accounting firm in Decatur. Later, Harrington moved to south central Illinois at first as an employee of a regional CPA firm and, in 1976, he was promoted to partner. In 1982, Harrington established Thomas Harrington & Company, a regional accounting firm serving clients from St. Louis to Chicago, until its eventual sale in December 1997.
After his firm's sale in 1998, Tom, in partnership with his wife Cordia, established a wholesale bakery manufacturing company originally located in Dickson, Tenn. Tennessee Bun Company is one of the most automated bakeries in the world, serving over 35 million dozen buns annually. Harrington serves as chief operating officer and chief financial officer and is involved in the strategic leadership of the company.
"Cordia and I are extremely excited to be a part of adding this beautiful baseball facility to Millikin's campus," said Harrington. "Assuredly everyone at MU and the Decatur community will enjoy our new turf field for many years. Go Big Blue!"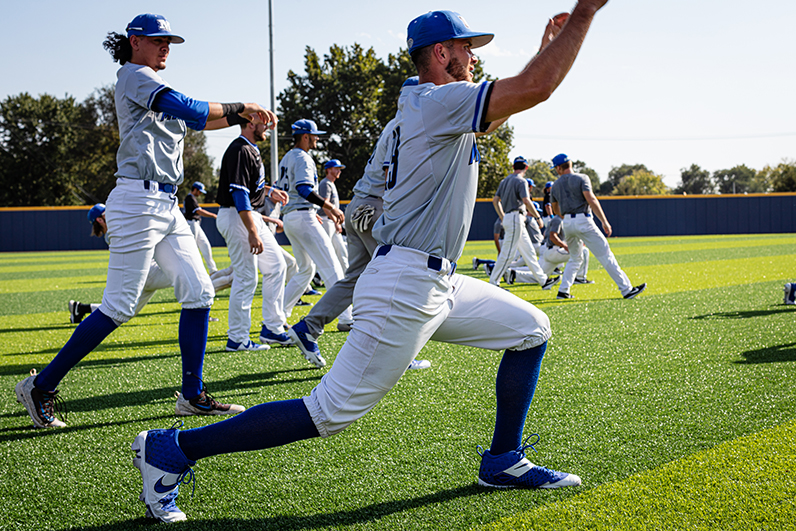 The Staley family's long-standing tradition of generosity to Millikin University stretches back more than 40 years. Staley family members have been among the university's most faithful and generous supporters, providing significant individual and foundation gifts to both the university's "Design for Leadership" and "Advancing the Vision: Millikin's Second Century" capital campaigns as well as annual operating funds. Millikin's Staley Library, completed in 1978, stands as a living tribute to the generosity of three generations of Staley family members beginning with A.E. Staley, Sr.
"It was indeed great news when I heard that the baseball field was going to become a reality," said Mark Staley. "On behalf of the Staley Family, we are thrilled that we could be an integral part of bringing baseball to the Millikin campus. It was long overdue, and now that Millikin baseball will be playing on campus, we feel it will enhance campus life and help bring more quality student-athletes to Millikin. I would like to thank the Harringtons and especially the Workmans; whose extremely generous donations made this facility become a reality for Millikin."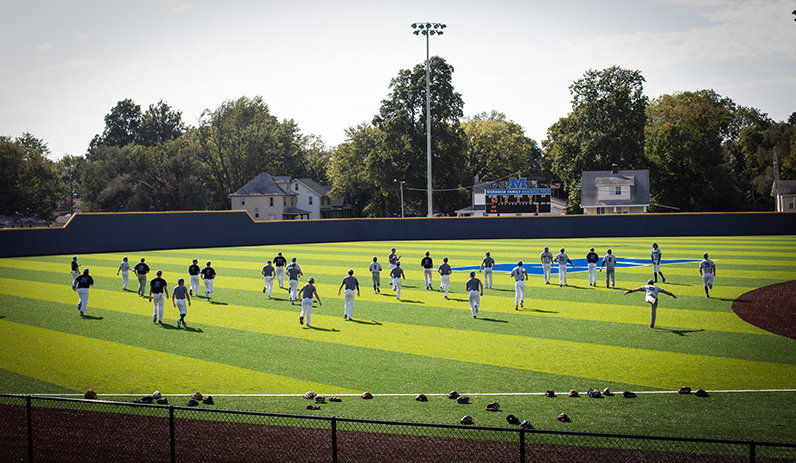 After graduating in 1954 from Millikin University with a degree in business administration, Frank Tyrolt served in the Navy on the battleship Wisconsin. After finishing his time in the Navy, Tyrolt worked for the Edward Hines Lumber Company and the Dietene Company. He returned to Decatur in 1966 to become partner with the Beggs family at Dunn Company. In 1967, Tyrolt acquired the remaining interest in the company. Bernie Naber joined Tyrolt at Dunn Company that same year, and they operated the business as partners until Tyrolt's retirement in 1999. Frank and his beloved wife Shirley married in 1982. Tyrolt passed away peacefully at the age of 85 surrounded by his family on Aug. 16, 2018.
Workman Family Baseball Field Additional Facts
The outfield is designed for multi-use and can accommodate a 300' long practice soccer field and a 270'-0" long practice football field.
The infield has been designed and the field has been calibrated to provide the speed of play best fitting the desired play of Millikin University baseball.
The home dugout has been custom designed to provide an elevated coaches area allowing field and player view.
The brick used on the Workman Family Baseball Field was selected to match and compliment existing historic brick used on Millikin University's campus.
Electrical service for the new facility has been designed to support future ceiling mounted radiant heaters for each of the dugouts.
Each dugout is designed with wireless internet access points to support modern internet-based technology used in baseball.
The new field's sound system has been custom designed for sound clarity and coverage over the spectator areas.
The grass seating area on an elevated berm has been provided along the east third base fence.
The baseball facility is connected via fiber optic to the main central campus security and fire detection/alarm systems.
The field's sports field lighting system has been designed for energy efficiency and to minimize light spill over beyond the field and to meet the City of Decatur's regulations.
Areas of the AstroTurf field have been designed to be removed and replaced annually at areas of high use including the pitcher's mound and the catcher's/batter's box.
Synthetic all-weather turf and subbase is designed to drain no less than an average of 30" of rain per hour.
The design of the new baseball facility involved close coordination with the City of Decatur, Norfolk & Southern Railroad, State of Illinois, IDOT, Ameren and the DISC.