2020 class to be part of formal induction ceremony at future date
Millikin University is pleased to announce the five newest members to the Millikin Athletic Hall of Fame. The 2020 class will be part of a formal induction ceremony at a future date as allowed by the COVID-19 pandemic.
The 2020 Induction Class includes former softball standout Cora Jeffers Herek '13, former baseball and men's soccer standout Jack Klawitter '89, multisport standout in football and track and field Dr. Ollie Mack '71, former track standout Ariel Robinson '13 and former women's basketball star Elise Wildman '11.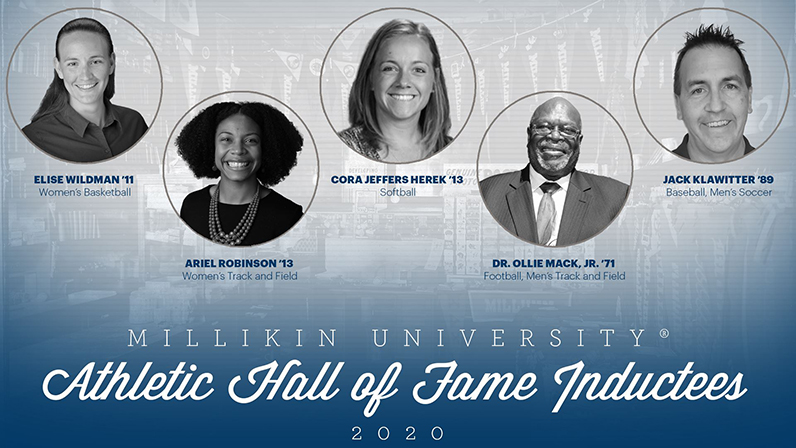 Cora Jeffers Herek
Cora Jeffers Herek of Oreana, Ill., is being inducted for her contributions to Millikin softball.
Jeffers Herek, a Williamsville High School graduate, was a four year standout for the Big Blue who excelled both on the field and in the classroom. In 2013, Jeffers was named to the Capital One Academic All-America® Division III Softball Second Team, as selected by the College Sports Information Directors of America (CoSIDA). Jeffers Herek earned College Conference of Illinois and Wisconsin (CCIW) All-Conference Second Team honors as an outfielder in 2011 and 2012, and was a CCIW All-Conference First Team Selection at shortstop in 2013. Jeffers was named the Big Blue's Most Valuable Player in 2013 and named the team's Best Defensive Player three times. Jeffers Herek was a Big Blue team captain as a junior and senior. She holds the Millikin softball records for single season stolen bases with 27 and career stolen bases with 82.
Since graduating from Millikin in 2013 with a degree in music education, Jeffers Herek earned her Masters of Music in Music Education at Holy Family College. Jeffers Herek is the music teacher at the Argenta-Oreana Elementary School where she also serves as the middle school softball coach. Jeffers Herek has directed the third-fifth grade choir with the Millikin University Children's Choir since 2017.
While a student at Millikin, Jeffers Herek was a member of the Student Athlete Advisory Council and involved with InterVarsity. Jeffers Herek was a member of the University Choir.
Jeffers Herek is married to Matt Herek '13 and has a one year old daughter named Ella.
Jack Klawitter
Jack Klawitter of Louisville, Ky., is being honored for his accomplishments in Big Blue baseball and men's soccer.
Klawitter was a four year varsity letter winner in baseball earning GTE Academic All-America® honors in 1988 and 1989 for excellence on the field and in the classroom.
On the baseball field, Klawitter had a career batting average of .361 with a season high of .402 in 1988. He was a CCIW All-Conference First Team selection in 1988 and 1989, and was the Big Blue Most Valuable Player in each of those seasons. Klawitter was the baseball team captain as a senior.
In men's soccer, Klawitter was a three year letter winner playing on Millikin's first varsity team. He was a two-time team captain and Most Valuable Player on Defense in 1988.
Klawitter earned a Bachelor of Arts in Biology (Pre-Physical Therapy) at Millikin and his master's in physical therapy at Washington University-St. Louis. He is currently a physical therapist at Baptist Health Home in Louisville.
While a Millikin student, Klawitter was a Freshman Camp Counselor, a member of the Millikin Physical Therapy Club and a member of Omicrom Delta Kappa Honor Society. Klawitter attended Marian Catholic H.S. He and his wife, Linda, have three children: Rebekah (23), Andrew (21) and Samuel (18).
Dr. Ollie Mack, Jr.
Dr. Ollie Robert Mack of St. Louis, Mo., is being inducted for his athletic accomplishments in football and men's track and field.
Mack was a four-year letter winner in football and track and field during a Millikin era where the majority of athletics competitions were held off campus due to construction of a new athletic complex. Mack was a two-time CCIW 400 Meters Champion despite not having a track on campus during his career. In 1971, Mack was presented the Millikin "M" Man Award.
After graduation, Mack excelled in the fields of medicine and law. He earned a Juris Doctorate from the University of Missouri School of Law in 1973 and a Medical Doctorate from Drexel University's School of Medicine in 1988. He is currently president\CEO of Mack & Associates, Medical/Legal Consultants. He was named the Outstanding Teaching Resident at the University of California's Davis Medical Center in 1989 and the Viola A. Brooks Father of the Year in 2008.
While a business administration major at Millikin, Mack was involved with Town and Gown, a Dormitory Representative, For Soul Only (FSO) student organization and student government.
Dr. Mack and his wife, Debra Jean Mack, have four children: Renee Johnson (50), Victoria Schooley (33), Kevin Mack (30) and the late Ollie Robert Mack III. Mack has six grandchildren and one great grandchild.
Ariel Robinson
Ariel Brooke Robinson of Lafayette, Ind., is being inducted for her outstanding accomplishments in track and field. Robinson attend Decatur MacArthur High School.
Robinson was a six time CCIW Champion finishing in first place in the conference meet in the Indoor 60 Meters (2012), Indoor 55 Meters (2013), Outdoor 100 Meters (2012 & 2013) and the Outdoor 200 Meters (2012 & 2013). She qualified for the NCAA Division III Championships in 2012 competing in the Indoor 60 Meters and the Outdoor 100, 200 and 400 Meters. Robinson is the Big Blue Record holder in the Women's Indoor 60 Meters (7.76 seconds), Indoor 200 Meters (25.65) and the Outdoor 100 Meters (12.11), 200 Meters (24.62) and 400 Meters (56.38).
Robinson, an athletic training major, earned a master's in higher education administration from Florida International University in 2016. She is currently the student success coach for the Purdue Promise Program at Purdue University.
While a student at Millikin, Robinson was active on campus serving as a student worker in the University Mail Center and was a member of Delta Sigma Theta Sorority, the Athletic Training Student Organization, Student Athlete Advisory Council and was a Long Vanderburg-Caterpillar Scholar.
Elise Wildman
Elise Wildman of Salem, Ill., is being honored for her outstanding playing career in women's basketball. Wildman attended Lovington High School.
Wildman was a four year letter winner earning CCIW All-Conference First Team honors in 2009-10 and 2010-11. She led the conference in scoring (17) and rebounding (9.1) average in 2011. She is Millikin's 10th all-time leading scorer with 1,254 points and is 11th on the career rebounding list with 646. She tied the Millikin record for free throws made in a game with 16. In 2010, Wildman was presented with Millikin's Lindsay Medallion.
Wildman was a chemistry (pre-pharmacy) major and went on to earn a Doctorate of Pharmacy with a concentration in Rural Pharmacy from the University of Chicago at Rockford. She currently works at SSM Health St. Mary's in Centralia, Ill., serving as a clinical pharmacist in the Anticoagulation Clinic and a staffing pharmacist in the hospital pharmacy. Wildman spent three years as an assistant women's basketball coach at Beloit College while in graduate school. She currently is a licensed IHSA volleyball and basketball official.
Wildman was a Millikin Presidential Scholar. She was active in the Honors Program, served as an EDGE Program Mentor and was a member of the American Chemical Society, Decatur Science Investigators (DSI) and Sigma Zeta Honor Society.