Millikin awarded more Fulbrights than any other Illinois bachelor's institution in 2021-22
Millikin University is one of the top 10 producers of Fulbright U.S. Scholars for bachelor's institutions for 2021-22. Each year, the U.S. Department of State's Bureau of Educational and Cultural Affairs (ECA) announces the top producing institutions for the Fulbright Program, the U.S. government's flagship international educational exchange program. The Chronicle of Higher Education publishes the lists annually.
Two scholars from Millikin University were awarded Fulbright awards for 2021-22—more than any other bachelor's institution in Illinois.
"We congratulate the colleges and universities we are honoring as 2021-22 Fulbright Top Producing Institutions and are especially delighted to celebrate the institutions that are being recognized as Fulbright Top Producers for the first time. These institutions reflect the geographic and institutional diversity of higher education in the United States, and include Minority-Serving Institutions," said Ethan Rosenzweig, deputy assistant secretary of state for Academic Programs in the U.S. Department of State's Bureau of Educational and Cultural Affairs.
Rosenzweig added, "We thank the leadership of these institutions for supporting their faculty and administrators who pursue Fulbright awards. In return, these institutions benefit from new, global perspectives and new international collaborations, which can positively impact local and global communities. Fulbright U.S. Scholars expand the scope and reach of their research, expand networks, and further development of sectors which work to address local and global challenges."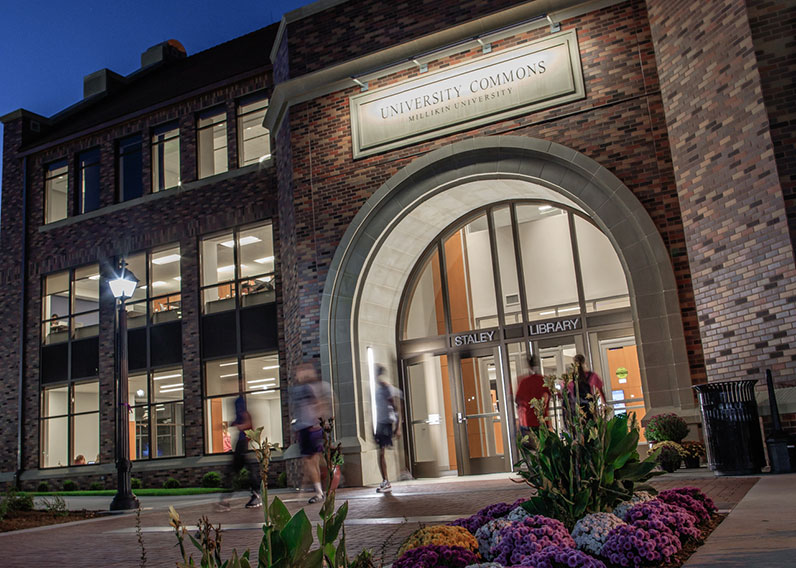 Millikin University President Dr. Jim Reynolds noted, "Millikin is very proud of the remarkable work of the faculty from our University who have been selected for these prestigious fellowships. In the tumultuous times we are experiencing currently, The Fulbright Program continues to serve as a vehicle for faculty and students from around the world to share not only their knowledge and expertise with others, but also their humanity and compassion for all those united in the common purpose of education. In the words of Senator J. William Fulbright who helped establish this program in 1946, just at the end of the Second World War, 'Educational exchange can turn nations into people, contributing as no other form of communication can to the humanizing of international relations.'"
Dr. Laura Dean, associate professor of political science at Millikin University, serves as chair of Millikin's Fulbright Committee.
"The Fulbright Committee at Millikin University is proud of our outreach work to the scholarly community which led to Millikin being named one of the 10 Fulbright Top Producing Baccalaureate Institutions in 2021-2022," Dean said.
Millikin faculty members Dr. Mirela Tanta, associate professor of art history, and Dr. Mark Tonelli, assistant professor of applied guitar and coordinator of the Guitar Studies Program, were awarded Fulbright Scholar fellowships to Romania and Brazil, respectively, and in the past few years, Millikin faculty have won Fulbright fellowships to Japan, Germany and Latvia.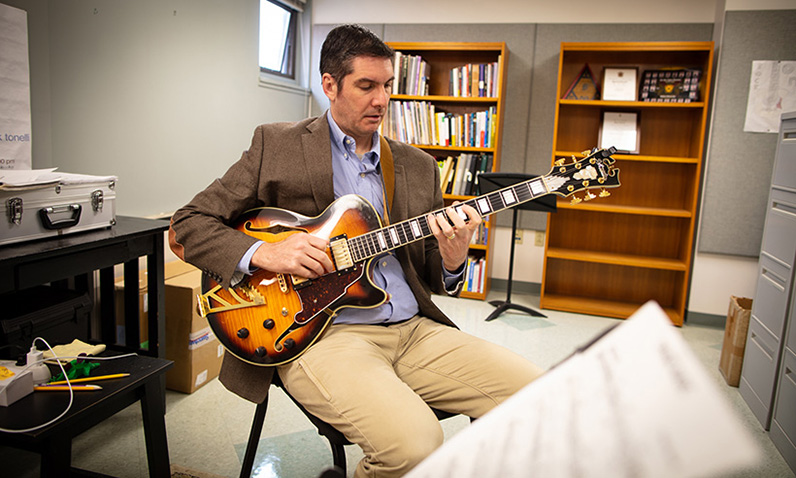 Dr. Mark Tonelli (above) was awarded a Fulbright award to Brazil for 2021-22
"Since the Fulbright Committee was re-established at Millikin University in 2017 we have seen a significant increase in the number of faculty receiving Fulbright Scholar fellowships and Millikin even hosted a Fulbright Scholar-In-Residence, Dr. Victoria Bam from Ghana," Dean said. "We believe that these faculty will bring their international knowledge and experience back to the classroom and the wider Millikin community furthering our mission to prepare students for a life of democratic citizenship in a global environment."
The Fulbright Program was established over 75 years ago to increase mutual understanding between the people of the United States and the people of other countries. Fulbright is the world's largest and most diverse international educational exchange program. The primary source of funding for the Fulbright Program is an annual appropriation made by the U.S. Congress to the U.S. Department of State's Bureau of Educational and Cultural Affairs.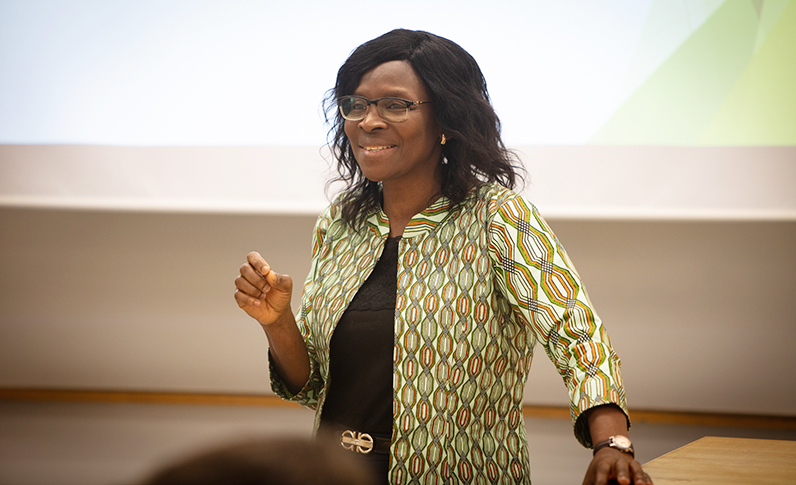 Dr. Victoria Bam of Ghana (above) was the first Fulbright Scholar-in-Residence at Millikin, arriving on campus in Aug. 2019
Since its inception in 1946, over 400,000 people from all backgrounds—recent university graduates, teachers, scientists and researchers, artists, and more—have participated in the Fulbright Program and returned to their home countries with an expanded worldview, a deep appreciation for their host country and its people, and a new network of colleagues and friends.
Fulbright alumni work to make a positive impact on their communities, sectors, and the world and have included 40 heads of state or government, 61 Nobel Laureates, 89 Pulitzer Prize winners, 76 MacArthur Fellows, and countless leaders and changemakers who carry forward the Fulbright mission of enhancing mutual understanding.
Fulbright is active in more than 160 countries worldwide and partners with participating governments, host institutions, corporations, and foundations in foreign countries and in the United States. Many of these organizations also provide direct and indirect support. ECA sponsors the Fulbright program, and several non-profit, cooperative partners implement and support the program on the Bureau's behalf. For more information about the Fulbright Program, visit eca.state.gov/fulbright.