Teacher recognized for contributions to business education
The Tabor School of Business at Millikin University honored Sandra Bronson, business educator and Future Business Leaders of America (FBLA) advisor at St. Teresa High School in Decatur, Ill., as the inaugural winner of the 2018 Outstanding Business Educator Award.
Dr. Najiba Benabess, dean of the Tabor School of Business, presented Bronson with the award on Feb. 7 during FBLA Advisor Appreciation Day. Bronson will also be honored at the Illinois FBLA Leadership Conference held April 6-7, 2018, in Springfield, Ill.
"We want to thank Sandra Bronson for promoting business in higher education and thank her for helping high school students become business leaders," Dr. Benabess said. "Her efforts and passion to inspire students to be in the business world is remarkable. This is a day where we also celebrate Millikin's partnership with St. Teresa High School."
The Outstanding High School Business Educator Award is jointly organized by the Tabor School of Business and Dean's Business Council at Millikin University. The award recipient is chosen each year for their long-term contributions to business education and teaching innovations that are transportable to other areas of the community and business world. Along with recognizing and rewarding excellence in teaching, Bronson will have the opportunity to present at a future professional development workshop series hosted by the Tabor School of Business.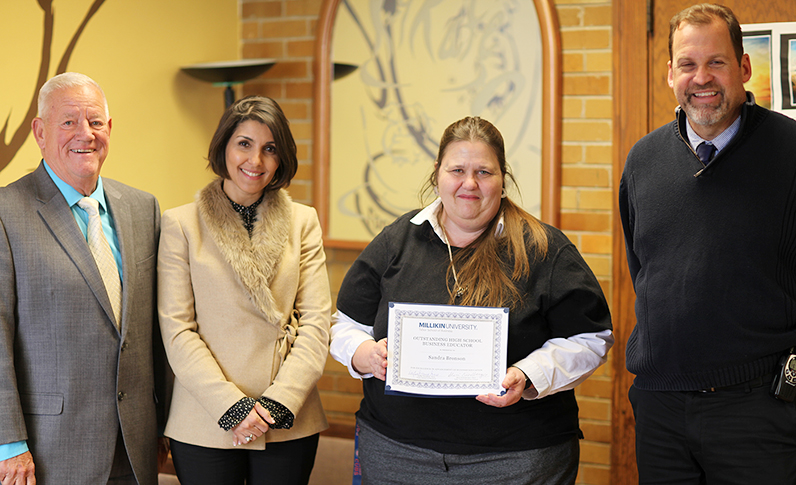 "Sandra Bronson started our FBLA program here at St. Teresa. She has been paramount to the continuing success of our Business and Marketing program," said St. Teresa High School Principal Larry Daly. "Ms. Bronson is a motivator who has high expectations for her students. We are proud she has received this well-deserved award."
In Bronson's 21 years of teaching high school, she has taught a wide variety of business and technology courses along with math for one year and a two-hour per day class in forensics at Lincoln Community High School. Bronson stays up-to-date on changes in technology and is always looking for ways to improve her teaching methods, curriculum and skills.
"As the Illinois Future Business Leaders of America-Phi Beta Lambda State Chairman, I am thrilled to congratulate Sandra Bronson on receiving Millikin University's Tabor School of Business 2018 Outstanding High School Business Educator Award," said Illinois FBLA-PBL State Chairman Darlene Shannon. "The criteria for this award states that it aims at promoting knowledge, skills, attitudes, motivation and behaviors in business and technology education. Sandra Bronson certainly does all this and more."
Bronson spent 11 years as an FBLA adviser at Lincoln Community High School, two years at Champaign Centennial High School, and has spent the last three years at St. Teresa High School. During those 16 years, Bronson has had seven Illinois FBLA state officers and a National FBLA President, along with having many state and national competitive event winners.
Bronson has been an Illinois FBLA state adviser for 13 years. As a state adviser, she is responsible for the online state conference registration and many competitive events before and during the state conference.
"Sandra is an educator who definitely shows meaningful progress in the area of business teaching advancement and truly makes a positive difference in the lives of so many students," Shannon said.
Fellow business educator and FBLA advisor Tara Pendleton, a colleague of Bronson, noted, "Sandra Bronson's dedication to business and technology education is truly inspirational. She has an energy and dedication for helping her students (and those across the state) prepare for their futures - both in their college and their future careers. I am honored to have the opportunity to work with Sandra."
Tabor School of Business
Millikin University's Tabor School of Business is committed to providing students with the skills they need to solve complex business issues with support, coaching and personalized attention. Students engage with excellent faculty who are committed to teaching, work with real clients and create real businesses. Tabor School of Business students make connections in the business industry through consulting projects with national and international business partners, participating in student-run ventures, internship opportunities, visiting speakers, cross disciplinary learning and much more.