James Millikin Awards celebrate non-alumni support
On Oct. 8, 2019, Millikin University honored Ritchie and Sandra Barnett and the Brechnitz Group of Raymond James and Associates Inc. with its most prestigious non-alumni awards.
The James Millikin Awards, given out each year during the University's Fall Associates Dinner, recognize non-alumni friends of the University who have shown outstanding financial and volunteer support for Millikin. The University's Board of Trustees confers these honors annually, recognizing one exceptional individual or couple, and one exceptional business, organization or foundation.
This year's honorees were joined at Millikin's University Commons by an enthusiastic crowd, including President Dr. Patrick E. White and his wife, Chris; Millikin Associates Chair Kara Demirjian Huss; and Millikin Student Ambassador Chelsi Jones, a junior political science major from Decatur, Ill.
"We really appreciate what Millikin does for the community," said Ritchie Barnett. "We have been fortunate enough to have our generation receive the blessings and the contributions of our prior generations to build buildings and create this fine university, and strongly feel that it is our responsibility amongst our generation to continue to contribute…so the next generations can continue to benefit from improvements to Millikin University and our community."
In his remarks, Erik Brechnitz also emphasized this partnership between Decatur and Millikin: "The Brechnitz Group could use our time, talent and treasures for a lot of different organizations and institutions, and we focus on Millikin University as the place where we think we can make the biggest difference in the lives of people. It is the cultural and intellectual soul of the community," he said.
More about the recipients
Ritchie and Sandra Barnett have been generous friends of Millikin University for more than 35 years. Their faithful support of scholarships and the Millikin Fund has helped countless students attain their dream of a Millikin education. They also established and support the Robert F. Tomlinson and Juanita Tomlinson Gates Scholarship, which is awarded annually to one or more deserving students majoring in music with a minimum 3.0 GPA. In addition, the couple's generous support of the Center for Theatre & Dance, Kirkland Fine Arts Center, the School of Music and past capital campaign projects, including Transform MU, has been an important part of the momentum to move Millikin forward.
The Barnetts are members of the Millikin Associates and the Millikin College of Fine Arts Patrons Society, and faithfully attend Associates meetings as well as many other University events and functions. A longtime vice president and trust officer at First National Bank of Decatur, Ritchie retired from the banking industry at Busey Bank.
The Barnetts have been active in the community over the years, with involvement in the Boy Scouts of America, Millikin-Decatur Symphony Orchestra Guild, the Macon County Historical Society, Oglesby Mansion and Partners in Education. Ritchie has used his banking expertise to help several community organizations set up endowments to ensure long-term support. Sandra, a master gardener, helped design the floral gardens at the Decatur Public Library and sang with both the Greater Decatur Chorale and her church choir.
The Brechnitz Group of Raymond James and Associates Inc. is a team of financial professionals providing a wide range of comprehensive wealth management services to individuals and institutional clients. Current partners of the firm are Erik C. Brechnitz, Walter L. Sparks, James R. Neff '78, J. Bret Mason, Gregory R. Huck '85, Beth Nolan MBA '04 and Rich Kaczynski '12.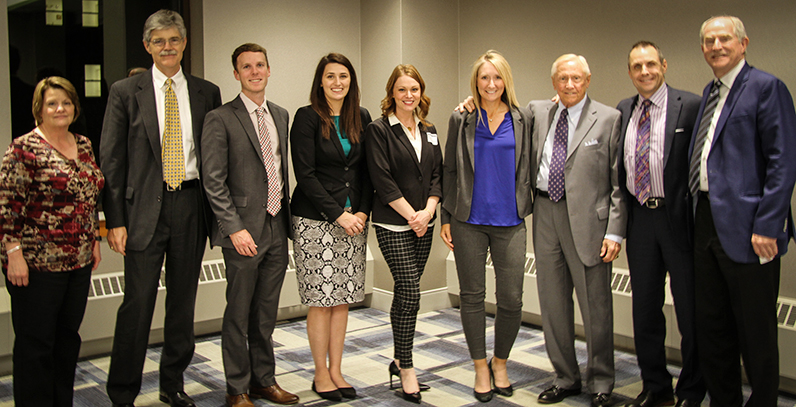 Loyal friends of Millikin, the Brechnitz Group is a sponsor of the Big Blue Club Golf Outing and has supported the Millikin Fund and various University athletic teams over the years. They recently established and endowed the Erik C. Brechnitz Business Experience Fund to provide financial assistance for travel and lodging expenses incurred by Tabor School of Business students who have secured an internship. The first recipient was announced last spring and used the funds to pursue a summer internship at Ameren corporate headquarters in St. Louis, Mo.
Erik Brechnitz served on the Millikin Board of Trustees from 1996 to 2008 and now serves as a trustee emeritus. Brechnitz is currently chairman of the Marco Island city Council. In 2018, he received an honorary doctorate of humane letters from Millikin. He has also earned recognition on the University's Wall of Philanthropy for his lifetime giving. Jim Neff '78 served on Millikin's Board of Trustees from 2005–2016, and returned to Board service in July 2019. In recognition of his loyalty and generosity to his alma mater, Neff was named the recipient of the 2019 Alumni Loyalty Award.
Millikin Associates
In April 1959, the Millikin Associates held its first meeting. The group was formed at the request of the Millikin Board of Trustees, to provide a medium for the exchange of ideas regarding the role of education in society. More than 55 years later, the group continues to be an important link between the University and the community it serves, helping to interpret local higher education needs and making available the resources and cultural advantages of a thriving University.