M-Powered: Strengthening the future of Millikin Athletics
Millikin University officials announced fundraising efforts for the first phase of a multimillion-dollar Athletic Facility Expansion and Renovation plan titled "M-Powered."
M-Powered will strengthen the future of Millikin Athletics and enhance the University's ability to recruit and retain the finest student-athletes and coaches; provide outstanding strength and conditioning facilities to maximize performance; and will include spaces for coaching, teaching and learning.
The initial goal for phase one is a new $15 million athletic facility that features the following:
• A 10,000-square-foot fitness center and weight room open to all students, faculty and staff.
• Six locker rooms to accommodate junior varsity and varsity football, men's and women's soccer, men's and women's track and field, and men's and women's cross country.
• Breakout classrooms and team meeting spaces.
"We are excited about the future of Millikin Athletics. This initiative continues Millikin's forward-thinking momentum and will add to the outstanding physical transformations on campus, such as the Workman Family Baseball Field and the new Center for Theatre & Dance," said Millikin President Dr. Patrick E. White. "Millikin Athletics programs are a great source of pride for the University, the surrounding communities and beyond. We invite our alumni and friends of the University to help shape the future of Millikin Athletics by supporting this important capital initiative, which will increase enrollment and thus positively affect the entire community."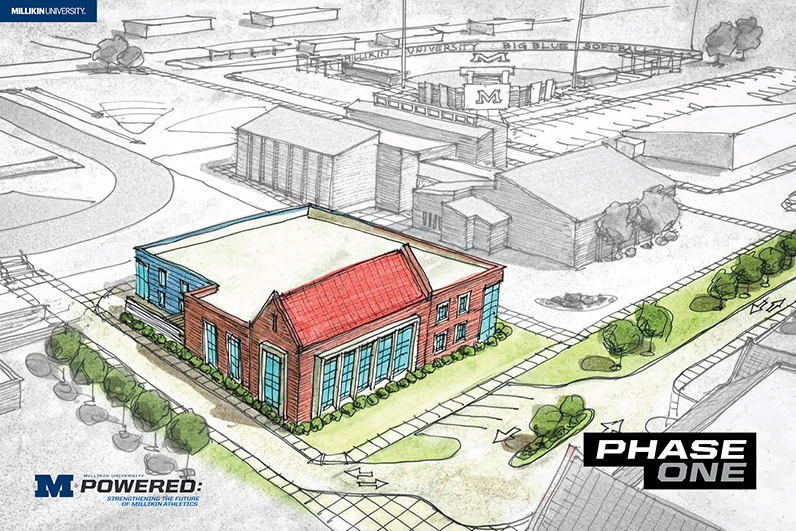 (Concept drawing of new Millikin Athletic Facility)
The new facility will be located at the current site of the Old Gym, which will be razed to allow for new construction.
"Facilities are an important part of Division III athletics. Competing on an athletic team is the tag that brings many of its students through the door of higher education throughout the country," said Millikin Director of Athletics Dr. Craig White. "Millikin is no exception to this fact, as our coaches routinely recruit 50 percent of the freshmen class year after year. In addition, Millikin is fortunate to be a part of one of the most respected Division III conferences in the country with membership in the College Conference of Illinois and Wisconsin (CCIW)."
White added, "The improvements to athletic facilities will allow Millikin Athletics to experience facilities equal to membership in this great conference. Strength and conditioning facilities, locker rooms and meeting spaces that are equal to the schools we compete against in the CCIW will mean more successful recruitment of both athletic and academic high achievers."
Millikin 1982 graduate Gregg Eichelberger says the campus-wide community will benefit from the investment in a fitness center with abundant space for vigorous use and state-of-the-art equipment.
"Millikin University is a top-tier academic institution in the Midwest, and for nearly 120 years, it has been a diamond in Decatur," said Eichelberger. "Recent building additions to the campus such as the University Commons and the Center for Theatre & Dance have enhanced campus life. By updating Millikin's athletic facilities with a fitness center, Millikin will compete at a high level in the CCIW as well as recruit and retain premier student-athletes. This new initiative demonstrates an institutional commitment to building, supporting and sustaining a winning athletics program.
Josh Warren '96, member of the Millikin Board of Trustees and co-chair of the Millikin Football Alumni Advisory Board, says the athletic facility expansion will be a key component for recruitment.
"Millikin has completed some remarkable building projects under President White's leadership. As a Millikin alum, it makes me proud that these buildings are some of the best in the country in their respective areas – including the Workman Family Baseball and Softball Fields," said Warren. "We will follow a similar standard with phase one of this athletic expansion, which will allow us to attract top tier students and student-athletes."
Warren noted, "Having best-in-class facilities shows recruits that as an institution, we are committed to giving them access to the resources and tools to maximize their potential. Every Millikin student-athlete deserves that opportunity."
For more information about the Athletic Facility Expansion and Renovation initiative, visit millikin.edu/mpowered. To make a contribution to this project, visit millikin.edu/give or call 217.424.6383.