Art Therapy majors put learning into hands-on practice
Millikin University's Art Therapy major helps students prepare for a career which uses art as a form of therapy. After completing the program, students can apply for positions in psychiatric institutions, hospitals, correctional facilities and other types of rehabilitation centers. The Millikin program also prepares students for select graduate schools which leads to a master's degree and certification as an art therapist.
"We are one of only a few undergraduate institutions in the state that offers a degree in Art Therapy," said Lyle Salmi, chair of the Art Department at Millikin. "What makes our program unique is that our BFA degree in Art Therapy combines theory and practice as our students learn about using art as a holistic component to therapy and recovery for both clients and patients."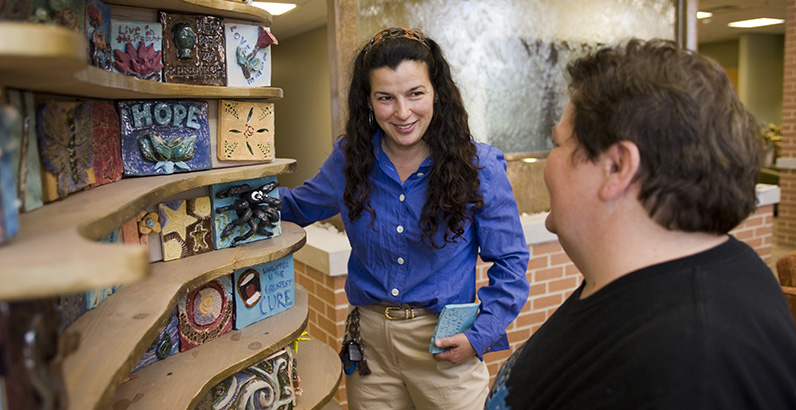 Millikin students Eliska Kostelny, a junior art therapy major from Elgin, Ill., and Deysha Barber, also a junior art therapy major from Danville, Ill., are putting their learning into hands-on practice in the Decatur (Ill.) community by working with patients at the Cancer Care Specialists of Illinois.
"For people who have trouble expressing themselves through words, they can learn to do it through the arts," Barber said in a recent interview with the Herald & Review. "Clay, painting, drawing, anything that is artistic. Some people like to do it with photography."
Art therapy involves the use of creative techniques such as drawing, painting, collage, coloring or sculpting to help people express themselves and explore their emotions, improve self-esteem, manage addictions, relieve stress and cope with a physical illness or disability.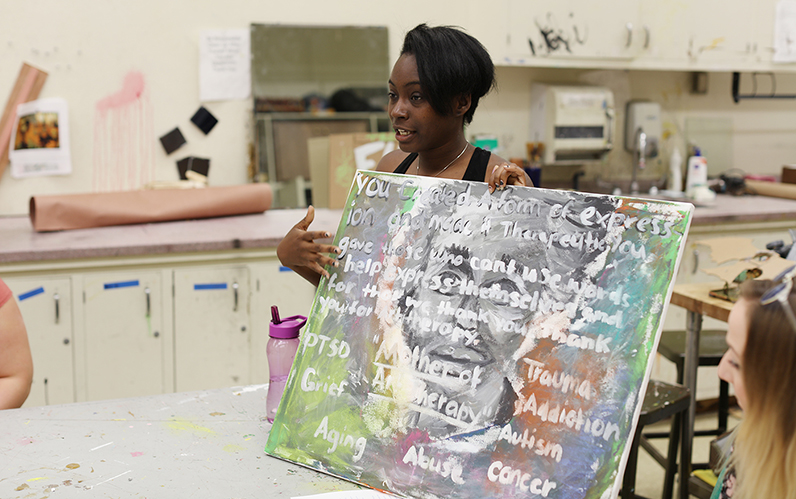 While there is a room devoted to art therapy at the Cancer Care Center, the students have been going to the patients instead to work on projects. The projects not only provide a creative outlet, they also provide a way to pass the time during lengthy waits or treatments.
"A lot of the patients say art therapy is a good distraction, especially in the infusion room," said Kostelny. "They're just sitting there doing the treatment. Sometimes their family is with them and we also get their family involved in the project and that enhances the communication aspect of it."
Barber says the students go to the waiting room, the infusion room and the lobby of the center and work with the patients on mostly collages. They ask the patients about how they are feeling that day and how they feel about themselves.
The students work under the guidance of Kathleen Buday, assistant professor of art therapy at Millikin.
"I enjoy offering projects that allow the patients to make things they can give to family members and friends," said Barber. "One patient wanted to take her project home to finish with her grandchildren as a way to spend quality time with them."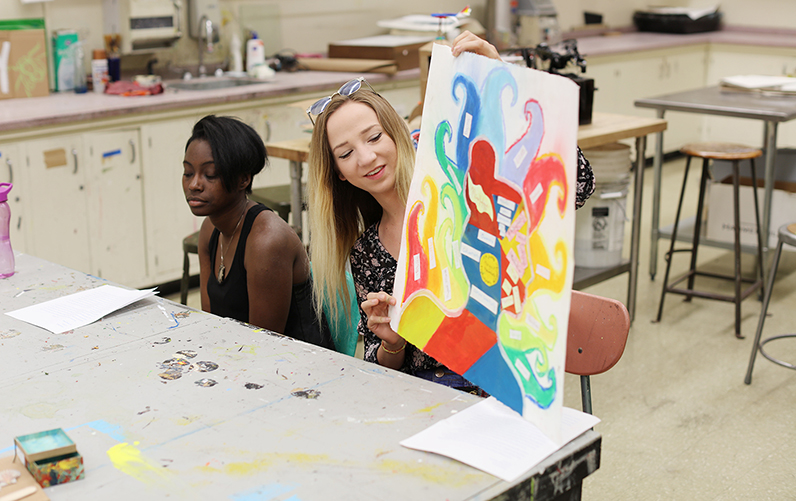 Both students plan to continue working at the center in the fall as part of an internship. In November 2016, Millikin was recognized as having one of the most affordable undergraduate degrees in Art Therapy in a ranking by BestCounselingDegrees.net, a college and career resource website for students and professionals.
"Part of our studies includes using art as a calming activity for ourselves," said Kostelny. "It helps us relate to the people we work with and see what it's like on the other side."