Dennis Lab students explore the affects of physical activity
The successful ongoing partnership between Dennis Lab School and Millikin University has made a positive impact throughout the wider Decatur, Ill., community. The partnership is designed to create a university-affiliated lab school that enhances 21st century project-based, real-world learning for Dennis students and provides increased teacher training opportunities for Millikin education students.
From the creation of a neighborhood garden, to the Out of the Blue college visit days, to the My College Buddy mentorship program, Dennis students have had many Performance Learning opportunities because of this unique collaboration with Millikin.
The Dennis-Millikin collaborative learning environment was in full force on Dec. 3 as Dennis middle schoolers spent the day on Millikin's campus engaging with multiple different departments to learn about community health.
"Dennis Lab School and our senior community health nursing students engage in community health team projects, so we decided to partner with Dennis and explore a range of different topics," said Dr. Jo Carter, associate professor of nursing at Millikin.
One of the topics that the Dennis students explored was how physical activity affects the body. With a few of the middle school classes planning to run a 5K this spring, a portion of their day was spent at Millikin's Exercise Science and Sport Pavilion with Thad Walker, instructor of exercise science and sport.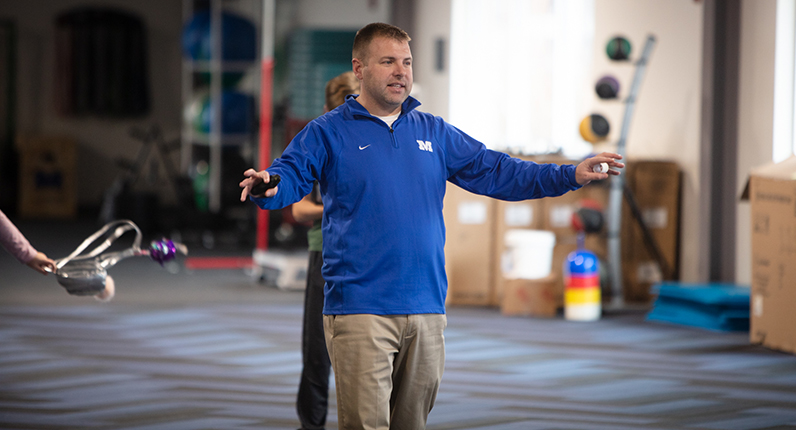 "With the areas of focus of our four majors in this department, I thought we could share some insight into injury prevention, how activity affects the body and help educate them before their race in the spring," said Walker.
The Dennis students were split up into groups to learn about various topics including how to splint injuries, receive treatment, measure vital signs, as well as learn about common injuries that occur while running.
Sophomore athletic training major Justin Gionet, of Saint Charles, Mo., had the opportunity to work with the students and teach them how to measure their heart rate, respiratory rate, blood pressure and temperature.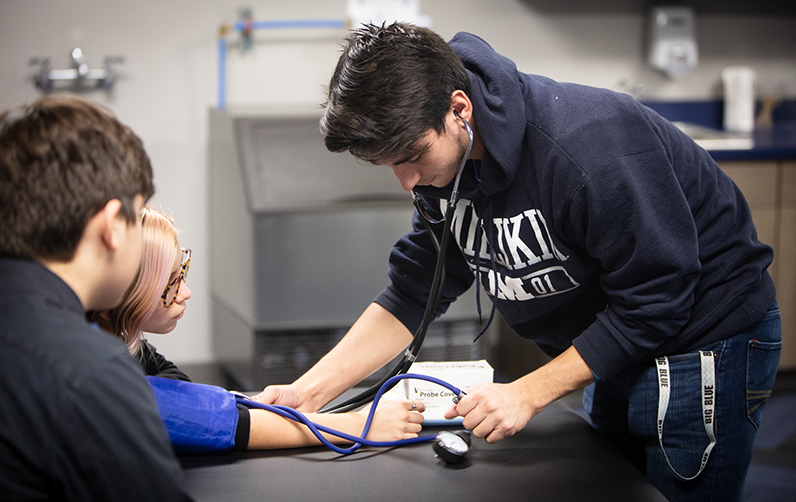 "We actually just covered some of these topics in our classes. It was great to go over all of the information with the students and see them try the things that I was teaching them," Gionet said.
The Dennis students capped the day by spending time at Millikin's School of Nursing and the University Commons learning and researching more about community health.
The opportunities that have developed as a result of the partnership between Dennis and Millikin have helped to set Dennis apart as a destination school. Currently, the school is operating at 146 percent capacity, with over 100 additional students on a waiting list for enrollment. As part of the Decatur Public School's BOLD Facility Plan, the school will expand to a second location next year in the space currently occupied by French STEM Academy. As the school grows, the opportunity for the expansion of the Dennis-Millikin partnership grows with it.