Millikin offering a variety of in-person, online and hybrid courses
Millikin University students, first-year and returning, made their way back to campus from Aug. 12-21 to move into their residences for the start of the new academic year on Aug. 24.
As expected, the busiest day for new students to move in was on Friday, Aug. 21. Among the first-year students was Ramsey Folkerts who drove 10 hours from Sioux Falls, S.D., to attend Millikin.
"I was looking online one day for the top 10 musical theatre programs and Millikin came up on it," Folkerts said in an interview with the Herald & Review. "I auditioned and I came to campus and I just fell in love with it. I didn't realize how competitive it was and I got here and auditioned and I got in and I'm so excited."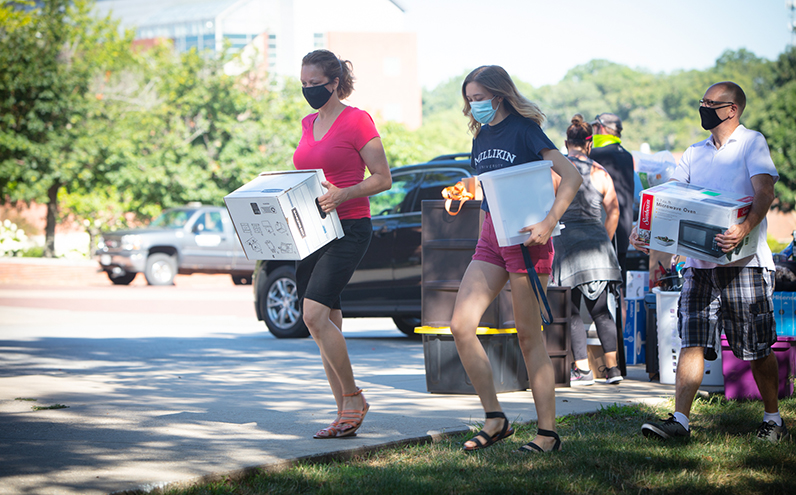 Due to the COVID-19 pandemic, Millikin implemented a very low-density, staged and staggered move-in process. Students were instructed to sign up for a 90-minute move-in appointment where they were limited to two helpers. Both students and the helpers had their temperatures checked in the parking lots before going over move-in procedures.
"All persons were to be masked at all times, inside and outside," said Raphaella Prange, vice president for student affairs at Millikin. "Our move-in was staggered from Aug. 12-21 instead of the traditional 'move-in day' where all students descended on campus on a certain day."
Sierra Hummel of Oreana, Ill., said, "Millikin's a very open campus and I think everybody's just really welcoming here."
Caira Butler, who helped Hummel move in, will be commuting this fall and plans to major in political science. "I decided that staying home for my first year probably would be the best decision both health-wise and financially," she said.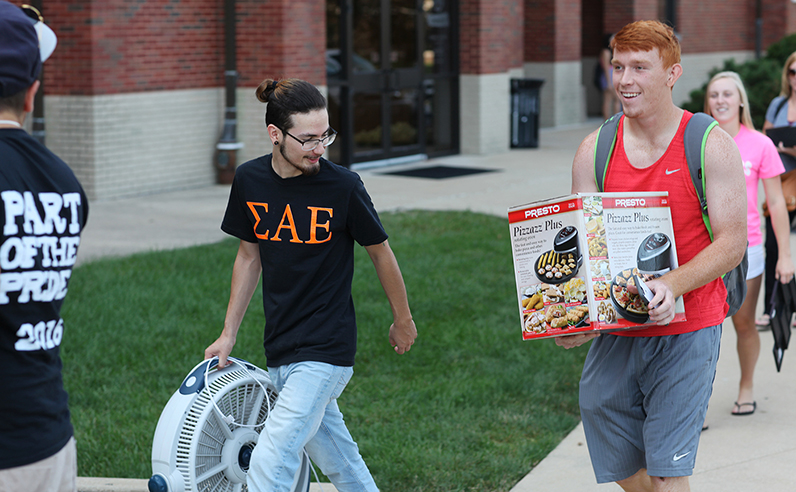 This fall, courses at Millikin are being delivered in three different modes: online, hybrid and face to face. Classrooms are being set-up for only 50 percent or less occupancy, and every classroom has a new COVID-19 occupancy sign on the door. Enhanced cleaning of all common areas and classrooms will be performed regularly by Facility Services, including regular disinfecting of frequently touched surfaces. Students will be asked to participate in cleaning and sanitizing efforts where applicable.
Most courses are using some type of technology support to decrease student gathering.
"An example of this would be a class that traditionally meets three times a week, would split into three groups and the groups would each meet once per week and then augment their content through technology," said Prange. "For courses in the School of Music and the School of Theatre & Dance, these disciplines have very detailed and specific plans for instruction. For science courses, many labs are working in pods of only two to three students, socially distanced and some labs are using technology for online laboratory work."
Most of the courses and rehearsals for the School of Music and School of Theatre & Dance will be held outdoors as long as weather permits. Vocalists will wear a specially designed singer's mask to facilitate reduction of droplet and aerosol spread while accommodating the articulatory movement necessary for singing.
All music stands, pianos, percussion equipment or any other shared equipment must be cleaned with the provided disinfectant product before and after rehearsals.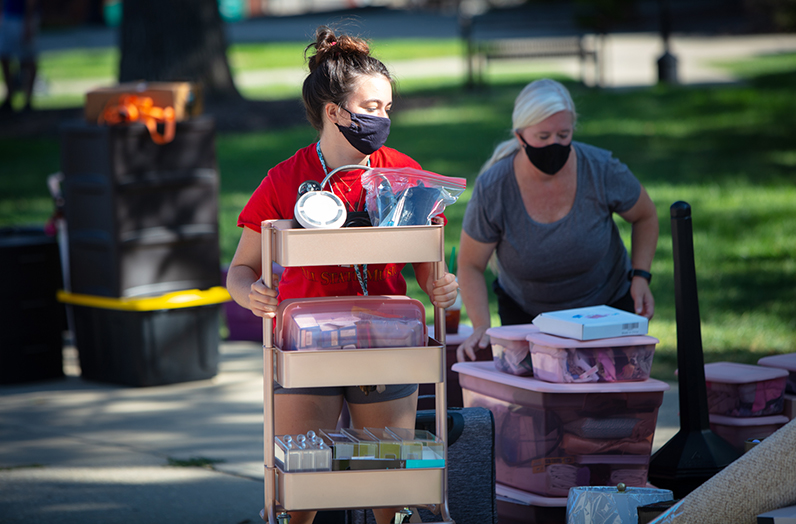 Most acting and dance courses will use a hybrid model. All acting studios are being equipped with laptops, cameras and wireless microphones for faculty use. Acting studios will also have floor markings to aid in social distancing by at least six feet. The GoReact platform will also be used to increase quality and efficiency of distance delivery components of performance classes. Dance studios will also have floor markings to aid in social distancing by at least 12 feet.
"It will be interesting to see what hybrid, virtual and in-person classes will actually look like," Folkerts said. "I'm excited to come here because I'll actually get a college experience."