3D-printing technology is growing in many areas of research, including electrochemistry. With this technology on the rise, Millikin University Leighty Scholar Adam Peters, a senior chemistry major from Decatur, Ill., is studying how 3D-printing can be used to create electrochemical devices as well as its importance to a wide range of scientific disciplines.
Peters began his research last summer working alongside chemistry major Lyndsay Chapman, from Peoria, Ill., under the guidance of Dr. Kyle Knust, Millikin assistant professor of chemistry, where they learned the properties of 3D-printing and created their own devices.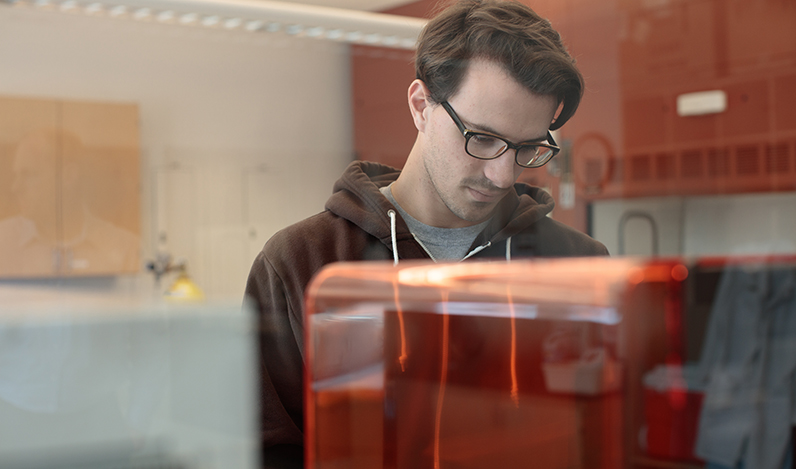 In a recent interview with the Herald & Review, Peters says they designed five different plastic channels before narrowing the number to three. The next step is to introduce a metal wire to the fluid inside and conduct electrochemical tests.
"This is really the future of molded plastics," Peters said. "In the past, these types of channels took a few days to make, but with a 3D printer, it takes a matter of hours."
Last summer, Peters and Chapman experimented with four different 3D-printing software programs, but they came to the conclusion that Autodesk Inventor was the best user-friendly program. The software is a computer-aided design application for creating 3D digital prototypes used in the design, visualization and simulation of products.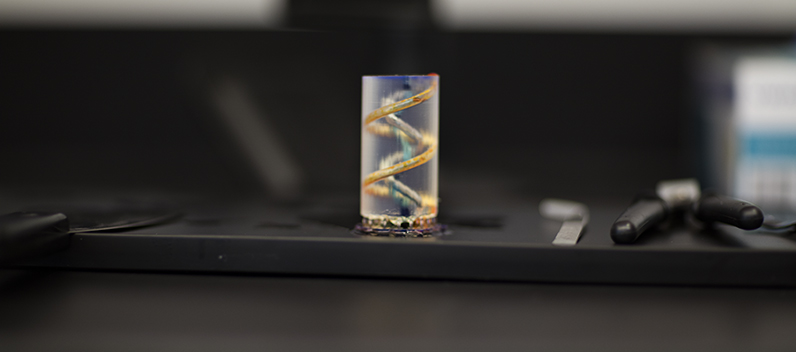 "They've made quite a bit of progress and they're doing something that right now is considered cutting-edge," Dr. Knust said. "There are not a lot of people trying to integrate 3D-printing and electrochemistry."
Peters was named an Institute for Science Entrepreneurship (ISE) Undergraduate Fellow for the fall 2016 semester where he was able to continue his 3D-printing research. Fellows receive $500 over the course of the semester for performing a project that entails 40-50 hours of work during the semester.
Dr. Knust says the short-term goal is to make a low-cost electrochemical sensor with the precise application yet to be determined.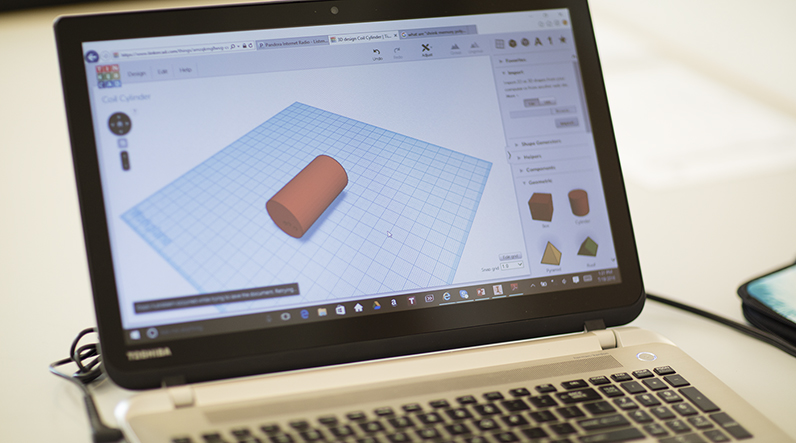 "Blood glucose monitors and some breathalyzers are two of the biggest applications, but these sensors are everywhere," Dr. Knust said. "Adam is very interested in medical applications, but we may go after an environmental application instead."
Peters noted, "We've really come a long way since we started. It's been interesting that we've gone from developing a cube to developing a device that has spirals. We've gone from creating basic structures to more detailed devices."
Dr. David Horn, Millikin professor of biology and co-founder of the Institute for Science Entrepreneurship, says, "These Performance Learning opportunities have commercial applications, and will provide our students with valuable experiences as they pursue their future careers."