Fair gives Millikin students the chance to have real conversations with employers
On Sept. 29, Millikin University's Center for Academic & Professional Performance (CAPP) hosted their annual fall Career & Internship Fair inside the University Commons. The fair featured more than 30 prospective employers across diverse industries and regions, helping students explore a variety of future career options.
Starla Street, success coach with CAPP, said that the event had a great turnout with Millikin students from across most majors attending to meet and speak with potential employers. She was also pleased that first-year and sophomore students participated in the event, mentioning how younger students can benefit from the experience, even if they aren't ready to take on a position.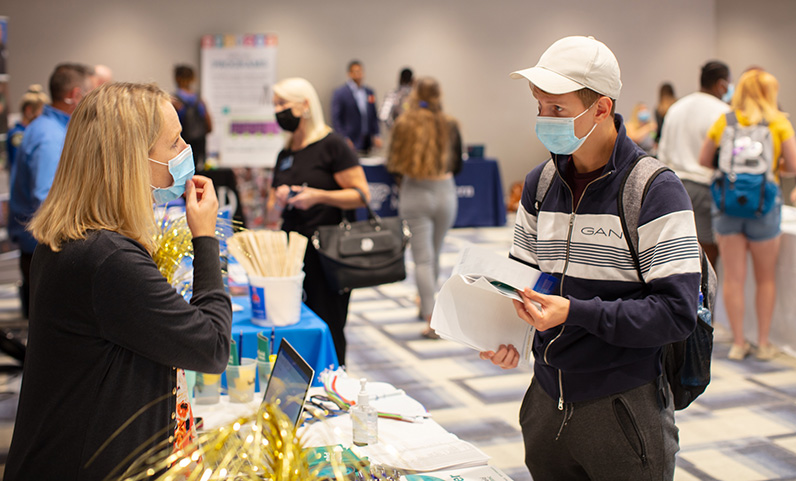 "We've had first-year and sophomore students come in and speak to employers to build relationships. When they come back as juniors and seniors, the employers already know who they are and what they are capable of," Street said.
While some students attending the fair knew precisely the opportunities they were looking for at the fair, others saw the event as a chance to explore their interests and find the right fit for their skill sets.
Cassondra Mundy, a senior biology major from Decatur, Ill., came to the fair with a specific job in mind that she hoped to pursue. "Memorial Health has the position I want specifically, which is a medical laboratory scientist," Mundy said. She then described how she felt well-prepared for her future, thanks to Millikin's pre-professional program.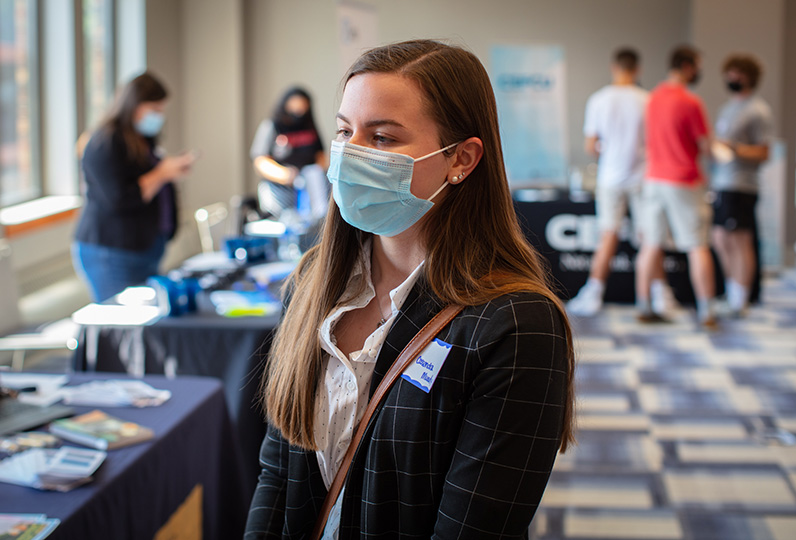 Cassondra Mundy
Millikin senior and sport recreation and management major Serron Pettis, of Chicago, approached the career fair with a broader lens, aiming to speak to every employer present and to find the right opportunity to guide him into life after graduation. Pettis hopes to work in athletic directing or facility management and event coordination, but he has not ruled out any future career opportunities.
"I've been in an environment where I've actually gotten to plan and run sports events. It's helped me learn in real-life situations and it's gotten me into the mode to do the things I'll be doing in a real job," Pettis said, discussing how Millikin's emphasis on Performance Learning provided him with the skills and confidence for a career in the sports industry.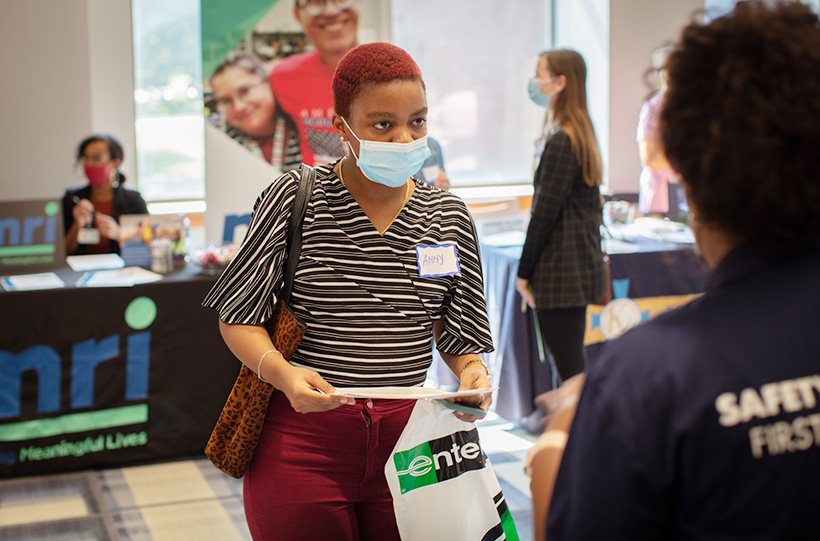 Several employers at the fair already had extensive experience with hiring MU students and graduates. A Class of 2012 graduate, David Martin, works as an internal audit supervisor at Archer Daniels Midland Company, commonly known as ADM, a multinational food processing and commodities trading corporation previously headquartered in Decatur.
Martin mentioned that several of his team members are graduates of Millikin and explained that Millikin graduates are excellent job candidates because of their leadership and collaborative skills.
"With our work, every project is a group project. When we need someone to lead or work in a team, Millikin students are always ready," Martin said, also stressing the value of strong communication and critical thinking skills in the workplace.
State Farm is another large company that frequently employs Millikin students for internships and graduates for full-time positions at their corporate headquarters in Bloomington, Ill. Hannah Haaksmith, Class of 2018, worked as an intern for State Farm before being hired as an information security architecture analyst.
"Networking at the Millikin Career Fair led to my full-time career. After my two internships with State Farm, becoming a full-time employee was a very simple process. They acted like my internships were just one long interview process," Haaksmith said.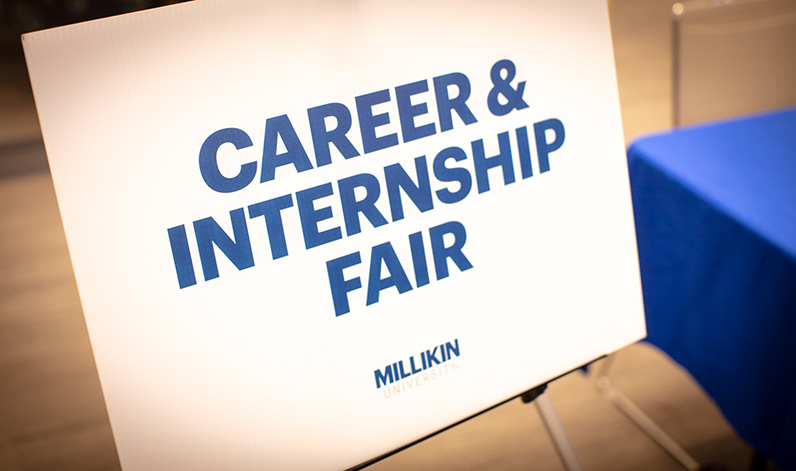 State Farm is just one of the companies that works closely with Millikin University to recruit students and help prepare them for the job market. "State Farm volunteers to visit campus and do mock interviews with students," Starla Street said. She also described additional career services and resources offered by CAPP, including résumé and cover letter assistance, networking opportunities and interview best practices.
"Getting the confidence to speak with employers is a great first step," Street said. "Every year the fair gives Millikin students the chance to have real conversations with employers and learn what they are looking for."