Millikin students play key role in collecting homeless data
The Macon County Homeless Council Continuum of Care works diligently to meet the needs of homeless individuals, veterans, children and families. To identify how many people are homeless in Macon County, the Continuum of Care has worked with Millikin University faculty and students for the last three years to conduct its annual Point-in-Time survey.
The results of this year's survey, revealed on March 10, showed that the number of homeless people in the Decatur, Ill., area is down for the third consecutive year. The survey was conducted in January 2017 by Mary Garrison, associate professor of social work, RJ Podeschi, assistant professor of information systems, and Millikin students Maya Van Lysebettens, a sophomore human services major from Chicago, Ill., Laken Bell, a junior human services major from Riverton, Ill., Eric Johnson, a senior information systems major from Hebron, Ill., and Brandon Kersten, a senior theatre major from Round Lake, Ill.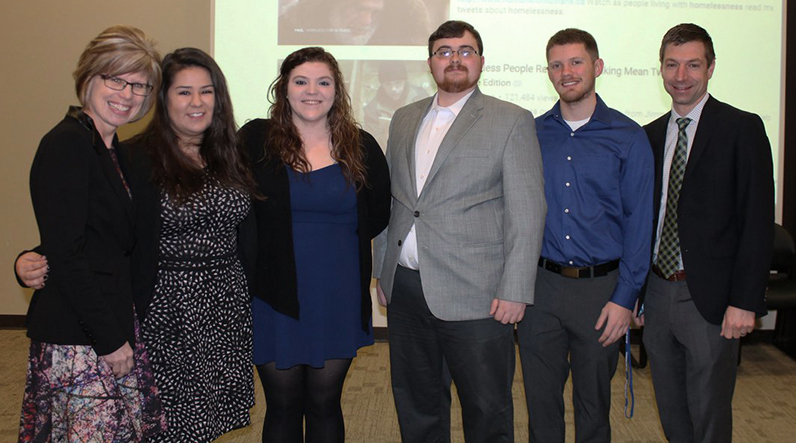 The survey identified 130 homeless people compared to 157 a year earlier, a decrease of more than 17 percent.
"From a faculty perspective, it was an amazing opportunity to engage in Performance Learning and the students collaborated with third party stakeholders as they worked to further develop the information systems database that the survey data was entered into as well as working with community volunteers, staff and Millikin volunteers to organize, schedule and execute the count," said Garrison.
The 2017 Point-in-Time survey showed the following changes in the homeless population compared to one year ago: 78 percent were male, up from 70 percent; 51 percent were African-American, up from 43 percent; 18 percent reported having a mental illness, up from 13 percent; and 16 percent reported a physical disability, up from 10 percent.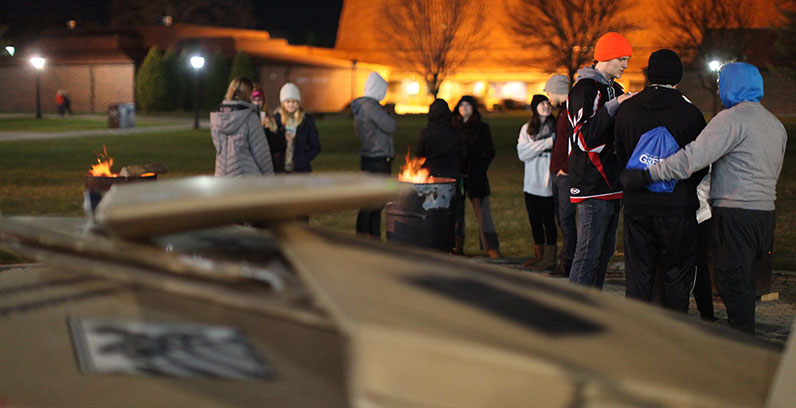 "This project really helped put into perspective what homelessness actually looks like in Decatur," said Maya Van Lysebettens. "This project also helped me learn about things from the administrative side. I think our findings are very important to Decatur and Macon County because it brings more awareness to the efforts that the Continuum of Care is putting forth to try and end homelessness. Our numbers are the lowest they have been in years at 130, which is fantastic, but our chronic homeless number remained the same as last year at 23. So while it shows the progress, it also shows the work that still needs to be done."
The partnerships and collaborative efforts are funded through grants from the U.S. Department of Housing and Urban Development (HUD), and the Illinois Department of Human Services (IDHS). The Continuum of Care Governing Board has expanded in the last year to engage additional partners allowing for enhancement of coordination and service provision for the homeless population throughout the City of Decatur and Macon County.
"This project is unique in that I practiced information systems work by developing a database application, while simultaneously learning about the homelessness situation in Macon County, how the national Point-in-Time count is performed, and how Millikin's Human Services Department has worked with both," said Eric Johnson. "Working on a cross-disciplinary team expanded my horizons beyond my usual technical focus on projects. In addition, working with volunteers external to Millikin and presenting the project to the public gave me a first-hand perspective of the positive impact a Millikin student's work can have on their local community."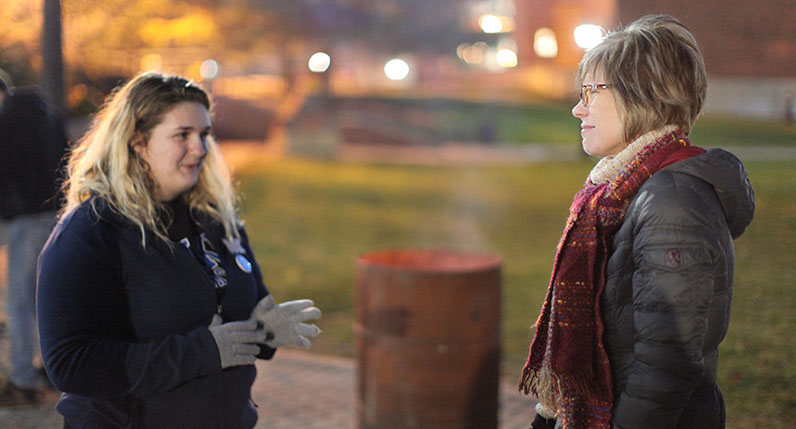 View Coverage