Millikin students plant more than 100 trees
Dr. David Horn's Conservation Biology course at Millikin University not only focuses on the earth's biological diversity, but threats to the planet's biological diversity, how threats influence populations and species, and solutions to dealing with those threats. The course includes a laboratory component which serves as an integral part of the course.
On April 27, students from Dr. Horn's course made a trip over to the Sand Creek Conservation Area in Decatur, Ill., to plant more than 100 trees. The students are working with the Macon County Conservation District on restoration projects as part of the course.
"We've done everything from collect litter at the Griswold Conservation Area to doing some tree planting," Horn said in a recent interview with the Herald & Review.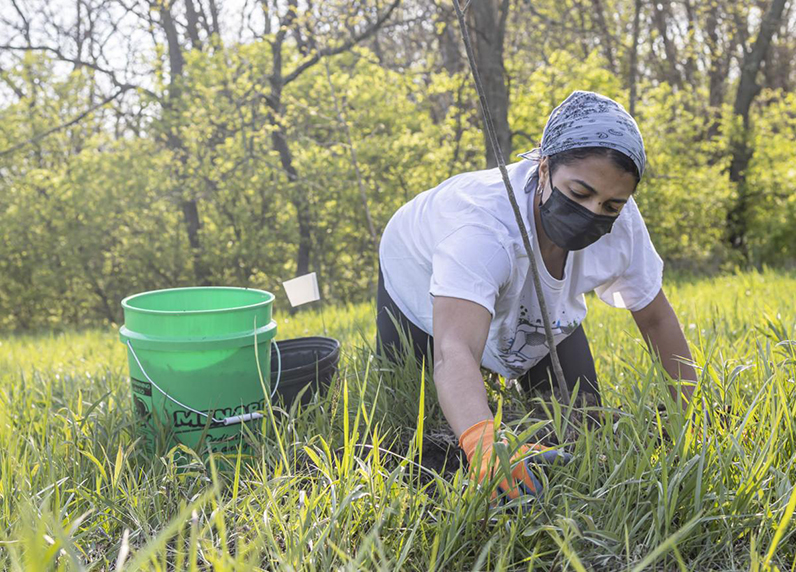 Photo courtesy of the Herald & Review (Clay Jackson)
Jenna Thelen, a junior biology major from Carpentersville, Ill., was among the students helping plant trees. Thelen said she took the class to gain more knowledge about the topic. "This is my first time planting this many trees at once," she said. "I knew about conservation biology, but it's a pretty new topic. It has a lot of aspects of sociology and working with people, something about the environment is always a good time."
For the past five years, Horn's biology courses have collaborated with the conservation district on restoration.
"This has really been an opportunity for us to help the district while our students learn valuable skills," Horn said.
Natural Resources Specialist Ethan Snively spoke with the Millikin students on April 27 and showed them the proper way to plant the trees at Sand Creek Conservation Area. The trees, which included bur oak, swamp white oak, shellbark hickory, pecan and American plum, were donated by Living Lands and Waters, a non-profit environmental organization in northern Illinois.
The trees were planted because the area has a low diversity of tree species. "You have Sycamores, Cottonwoods, Maples, the food they provide is called soft mass, so it goes bad real quickly," Snively said. "Wildlife can eat it, but it doesn't really store over winter."
Daniel Mendoza, a senior biology major from Arcola, Ill., serves as a natural resource intern with the conservation district. Mendoza often discusses the plants, trees and concepts with his peers and his professor. "Dr. Horn always tries to relate it back to the Macon County Conservation District, just because it's local and there are not many conservation districts in the state," he said.
Snively encourages Millikin students to get involved in other conservation projects. In the past, the students have removed honeysuckle plants from various areas, cleaned creeks, treated plants and assisted in other projects. "Different things that are resume' builders," Snively said. "Not many universities do this."