Gender and Politics class helps raise proceeds for Growing Strong Sexual Assault Center
Perhaps one of the best quotes on empathy is "You can't understand someone until you've walked a mile in their shoes." That saying was put into effect on Saturday, Dec. 1 as Millikin University hosted its first "Walk a Mile in Her Shoes" event to raise awareness about sexual assault and gender-based violence.
The event was organized by students in a Gender and Politics course led by Dr. Laura Dean, assistant professor of political science at Millikin. Participants had to wear high heels and walk a mile through the Bob and Debi Johnston Banquet Room in the University Commons in an effort to shed light on the occurrence of sexual assault and gender-based violence in the community.
All proceeds from the event would go to benefit Growing Strong Sexual Assault Center in Decatur, Ill.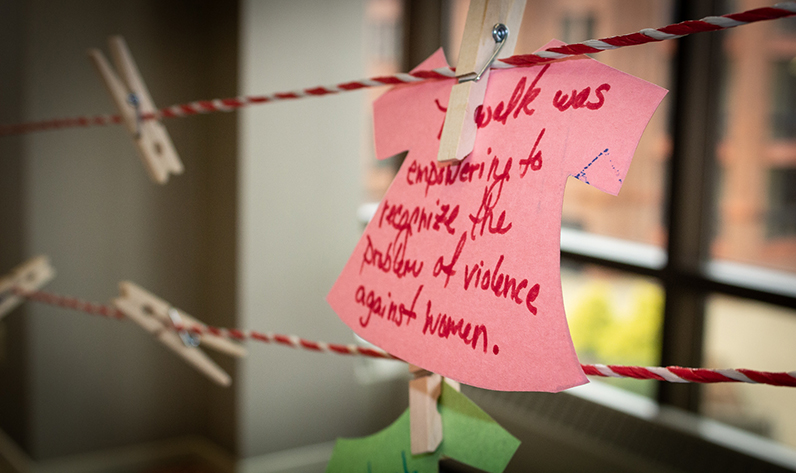 Students in the course worked in groups to implement the event as part of the final project for the class. An Activities and Education Group organized a number of activities leading up to the event, including a talk by Millikin University's Title IX Coordinator – Vice President for Student Affairs and Dean of Student Development Raphaella Prange; an interactive discussion with Prevention Education Supervisor Kim Spicer from Growing Strong; and a self-defense training session provided by Ryan Pope from Decatur Krav Maga.
Dr. Dean said Growing Strong last attempted a "Walk in Her Shoes" event three years ago. When the Millikin students approached the organization to ask about working together, the event was a good fit for them.
"Talking about things like domestic abuse and violence can be intense," said Lauren Villarreal, a stage management major. "But the only way to deal with those kinds of issues is to talk about them openly. The event was a fun way to get the conversation started."
Other student groups in the class included a Recruitment Group which created a social media platform and used personal connections to recruit attendees to participate in the event. The group also developed a Facebook page in order to reach people online and outside the Millikin community.
A Public Relations Group worked on creating a flyer that was posted around Millikin's campus. The group also created a public service announcement (PSA) educating listeners about the event. The PSA was aired on Millikin University's radio station WJMU 89.5 "The Quad."
"I want the students to learn how to organize events, and work together in teams, because that's something they'll have to be doing when they graduate," Dean said. "Working together, and organizing and putting on an event, and doing a social justice issue, too, I think is important because we want our students to be citizens in a global environment."
The event featured a raffle with prizes from a number of local businesses which contributed to the proceeds for Growing Strong Sexual Assault Center. Informational and resource tables were also available including T-shirts decorated by survivors of assault, and small paper cutouts in the shape of T-shirts for walk participants to use to write their own thoughts on for display.