Millikin students help renovate Lincoln Trail Homestead
Student-athletes from the Millikin University Softball team recently engaged in a service opportunity by helping make repairs at Lincoln Trail Homestead State Park on Saturday, Dec. 3.
The state park, located on the Sangamon River in Macon County near Harristown, Ill., is believed to contain the site of the homestead, from March 1830 until March 1831, of pioneer Thomas Lincoln and about 12 members of his extended family, including grown son Abraham Lincoln. The state memorial, created in 1938, serves as a park and picnic area for the greater Decatur, Ill., metropolitan area. The park was formally dedicated in 1957.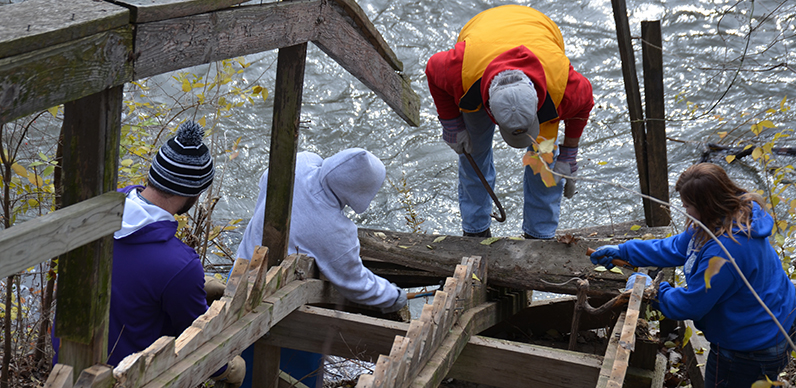 In October 2015, the Macon County Community Environmental Council organized an official Illinois Department of Natural Resources (IDNR) group – Friends of the Lincoln Trail Homestead State Park. The group is working to bring historic preservation of the site to the same standards as other Lincoln sites in Illinois, making it a desired Lincoln destination.
The group is aiming to engage the public through trail and river access, historic and environmental educational programs and site enhancement.
Among the members of the group is Dr. Judy Parrish, professor of biology at Millikin. "We have worked on clearing bush honeysuckle, helping the IDNR put in a canoe/kayak boat launch on the Sangamon River, painting and cleaning, trail maintenance, removal of downed trees and repairing the steps that lead people to the floodplain trail," Dr. Parrish said. "The Millikin Environmental Affairs Council, Ken Laundra's Environmental Sociology group, various biology classes and now the Millikin Softball team have contributed a lot of labor to the program. We have had nine workdays with volunteers contributing over 500 hours."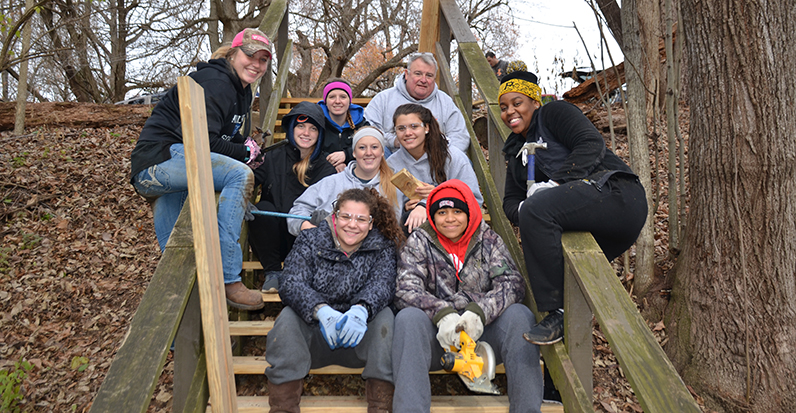 Nicole Koch, a senior biology - allied health track major from Morton, Ill., was one of 11 students helping with the renovations on Dec. 3.
"When we found out about the service opportunity, our softball team jumped on it," Koch said. "We also learned that we were walking the same paths that Abraham Lincoln once traveled on. It was a meaningful experience to be a part of the beginning of renovating Lincoln Trail Homestead State Park into an adventurous tourist attraction."
Other Millikin students that contributed include: R'Riel Johnson, a sophomore nursing major from Willowbrook, Ill.; Alyssa Voegele, a junior athletic training major from Highland, Ill.; Brooke Heimerl, a junior physical education major from Orland Park, Ill.; Alexis Dockins, a junior nursing major from Peotone, Ill.; Annelise Salazar, a first-year theatre major from Sylmar, Calif.; Justice Miller, a senior athletic training major from Alsip, Ill.; Marissa Padilla, a senior health, fitness and recreation major form Oak Forest, Ill.; Bayleigh Tabor, a sophomore psychology major from Windsor, Ill.; Cathy Lebryk, a junior athletic training major from Munster, Ind.; and Hailey Stokes, a first-year graphic design major from Huntley, Ill.