Millikin students earn spot in National Intercollegiate Ethics Bowl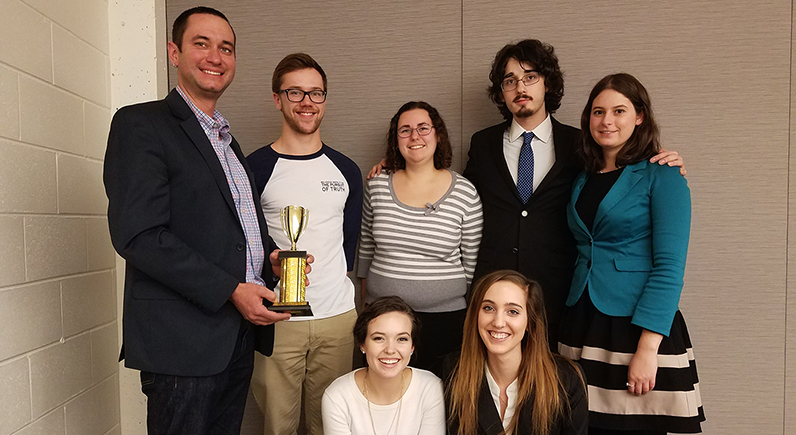 The Millikin University Ethics Bowl team placed second at the 2016 Upper Midwest Intercollegiate Ethics Bowl (IEB) held at Harper College in Palatine, Ill., on Dec. 3. The second place finish grants Millikin a seat at the National Intercollegiate Ethics Bowl competition on Feb. 26 in Dallas, Texas. Millikin has qualified for the national competition in two of the last three years.
The Upper Midwest Intercollegiate Ethics Bowl gives students a chance to enter an academic competition that provides a valuable experience in the areas of practical and professional ethics.
Hundreds of students and teams across the United States and Canada compete in 11 Regional Ethics competitions each fall. The teams argue and defend their moral assessment of some of the most troubling and complex ethical issues facing society today. The competition focuses on selected cases developed by Association for Practical and Professional Ethics (APPE) faculty, researchers and professionals.
"We saw a lot of impressive work done by both our students and teams they competed against," said Dr. Michael Hartsock, associate professor of philosophy at Millikin. "We have a course at Millikin called Ethical Reasoning and the whole goal is to prepare for the competition at the end of the semester. When the cases come out, we spend time analyzing the cases and talking about what issues they raise."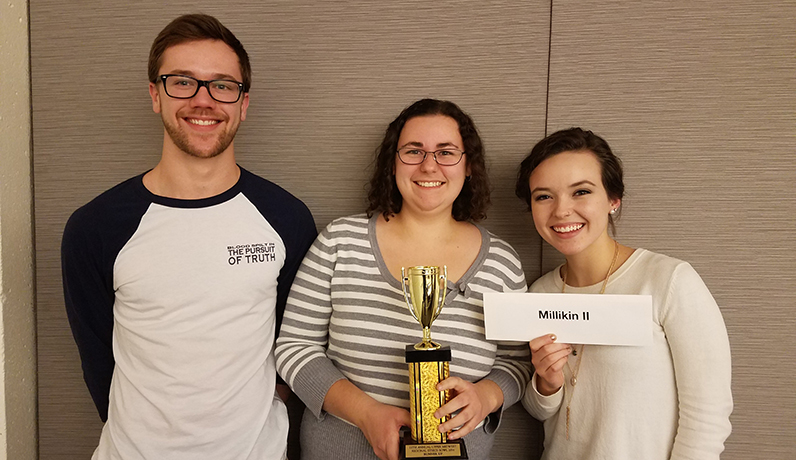 Millikin brought two teams to this year's competition. The second place team included students Brittany Larsen, a senior English literature major from Maple Park, Ill.; Taryn Pepping, a senior art therapy major from Johnston, Iowa; and Keegan Duesterhaus, a senior philosophy major from Decatur, Ill. Millikin's other successful team included Elaine Ortyl, a senior philosophy major from Zionsville, Ind.; Janine Norman, a sophomore musical theatre major from St. Louis, Mo.; and Arlo Frantz-Greene, a sophomore English secondary teaching major from St. Louis. Millikin's second place team finished with three wins and one tie.
The students were evaluated on their clarity and coherence of their ethical argument, analysis of the ethical issues and consideration of opposing viewpoints. Cases that were discussed at the competition included political correctness in comedy, the case of Apple versus the FBI and freedom of expression in the military. Teams were judged by practicing professionals in a variety of fields such as CEOs, professors, physicians, compliance officers and lawyers.
"We had some great conversations and the other teams were very positive and eager to share their thoughts and engage in some healthy conversation," said Brittany Larsen. "Hearing our school's name was a very gratifying moment, especially since I'm a senior and this is my final season. I was on the nationals qualifying team two years ago, and going to nationals is one of the best experiences of my college career, so getting the opportunity to go again is amazing."
More than 20 teams competed in this year's competition including Northwestern University, Bowling Green State University, University of Michigan, University of Mississippi and Illinois Wesleyan University.
In terms of preparing for the competition, Larsen says, "We met twice a week for class where we began with an overview of moral theory. We also had in-depth discussions about what our beliefs were and what all of the possible dimensions of the case could be. We spent time doing mock rounds where we got to practice the presentation style and dissected each other's arguments."
Dr. Hartsock noted, "Our students are holding their own against great liberal arts colleges and major research institutions. The ethics bowl has become a much more high-profile activity and it's continued to evolve with how much talent and preparation our team and other teams bring to the competition."