Student creations encompass visual storytelling
Millikin University and the Decatur Park District have established a new partnership that highlights the work of Millikin fine arts students at Scovill Sculpture Park in Decatur, Ill.
On April 12, the Decatur Parks Foundation, which oversees the sculpture park near Scovill Zoo, revealed four new animated short films displayed on an LED sculpture at the entrance of the park. The sculpture, made by Aaron McIntosh, is called "Learning Curve" and the animations were created by Millikin students.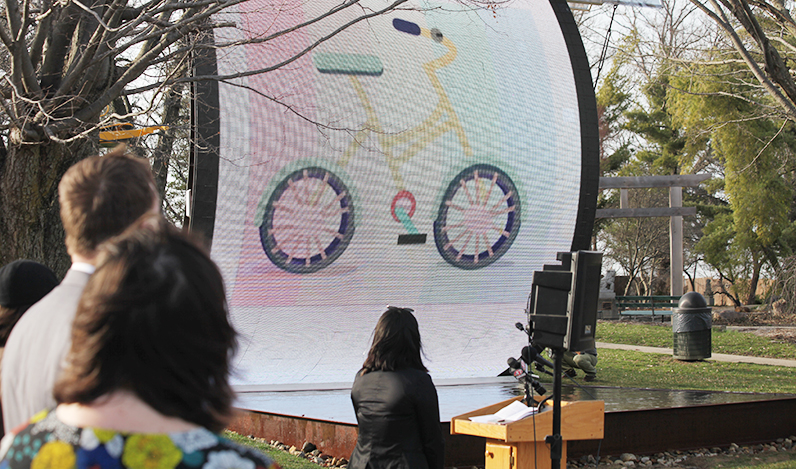 At 20 feet tall, "Learning Curve" was unveiled in October 2017 and features an LED screen curved over a square pool of water. "My vision was to have something that peeled up out of the ground and revealed more about our community," said McIntosh. "I thought a good way of doing that was having a digital screen that local students would be able to create animations for – were looking forward to doing a lot more of these."
Millikin students' creations will be featured with "Learning Curve" throughout the rest of the zoo season. Each of the four short films showcased on April 12 were 30 seconds to one minute long.
"We started brainstorming on how we could show artwork from Millikin's College of Fine Arts, starting with my animation class," said Jessa Wilcoxen, associate professor and chair of the Arts Technology Department at Millikin. "Hopefully in the future we can show video art, digital photography and other multimedia pieces."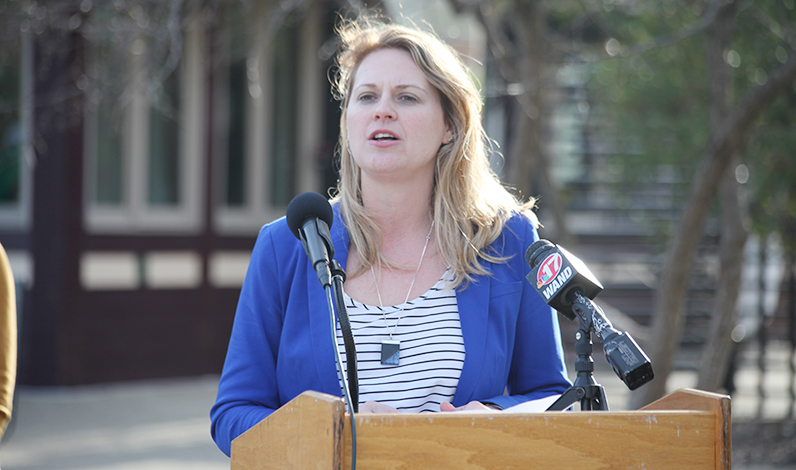 The students created their short films during a Motion Graphics course taught by Wilcoxen. Throughout the course, students learn visual storytelling techniques, abstract shape creation and how to blend those with music and sound. The theme for the sculpture park animation project was nostalgia.
"The students gravitated towards nostalgia because they knew they could create something meaningful and we hope the nostalgia theme is very approachable to the audience," said Wilcoxen. "We hope the audience will feel connected to their own childhood or something that is nostalgic to them."
The animations were presented by students Spencer McGowan, a senior graphic design major from Morton, Ill.; Anna Hoang, a junior digital media marketing major from Decatur; Aryana Johnson, a senior art major from Maywood, Ill.; and Isaac Wieser, a senior music major from Kewanee, Ill.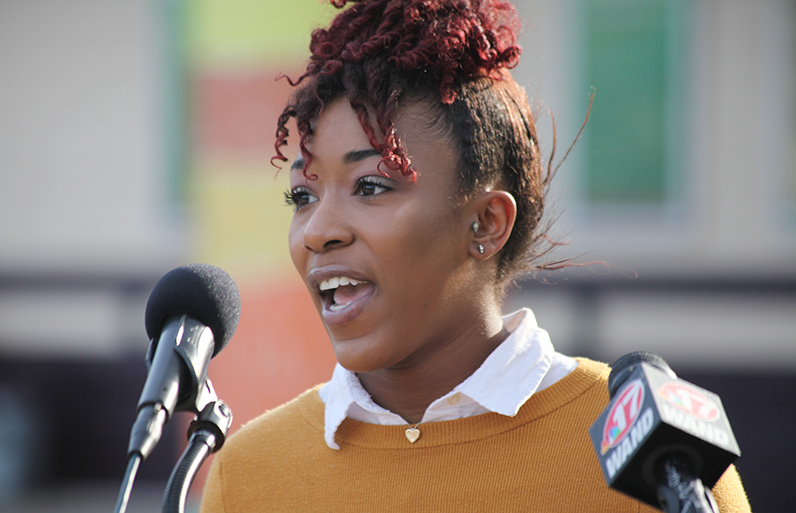 Before unveiling their animated short films, each of the students provided a description of their projects.
Aryana Johnson said her hometown played a role in the development of her project called "Dragonfly."
"I'm a very family-oriented person and I'm very close with my brother," said Johnson. "The dragonfly is nostalgic to me because we used to try and find dragonflies. The film brings me back home."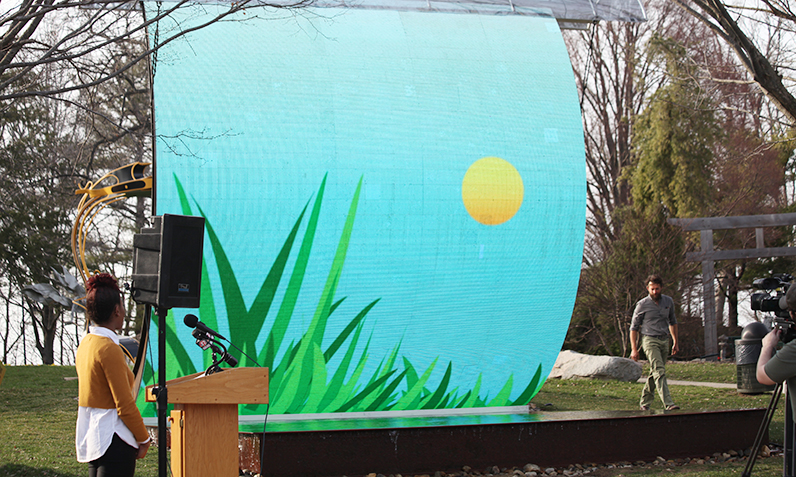 Spencer McGowan tackled the theme of nostalgia more abstractly in his film titled "Digital Sentiment." The project highlights a flowing membrane that sits at the bottom of the screen that McGowan says represents a person starting out in life.
"You'll notice little cubes that fall down from the sky during the animation," said McGowan. "Those are made to represent instances and events in a person's life that come to define who a person is – some of them are big, some of them are small."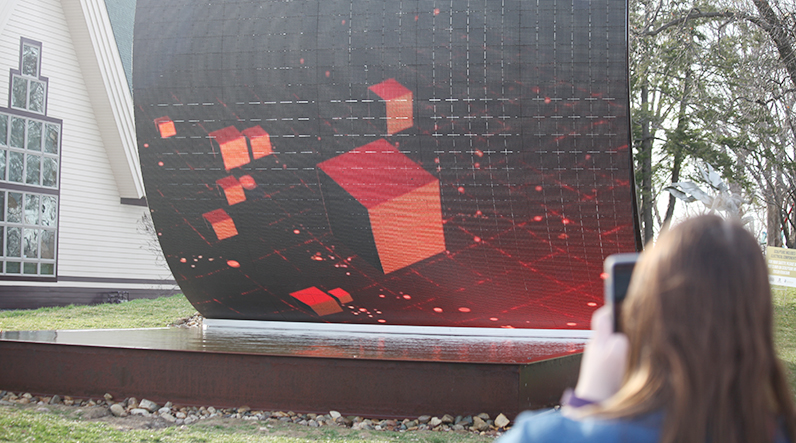 For her project titled "Stay Young," Anna Hoang said her inspiration came from her childhood, being outdoors and noticing colorful objects.
"The colorful objects relate to my artistic sound now," said Hoang. "For this piece, I wanted to gravitate towards families who come to the zoo."
Isaac Wieser said when he thought of the idea for nostalgia he reflected back to his childhood and pretending to play on a pirate ship in his backyard. These reflections were the inspiration for his project "Backyard Shipyard." Wieser also recorded the background music for the short film on a piano.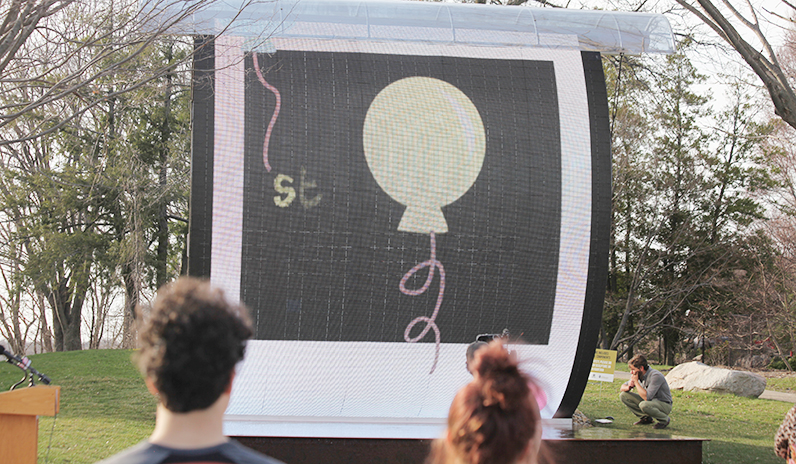 "We would usually end the day with a bonfire and looking up at the stars, and you can really see that in the animation," said Wieser.
The students are the first guest artists to exhibit on the "Learning Curve" LED sculpture, located near the entrance to the Scovill Zoo, which had more than 80,000 visitors in the past year.
View Coverage