MU students honored for artwork and business pitch
The Self-Employment in the Arts (SEA) Conference not only celebrates the emerging visual work by students, but it helps student artists and aspiring entrepreneurs succeed by connecting them to resources through networking and workshops.
The 19th annual SEA Conference was held Feb. 23 and 24 in Chicago, Ill. Millikin University was well-represented with a record 22 students and eight faculty members in attendance. Millikin also played an instrumental role in the creation and continuance of the conference by participating on the SEA Advisory Board and serving as a platinum sponsor.
In addition to Millikin's strong representation, two Millikin students were honored for their work: Deborah Corr, a senior studio art major, won a Juror's Award for her digital photography at the 10th annual SEA College Juried Art Show; and Zach McReynolds won $1,000 in the Funding Pitch Competition for his freelance concert event management company called Nightlight Productions.
Corr's recent artwork focuses on the personal traumas of her closest family and friends. Her portraits discuss the intimate insecurities and struggles her models experience in their lives.
"Overall, the series allows us to examine and understand the various unspoken traumas of people's lives," said Corr, of Sycamore, Ill. "By the end of the series I became much more self-aware of aspects in people's lives that they keep hidden. Also, I was able to create a much deeper relationship with each of my models."
Lyle Salmi, professor of art and chair of the Art Department at Millikin, says juried exhibitions, like the SEA Conference, are important for student artists.
"We are pleased that Deborah Corr's photography received the Juror's Award in the 2019 SEA Juried Art Show," said Salmi. "An important aspect of Performance Learning involves having students, such as Deborah, enter their work into professionally juried exhibitions, as they present the artistic skills they have learned in the context of the professional community of artists and scholars. It is in this way that students begin to engage with the larger community of artists beyond Millikin."
The Millikin community can see more of Corr's work at her Bachelor of Fine Arts Senior Exhibition entitled "Midwestern Constructs" on Saturday, March 23 from 1-3 p.m. at the Perkinson Gallery in Kirkland Fine Arts Center.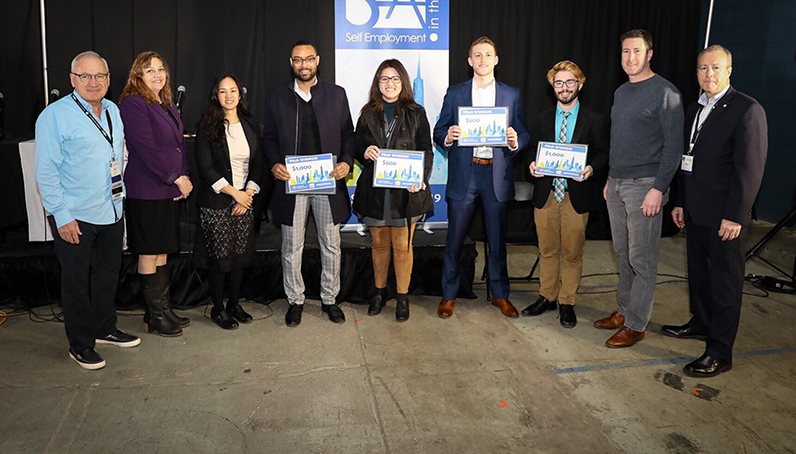 As for Zach McReynolds, a sophomore entrepreneurship major from Peoria, Ill., he started Nightlight Productions as a way for him to bring members of a community together to share an experience.
"I went to a lot of local shows when I was in high school and they became a safe haven for me. Now, I see it as my purpose to continue building communities and to expose people to artists they may have never had the chance to be exposed to," said McReynolds.
The focus of the company is to come up with an idea for an event – be it a concert, a comedian, poetry reading, trivia night, or any other number of things – and find out if it is something that people in the community are actually interested in. "This is known as lean methodology in entrepreneurship," said McReynolds. "I then cater the idea to fit what will best serve the community and do my best to deliver just what people want to bring them together. Nothing makes me happier than seeing a room full of people that are sharing a moment with each other."
Two members of Millikin's faculty and staff also led workshops at the annual SEA Conference.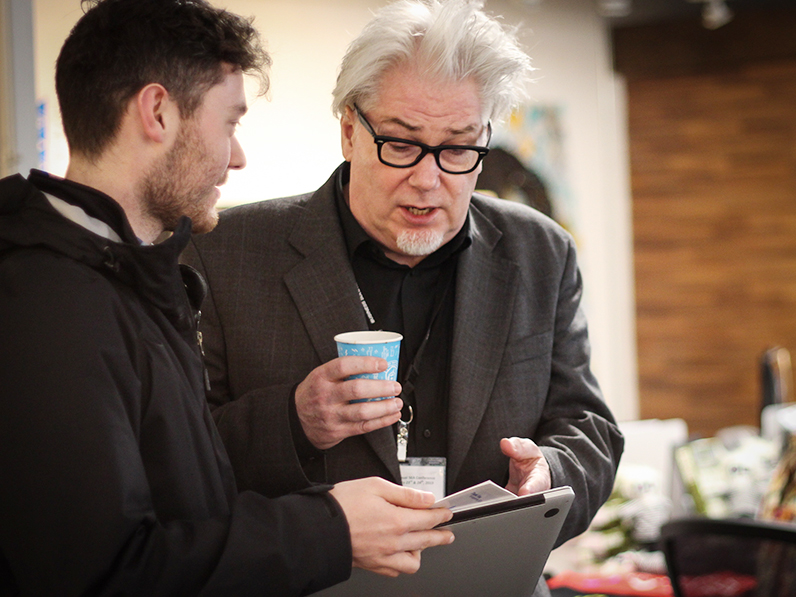 Martin Atkins, coordinator of music business, led a session called "Getting Started in the Music Industry: How to make an extra $100K in the Next Year." Using techniques from his third book, "Band:Smart," Atkins showed attendees the tangible ways to increase revenue and build trust and loyalty in a fan base.
Atkins was a member of Public Image Ltd and Killing Joke. He founded industrial supergroup Pigface, The Damage Manual, and Murder Inc., and has contributed to Nine Inch Nails (for which he has a Grammy) and Ministry. He is the owner of Invisible Records and Mattress Factory Recording Studios.
Kate Flemming, program coordinator for the Center for Entrepreneurship at Millikin led a workshop called "Agile for Creative Endeavors." The agile methodology process eliminates wasted time and resources by developing the product iteratively and incrementally. Attendees were asked to bring a current project or idea to the hands-on workshop to learn how to put the agile methodology into practice.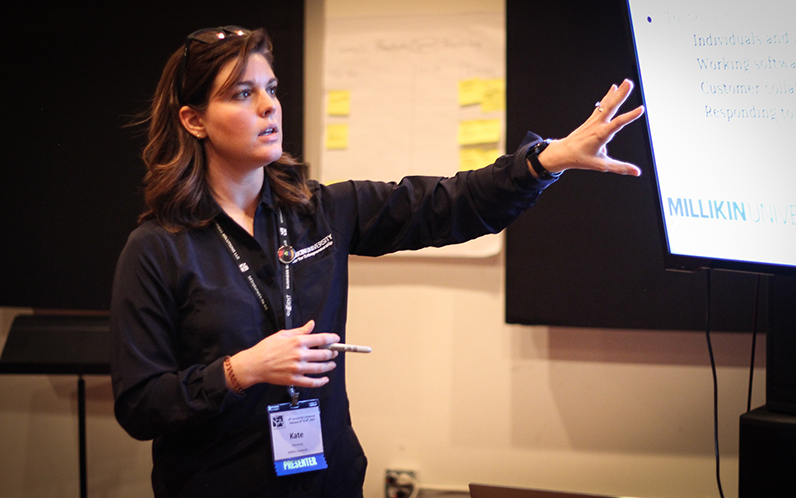 "Artists are natural entrepreneurs and the SEA Conference helps our students to develop an intellectual and practical framework for seeking opportunities, taking risks, and creating pathways to success," said Laura Ledford, dean of the College of Fine Arts at Millikin. "Because of Millikin's sponsorship of the conference, Millikin students were able to attend in record numbers this year. My hope is that Millikin will continue to strengthen our involvement with the conference and its organizers in the future, and that our students' contributions will continue to enhance the already fantastic reputation Millikin has among our peer institutions and the industry professionals who participate."
SEA is a program geared towards helping emerging visual, performing, literary and media artists gain the resources and connections they need to be successful self-employed artists. Programming includes conferences, workshops, panel discussions, webinars, competitions and more.