New Millikin graduate embarks on next step as a teacher
Millikin University's School of Education creates a community of learners and learning environments that demonstrate the value of active learning. One of the important aspects of the School of Education's curriculum is the co-teaching model for all teacher candidates during the student teaching experience.
Throughout the COVID-19 pandemic, the education landscape was drastically altered as many teachers transitioned their classrooms in and out of remote, hybrid, and in-person models. Student-teaching opportunities were also changed to virtual settings as programs such as Google Classroom began being utilized – something that recent Millikin graduate Max Barrows did not foresee happening.
"The first thing I noticed was, it is really weird to get to know students," Barrows said in an interview with the Herald & Review. "A lot of them don't have their cameras on, so I learned to recognize voices. That was not what I expected. Once we started back in person, it was like meeting them for the first time. I knew them for 10 weeks but didn't know what they looked like. That was a little bit of a trip."
During Millikin's co-teaching program, the cooperating teacher and the teacher candidate plan lessons, using co-teaching strategies, which benefit the students in the classroom. Students see, daily, how best practices are used in the classroom. Barrows, of Decatur, Ill., worked with Sara Nave at Dennis Lab School in the Decatur Public School District.
"Having a student teacher during a pandemic could have gone either way," Nave said. "It could have been another workload, but instead it was like having another partner in education. Somebody to bounce ideas off of, somebody to co-plan with, somebody to grade with. It was honestly the silver lining to a generally gray and weird year."
Nave worked with Barrow to teach him the inner workings of Google Classroom, a free web service developed for schools that aims to simplify creating, distributing, and grading assignments. They worked together to find a grading policy that worked best and could be done together or remotely.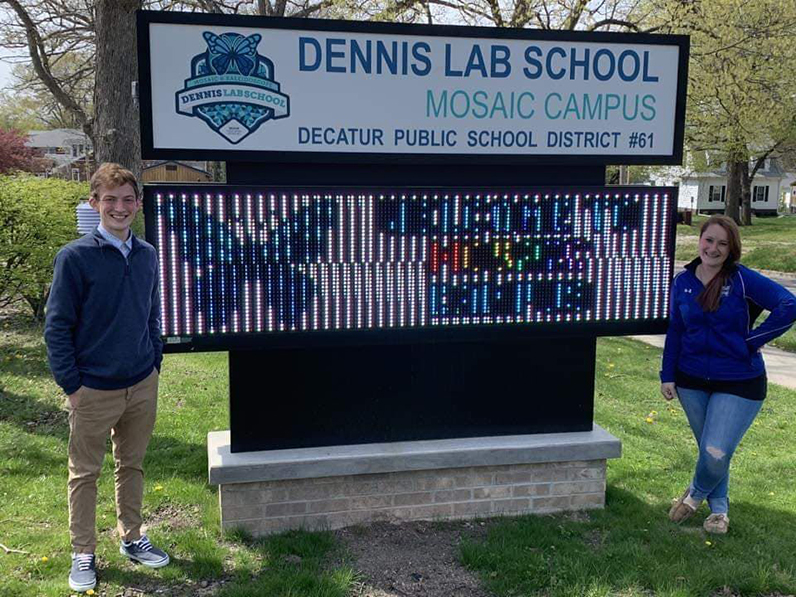 Max Barrows (left) with teacher Sara Nave
"Max and I met virtually a few times to get things in order and we hit the ground running," Nave said. "He taught a full lesson his second day in the classroom. He was extremely flexible with the uncertainty of being remote or going back in person; a characteristic that most administrators look for in their candidates. He taught me a lot, too. Not only about different uses of technology, but also how to effectively co-teach in various ways."
Millikin teacher candidates, like Barrow, enter the profession with stronger communication and collaboration skills, better-developed classroom management techniques, and higher levels of confidence thanks to the co-teaching and student teaching experiences. Barrow chose to enter middle school education because he enjoys the age group.
"They are literally the funniest people on the planet," Barrow said. "And also, I think it's kind of the perfect in-between age. They're kind of kids but not fully into high school, and it's a really fun age to teach. They still kind of want to be kids, but they're mature enough for more adult conversations, and you can still do the things you do in later elementary as well. There are no boring days in middle school. I learned that after student teaching. Every day's going to be a fun day."
One of the most important pieces of advice Nave had for Barrows was to see the students not as his "responsibility," but as his "teammates."
"Once the students have that mindset, they pull together and it allows the teacher to concentrate on teaching," Nave said.