MU student Audri Bartholomew advances on "The Voice" Blind Auditions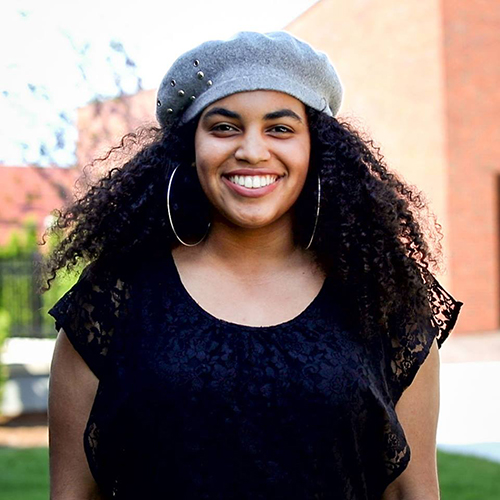 Millikin University student Audri Bartholomew, a sophomore honors student majoring in musical theatre, was recently selected to advance on NBC's "The Voice" following an impressive blind audition. Bartholomew performed "Never Enough" by Loren Allred.
During the blind audition episode, which aired on Oct. 1, Bartholomew landed a spot on Grammy Award-winner Jennifer Hudson's team. Bartholomew later invited Hudson onstage for an impromptu duet performance.
Singers on Hudson's team will compete in the "Battle Rounds" against artists being coached by others judges: country artist Blake Shelton, Maroon 5's Adam Levine and Kelly Clarkson.
During the "Battle Rounds," team members compete against each other to sing the same song together in front of a studio audience. After the vocal battle, the coach must choose which singer will advance. The losing artist could be chosen by an opposing coach.
Originally from Pasadena, Calif., Bartholomew currently resides in St. Louis, Mo., and says she wanted to attend Millikin because of the individual attention she knew she would receive from her instructors.
"It is nice and small and one of the top 10 schools for acting," Bartholomew said in a recent interview.
When asked about performing in front of "The Voice" judges, Bartholomew said, "You have to draw them in through the sound. You have to use the voice because they weren't looking at you. There wasn't that intense eye contact. But I was still nervous."
Music has always been influential in Bartholomew's family. She became inspired after singing in church and was influenced by her father, who is a rapper. She speaks two languages fluently and sings in six, and her big musical moment was singing Kelly Clarkson's "A Moment Like This" at her high school graduation.