Long-Vanderburg Scholar Oluwafunke Odufuwa receives Gilman Scholarship to study abroad in 2021
Millikin University is pleased to announce that Long-Vanderburg Scholar Oluwafunke Odufuwa, a senior political science major with Spanish and pre-law minors from Chicago, has been selected to receive the prestigious Benjamin A. Gilman International Scholarship from the U.S. Department of State to study abroad in spring 2021.
The U.S. Department of State's Benjamin A. Gilman International Scholarship is a grant program that enables students of limited financial means to study or intern abroad. The scholarship program is open to U.S. citizen undergraduate students who are receiving Federal Pell Grant funding at a two-year or four-year college or university to participate in study and intern abroad programs worldwide.
More than 2,500 students nationally were offered awards out of 7,000 total applicants. The award amounts range from $3,000 to $5,000 per student.
"I was very surprised when I received the notification for receiving the scholarship," Odufuwa said. "I am currently still deciding where I want to travel next year, but I know it will be in Latin America. I want to go to a Spanish speaking country to help improve or perfect my Spanish. I feel like being in the country and having to speak the language consistently will make me more fluent."
After graduating from Millikin University, Odufuwa plans to attend law school and work towards pursuing a career as a criminal defense attorney. "I would also like to run for Illinois State House Representative, and one day become a judge," she added.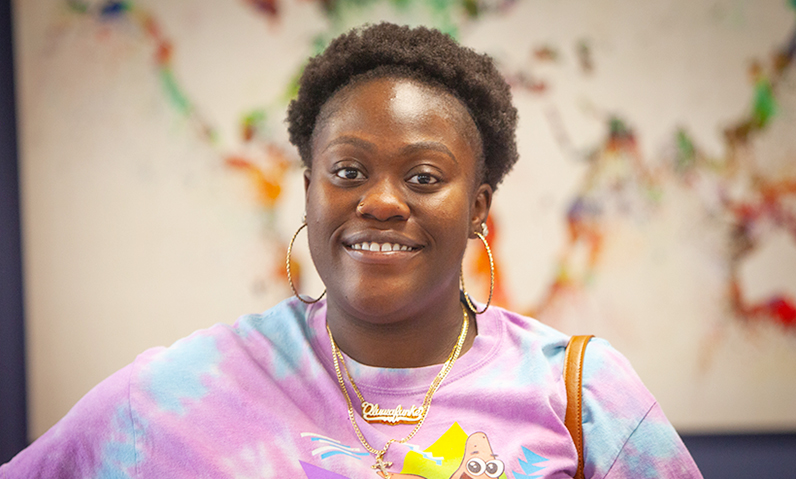 Oluwafunke Odufuwa
Since the program's establishment in 2001, more than 1,300 U.S. institutions have sent more than 31,000 Gilman Scholars, representing the rich diversity of the United States, to 145 countries around the globe.
The program aims to encourage students to study and intern in a diverse array of countries or areas and world regions. By supporting undergraduate students who have high financial need, the program has been successful in supporting students who have been historically underrepresented in education abroad, including but not limited to first-generation college students, students in STEM (science, technology, engineering and mathematics) fields, ethnic minority students, students with disabilities, students attending HBCUs (Historically Black Colleges and Universities) or other minority-serving institutions, students attending community colleges and students coming from U.S. states with less study abroad participation.
"I know studying abroad will put me where I want to be with my Spanish fluidity, and it will help to broaden my understanding of life and ways of living," Odufuwa said. "I believe the more experience you have being outside your comfort zone, the more tolerant, open-minded and relatable you will be."
Odufuwa says she chose to attend Millikin because she saw nothing but opportunity.
"It's a community-oriented school and I knew that's what I needed for success," she says. "I knew I wanted to study abroad, and I knew it was possible at Millikin. Aside from that, Millikin has so many resources and connections I know I'll be able to take advantage of well off-campus. I think that's what a good university should consist of."
In addition to being a Long-Vanderburg Scholar, Odufuwa also serves as vice president of Black Student Union and secretary of Model Illinois Government – opportunities that she says helps her stay well-rounded and adaptable to all settings.
"I think being heavily active on campus has given me the opportunity to meet and interact with so many kinds of people," Odufuwa said. "I have so many friends and associates from all different backgrounds and upbringings, it has helped me a lot in terms of figuring out who I am. Having these different leadership roles has also helped me learn how to handle and conduct business, which I feel many people don't experience fully until after college."
Students who are interested in learning more about the Gilman Scholarship as well as other study abroad opportunities at Millikin University can visit millikin.edu/study-abroad.