Honors Scholar becomes first Millikin semifinalist for Fulbright English Teaching Assistant Program
Angela Arnold, a senior international business major with minors in music and French, has been named a semifinalist for both the U.S. Fulbright English Teaching Assistant (ETA) Program to Kyrgyzstan and the Critical Language Scholarship (CLS) Turkish Program through the U.S. Department of State.
A James Millikin Honors Scholar, Arnold, of Huntingtown, Md., is the first Millikin student to be named a semifinalist for the U.S. Fulbright English Teaching Assistant Program.
"It is an honor to represent Millikin as a semifinalist for both the U.S. Fulbright ETA Program to Kyrgyzstan and the CLS Turkish Program. I would first like to thank my mentor, Dr. Laura Dean (associate professor of political science), for her unending dedication and support of my academic endeavors," Arnold said.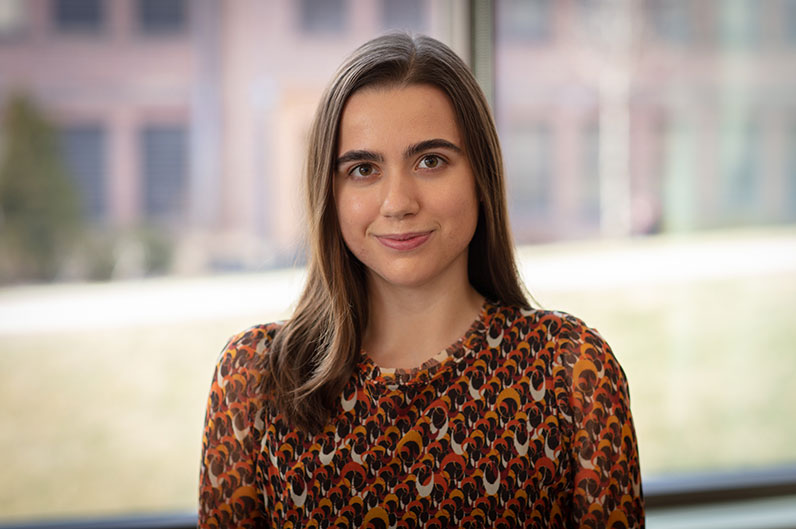 Angela Arnold
The Fulbright Program, the flagship international educational exchange program sponsored by the United States government, provides grants to study, teach and conduct research in more than 160 countries. Fulbright recipients are selected on the basis of academic and professional achievement and a record of service and demonstrated leadership in their respective fields.
The English Teaching Assistant Programs place Fulbrighters in classrooms abroad to provide assistance to local English teachers. ETAs help teach the English language while serving as cultural ambassadors for the U.S. During their grants, Fulbrighters will meet, work, live with and learn from the people of the host country, sharing daily experiences.
Arnold added, "I also want to extend my appreciation to my friends and colleagues in Millikin's Center for International Education who helped to inspire my passion for international education and global citizenship. I am proud to have made it this far in the selection process and I am grateful for the continued encouragement from the Millikin community throughout the last four years."
The Critical Language Scholarship Program is a summer study abroad opportunity for American college and university students to learn languages essential to America's engagement with the world.
The CLS Program is part of a U.S. government effort to expand dramatically the number of Americans studying and mastering critical foreign languages. Participants are expected to continue their language study beyond the scholarship period, and later apply their critical language skills in their future professional careers. Each summer, CLS provides rigorous academic instruction in 15 languages that are critical to America's national security and economic prosperity.
Dr. Laura Dean, chair of the Fulbright Committee at Millikin, noted, "Since the Fulbright Committee was re-established at Millikin University in 2017 we have seen a significant increase in the number of faculty receiving Fulbright Scholar fellowships to countries such as Japan, Brazil, Romania and Latvia, and even hosting a Fulbright Scholar-In-Residence from Ghana at Millikin. We are proud of the strides we have made with Fulbright Scholar fellowships and Angela Arnold's semifinalist designation for an English Teaching Assistant is an outcome of our increased outreach to students. We believe these achievements show the importance of international education at Millikin University and our mission to prepare students for a life of democratic citizenship in a global environment."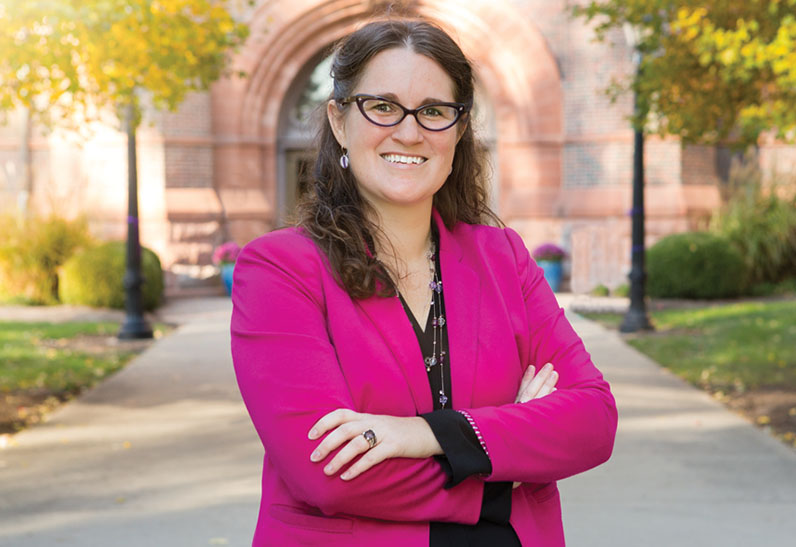 Dr. Laura Dean
Arnold recently served as an intern with the Bureau of East Asian and Pacific Affairs in Washington, D.C., which led to a shadowing experience in the U.S. Embassy Seoul and the American Center in Korea, where she was able to develop a variety of skills. Among her responsibilities during her internship, she ran a COVID-19 tracker for all Asia-Pacific Economic Cooperation member economies and attended several seminars, which she then summarized for higher-ups in the organization.
Additionally, Arnold interned for the American Foreign Service Association in 2021 and is currently interning for the Peace Corps as Millikin's Campus Ambassador as well as EducationUSA where she serves as a virtual College Prep Club mentor to high-achieving youth in Kyrgyzstan who hope to study in the United States.
Between studying to complete her international business degree, along with minors in French and music, as well as a certificate in vocal performance, Arnold is a resident assistant for the Office of Campus Life's Global Experience Living Learning Community, a French tutor for the Department of Modern Languages and is an international student specialist for Millikin's Center for International Education.
After Arnold graduates in spring 2022, her goal is to eventually become a foreign service officer within the State Department.