BluSolar, a Millikin University student-led startup business has been named a finalist by Clean Energy Trust (CET) for the Cleantech University Prize (UP), sponsored by the U.S. Department of Energy. As a finalist, BluSolar is one of eight innovative and promising university-based cleantech companies in the Midwest competing for a chance to win $50,000.
Over the next five weeks, the eight student startups will work with expert mentors from Clean Energy Trust's network and work with CET staff to refine their business models and pitch. The final pitch showcase will be held on Thursday, Feb. 9, at the Polsky Center for Innovation at the University of Chicago.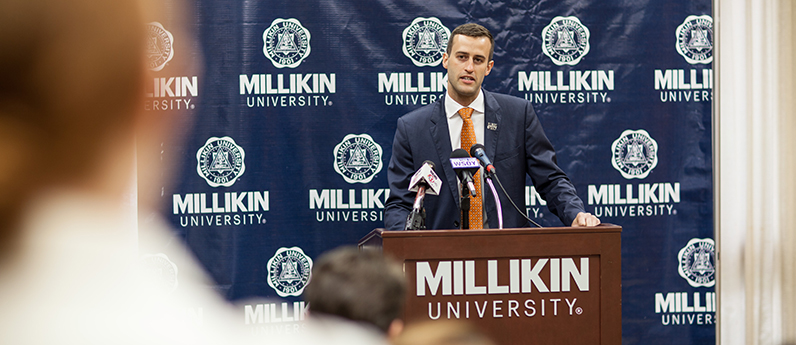 The winner of the Cleantech UP Showcase will be determined by a panel of expert cleantech industry judges. The winner will receive a $50,000 grant and the 1st, 2nd and 3rd place finishers will go on to present at the Clean Energy Trust Challenge event as well as the DoE National Cleantech UP competition.
BluSolar is a cleantech startup that offers research and development services pertaining to the cryogenic treatment of photovoltaics. Working in conjunction with 300 Below Inc., the world leader in commercial cryogenic processing solutions, BluSolar provides tailored solutions for solar manufacturers or distributors wishing to enhance their product via cryogenic treatment.
The startup is a joint venture between students from the Millikin Institute for Science Entrepreneurship (ISE) and students from Millikin's Center for Entrepreneurship (CFE). The students are working under the guidance of Julie Shields, director of Millikin's Center for Entrepreneurship, and Dr. Casey Watson, associate professor of physics and astronomy at Millikin.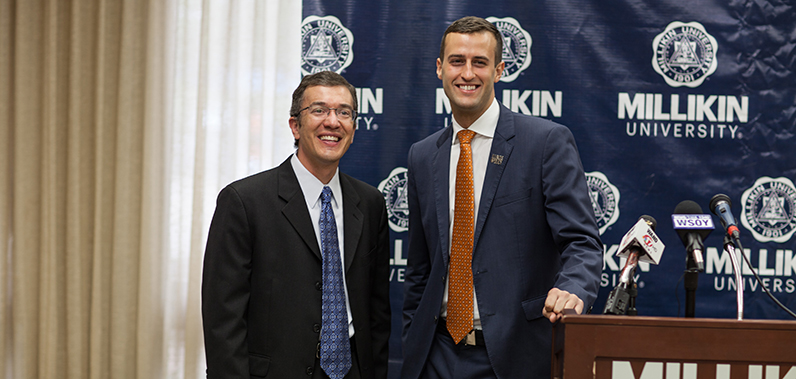 "Being a Cleantech University Prize finalist represents a tremendous opportunity for expert guidance about funding and the growth of our research collaboration network, not to mention positive publicity for all involved – our research team, the ISE, the CFE, Millikin as a whole, and 300 Below," Dr. Watson said. "It's quite an honor for our team to be selected among the top eight student-run, Clean Energy startups in the Midwest. We're very proud of them."
Estefano Martinez, a sophomore business major from Zionsville, Ind., and CEO of BluSolar, says when certain materials are cryogenically treated, molecular structures are permanently realigned in a way that can improve overall performance. BluSolar has demonstrated a 25 percent improvement in wattage output because of the microstructural changes to the photovoltaic solar cells.
"There are a whole host of positive benefits that we're exploring," Martinez says. "These types of treatments are very popular in the manufacturing industry and the impact of these treatments are irreversible. By cryogenically treating these cells, once they are operating at normal temperatures, the molecular realignment has made them more efficient."
Since its inception, 300 Below has processed millions of pounds of steel and components for thousands of companies around the globe. The company cryogenically treats tooling and knives, saws and endmills, reamers or broaches as well as drills for stress relief and stabilization for numerous companies, saving resources and millions of dollars in tooling expenses for industries worldwide.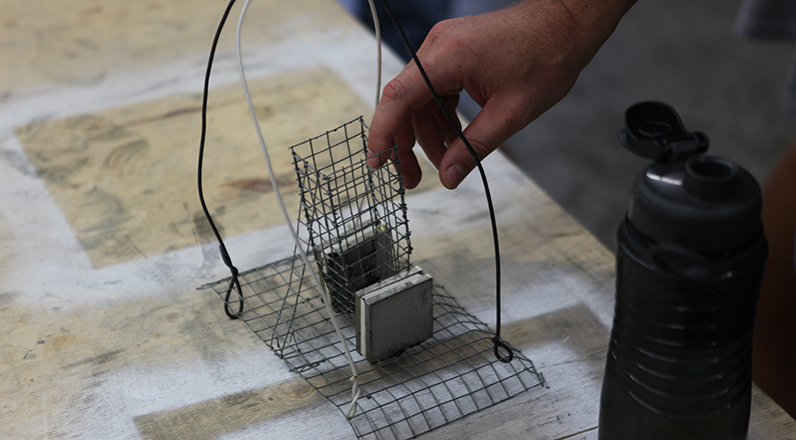 "We are real big on interdisciplinary teamwork at Millikin University and it's been a great experience in terms of mixing business and science," Martinez said. "We're really excited to take advantage of the resources that Clean Energy Trust is providing, such as the network and mentors. We're most excited to see what the other startups are doing; we all have the same goals and that's to make a positive impact on the world."
Julie Shields noted, "We are glad to be working with the incubator to determine if there is a commercial market for the research. Does it add value in the market for which customers are willing to pay? With solar power being increasingly in the news lately, figuring out if and how this research might fit into the market is critical."
Other Cleantech UP 2017 Finalists include startups from the University of Minnesota, Michigan State University, Northwestern University, University of Michigan, Case Western Reserve University and Illinois Institute of Technology / University of Wisconsin-Madison.
For more information about the Cleantech UP 2017 Finalists, visit cleanenergytrust.org/cleantech-up-2017-finalists/.
View Coverage