Students learn painting process during art workshop
Alyssa Farmer is an artist on a mission. She hopes to one day run her own art studio in Chicago and have an opportunity to do what she recently did on Feb. 15 – teach painting classes and workshops.
As part of Millikin University's celebration of Black History Month, Farmer led a group of fellow classmates on a journey of discovering and celebrating African American art through a painting workshop. Before the painting began, Farmer, a senior studio art major from Springfield, Ill., shared her artistic background with her classmates.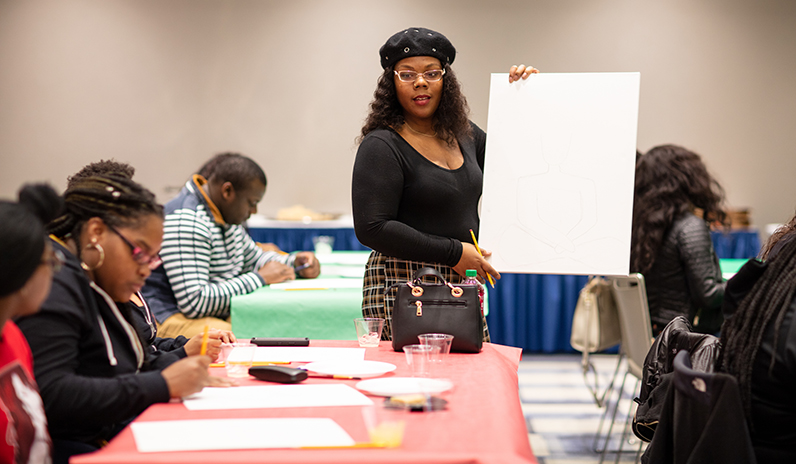 "My concentrations are printmaking and painting," said Farmer. "I like to be creative with different things and express myself, and I believe my artwork speaks for me and how I feel."
Farmer also shared work from a few of her favorite artists including Kehinde Wiley, a New York-based visual artist known for his highly naturalistic paintings of African Americans; Kara Walker, an American contemporary painter who is best known for her room-size tableaux of black cut-paper silhouettes; and Yinka Shonibare, a British-Nigerian artist whose work explores cultural identity, colonialism and post-colonialism.
Each student who took part in the workshop was given a canvas to work on as Farmer went step-by-step showing how to create one of her favorite portraits of an Afro-American Woman. When it came time to draw the neck and shoulders of the woman, Farmer said the first step is "to find the center of the canvas and draw a 'U'."
The event on Feb. 15 was fun for Farmer because she had the opportunity to witness other people's creativity. "I like to see the different aspects of their work and see what they learned from me."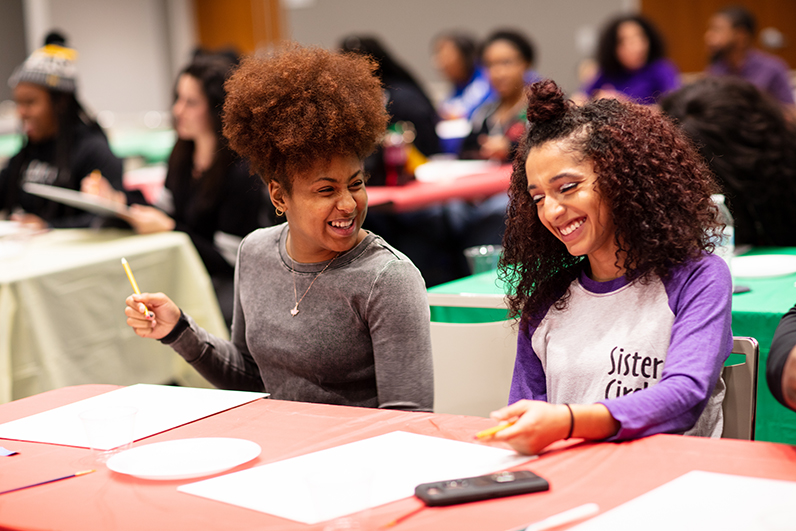 The idea for the workshop was first developed in 2018 when Tonya Hines, assistant director of inclusion and student engagement at Millikin, approached Farmer about a possible event for Black History Month.
"It's something that's new these days with artists – throwing events like this to help other people show their creative side," said Farmer. "The painting we created is what I call my 'Afro-girl,' it's a painting I make regularly. This event is important because I'm learning about myself and what other African Americans did before our time and the ways their art affects culture."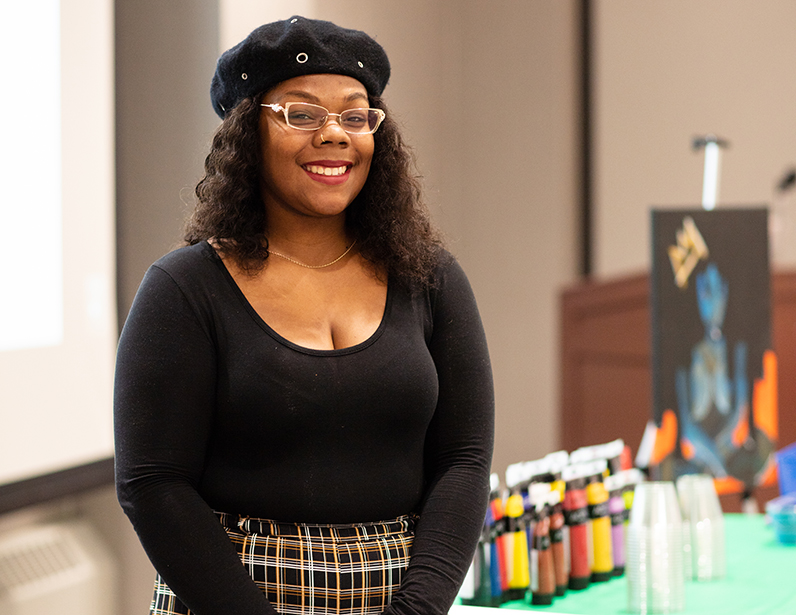 Currently, Farmer's artwork focuses on the human body and flowers, and how both go through growth experiences. "For humans, we have to go through challenges in order for us to become better people, and I feel flowers go through that with weather changes, water, and how they can grow into something beautiful. I use those types of ideas to incorporate growth in both humans and flowers."
As Farmer prepares to graduate from Millikin, her development as an artist has helped her learn more about herself.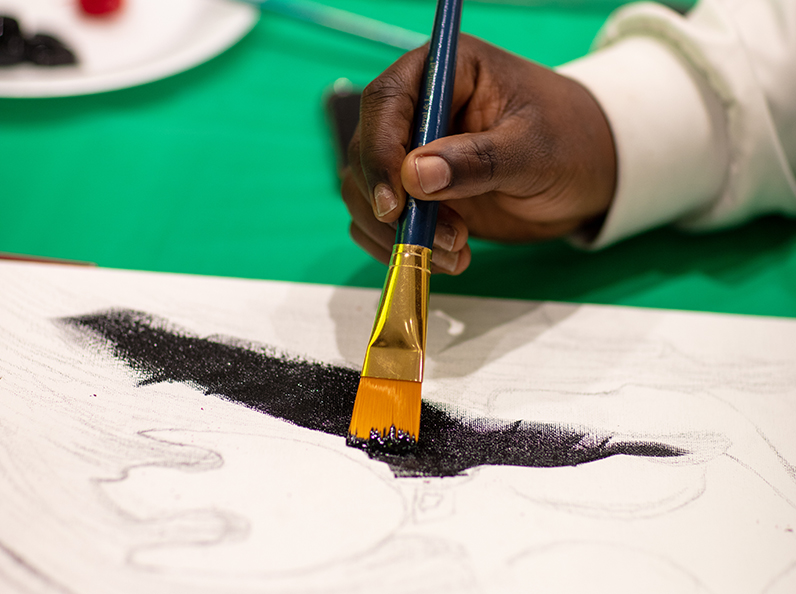 "I've learned how to present myself. Art is like therapy for me, and after I learned that I can make art a career, it all made sense," said Farmer. "It's taken some time, but as long as I believe in myself and I can push myself to do events like this, then I know it's going to work out."
The culmination of Farmer's artwork over the last four years will be on display during her senior exhibit on Saturday, March 30 from 1 – 3 p.m. in the Perkinson Art Gallery at Kirkland Fine Arts Center. "The Black History Month event and my exhibit on March 30 are great ways to promote my art and I look forward to showing my artwork in different communities in the future."