Student's love for community leads to decision to stay local
While growing up in Mt. Zion, Ill., just about 20 minutes away from Millikin University's campus, Gracey Reynolds knew at an early age that she wanted to become a teacher. Throughout her time in junior high and high school, she was exploring her options, but as college drew closer, she felt a calling in her heart to pursue her passion for teaching.
"I've had many wonderful teachers that have each left a positive impact on my life. I will continue to carry their positivity, wise words, and devotion with me throughout my career," Reynolds said. "I hope one day I can be a positive influence to my students just like my teachers were for me."
Flash forward to spring 2021. Reynolds is finishing up her first year as an early childhood education major at Millikin — a place that felt to be the perfect fit for her. Like all education majors, Reynolds gained experienced in the field beginning her very first semester and engaged in many hands-on learning opportunities.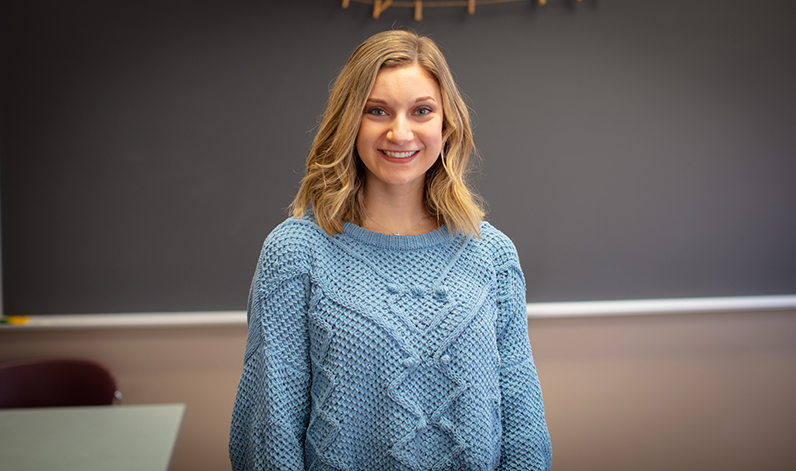 "I am thankful for the opportunities you get within the first semester of being an Education major. I had an internship back in September [2020], luckily I was able to be in person with the children and work with and learn from an amazing teacher," Reynolds said. "The program allows you to get the first-hand experience at the start of the semester which helps you to decide if the major is really the fit for you."
Reynolds's love for her community was the reason she decided to stay local. During her senior year of high school, she had the opportunity to work at her local elementary school which further developed her interest in working with children.
"I've also been an assistant teacher for different age groups and have taught young children at my church," Reynolds said. "Staying local was a great choice for me because I can have the college experience while continuing to work within my community."
As someone who aspires to become a teacher, Reynolds believes there are many important traits a teacher should have, but she believes the most important trait is openness.
"Having an open mind when working with a student, opening your heart to your student when they need someone, and opening your eyes to the endless possibilities," she noted.
Another important trait she says is patience, no matter the age group.
"My biggest dream is to teach kindergarten, and I know that I will never be able to run out of patience with them," she said. "Respect your students, if you want them to respect you in return. And finally, practice what you preach … because it really does matter down the road."
One Millikin faculty member who made an impact on Reynolds during her first year was Dr. Chris Cunnings, assistant professor of education, who taught Reynolds during his Introduction to American Education course.
"Gracey Reynolds is an outstanding prospective teacher, and even as a freshman-level teacher candidate, she's demonstrated an impressive ability to apply what's learned during her coursework to her field experiences," said Cunnings. "During my Introduction to American Education course, Gracey had multiple opportunities to showcase her teaching skillset through a variety of written and video course assignments, and she did an exemplary job on all of her projects and presentations."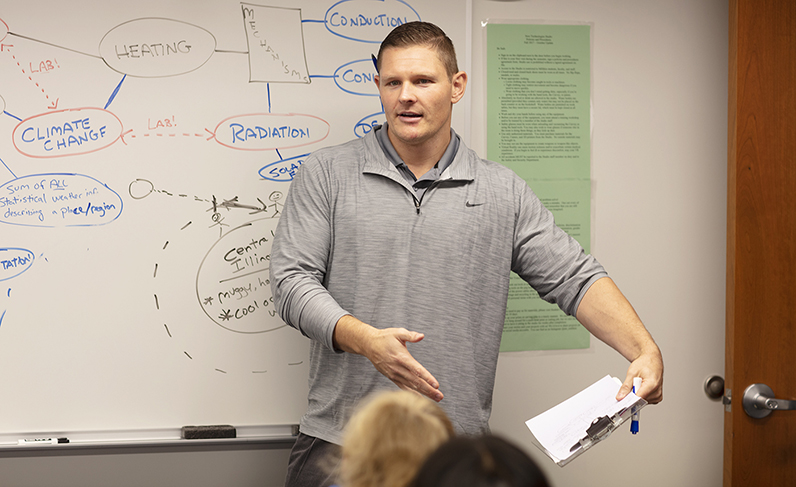 Dr. Chris Cunnings
One of the strengths of the Millikin University teacher preparation program is that students are given the opportunity to intern at a local school during their very first semester of studies. Cunnings says Reynolds is always well-prepared to provide engaging and effective learning opportunities for her students.
"Gracey demonstrated an immediate knack and passion for working with young children while at her freshman-level internship, and her skillful utilization of fundamental teaching concepts and educationally relevant information leads me to believe that she possesses the potential to become an outstanding teacher," said Cunnings.
Looking ahead, Reynolds is excited about more hands-on experiences within the Education program next fall all while becoming more involved with Millikin University.