Millikin student-athlete makes waves beyond the pool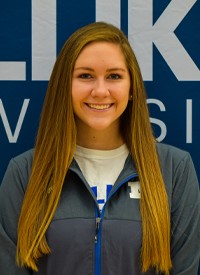 Millikin University senior Millie Gegg is excelling in more ways than one.
The St. Louis, Mo., native has made her mark on campus as a member of the Women's swimming team. However, when she's not in the water making waves at the YMCA, she's at the Perkinson Music Center–home to Millikin's School of Music, where Gegg studies violin.
"Artistic, insightful, meticulous, yeah, she's pretty driven," Millikin Swimming Head Coach Dr. Molly Duesterhaus said of Gegg in an interview with WAND-TV. "There's a couple of things that work really well for Millie. One is her attention to detail."
Gegg has been swimming since she was in second grade, and ever since she's been in the water, she's always had the same feeling. "Just a sense of adrenaline and energy when you dive into the water, it's just such a relief of stress, and anything that had to do with school is just gone in the water," Gegg said.
In 2018-19, Gegg swam five career-best times, including the fourth fastest 100 Individual Medley time in Millikin history. That same year, she finished in the top five in six different meets during the dual meet season. In 2019-20, she swam freestyle, backstroke and breaststroke events and had the team's third best time in the 100 yard breaststroke at 1:14.66.
As a musician, Gegg says "when you're in the moment of playing, you just focus on the music and your hands, your fingers, everything that goes into playing music, you just forget about the world."
Dr. Duesterhaus says activities like athletics and music go hand in hand.
"Making sure in swimming that your body position is right, your catch, your acceleration, really thinking about how you're catching water, what you're doing, and I think that translates very well to playing the violin," Duesterhaus said. "Paying attention to rhythms, paying attention to the details of mood and cadence. So I think that both things make her better at each thing."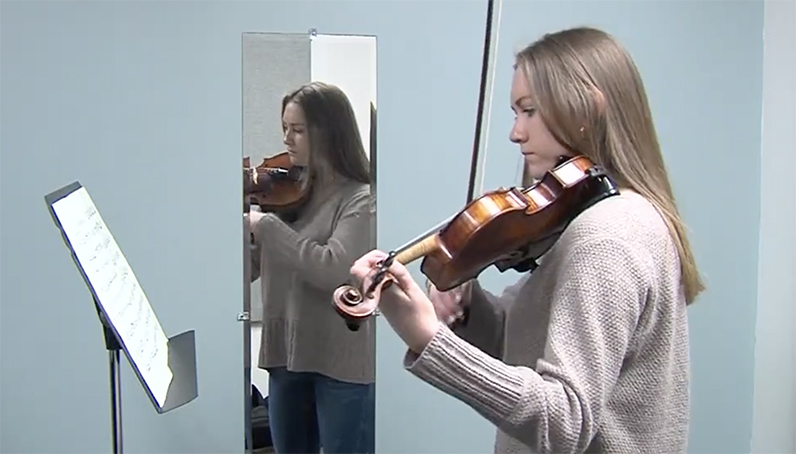 In addition to her involvement with swimming and music, Gegg is also the licensing chair for the Delta Delta Delta Epsilon Chapter at Millikin and a member of Sigma Alpha Iota international music fraternity for women, which promotes interaction among those who share a commitment to music.
Gregg also minors in digital media marketing and is earning certificates in digital photography and design.
"Being able to go to Millikin and dedicate the time to music but also have the opportunity to swim and be involved in athletics is everything I wanted out of my college experience," Gegg said.